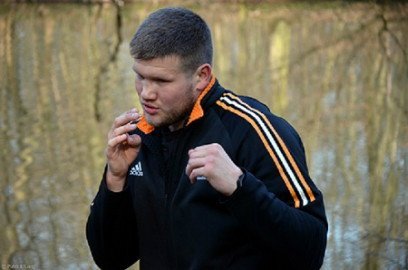 Heavyweight contender #11 IBF Alexander Dimitrenko (40-3-1, 26 KOs) surprisingly fought to a 10 round draw against little known replacement opponent Miljan Rovcanin (18-0-1, 13 KOs) on Friday night at the Edel-Optics.de Arena in Hamburg, Germany.
Both fighters spent all night clinching each other. It was a beautiful display of textbook clinching by Dimitrennko and Rovcanin. Dimitrenko is lucky he didn't lose tonight.
Dimitrenko was originally scheduled to fight Adnan Redzovic, but he dropped out and he got stuck with Rovcanin, who he had no preparation for. Dimitrenko made a mistake of agreeing to fight this guy. He didn't have any time to train for his roughhouse style of fighting, and it showed tonight. Both guys had points deducted for this foul-fest.
The scores were 96-90 for Dimitrenko, and 94-92 for Rovcanin, The third judge scored it 93-93.
Both fighters were hurt in the 1st round. The 6'7" Dimitrenko nailed Rovcanin with a hard left hook that had him ready to be knocked out.
The 24-year-old Rovcanin came back late in the round to hurt the 35-year-old Dimitrenko with a hard hook to the head. Dimitrenko's punch resistance was nowhere tonight.
In the 2nd round, Rovcanin did a lot of holding to stifle Dimitrenko's offense. Rovcanin threw a lot of weak jabs, and used movement to keep out of range. Dimitrenko missed a lot of shots, and looked confused.
Rovcanin did the better work in the first half of the fight against a clearly over-the-hill Dimitrenko. 10 years ago, Dimitrenko was a mediocre heavyweight contender, but not how he's just extremely faded to the point where even a guy like Rovcanin could give him problems. Rovcanin looked like a journeyman fighter at best, and not a good one.
In rounds 8, 9 and 10, Rovcanin gassed out badly and let Dimitrenko get back into the fight. It's unclear whether Rovcanin was coasting or if he was exhausted. I couldn't tell the difference. Either way, Rovcanin was doing nothing and letting a very sloppy looking Dimitrenko get the better of him.
The good news is Dimitrenko didn't lose the fight. The bad news is he looked horrible for a contender ranked #11 by the IBF.
Dimitrenko's management are going to need to be more careful in how they match him in the future. If he had lost tonight, he would have been taken out of the running for a big payday fight against IBF heavyweight champion Anthony Joshua. Dimitrenko can't afford a loss right now if he wants to eventually get a crack at Joshua's IBF title in 2 or 3 years.
In other results on this German boxing card, undefeated junior middleweight Sebastian Formella (17-0, 8 KOs) defeated Karlo Tabaghua (18-11, 13 KOs) by an 8 round unanimous decision. The judges' scored it 79-73, 79-73, and 80-72.
Undefeated light welterweight prospect Fatih Keles (10-0-1, 5 KOs) beat Renald Garrido (19-18-2, 3 KOs) by a 10 round a majority decision. The scores were 96-94, 97-93 and 95-95.