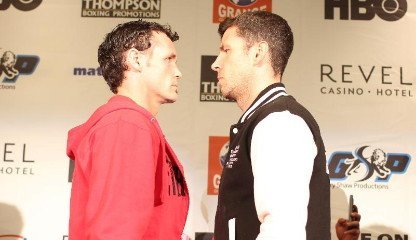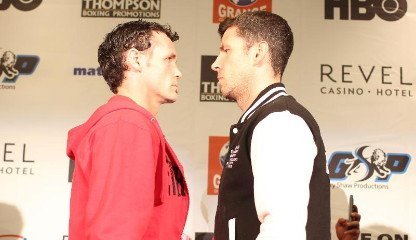 (Photo Credit: Mario Serrano – Gary Shaw Productions) By Robert Uzzell and Chip Mitchell: On Saturday August 17, 2013, HBO presents the IBF Middleweight world title clash between champion Daniel "Real Deal" Geale and "Dazzling" Darren Barker. Oddly enough, the fight between Geale (from Australia) and Barker (England) will take place at the Revel Casino-Hotel in Atlantic City, New Jersey.
This will be Geale's 5th defense of his IBF title. He was stripped of the WBA title for refusing to fight Gennady Golovkin in favor of a rematch with Anthony Mundine. This will also be Geale's first trip to American soil as a professional.
The last time we saw Barker in Atlantic City was in 2011. He challenged Sergio Martinez for the WBC Diamond Middleweight belt at Boardwalk Hall. Barker was undefeated, and kept within striking range of an upset through 10 rounds before Martinez nailed him with an untainted right hook to end the fight.
Tale of The Tape
Age: Daniel Geale 32, Darren Barker 31
Current Status: Daniel Geale – IBF Middleweight Champion,
Darren Barker – World #6 ranked contender
Professional Record: Daniel Geale – 29-1-0, 15 KOs, Darren Barker – 25-1-0, 16 KOs
Height: Daniel Geale – 5 foot 10, Darren Barker 6 foot ½
Knockout Percentage: Daniel Geale – 50%, Darren Barker – 61.5%
Previous Fight: Geale 01/30/2013, Barker 03/09/2013
Common Opponents: None of Note
Daniel "Real Deal" Geale
Daniel Geale will defend his IBF middleweight title that he won by defeating Sebastian Sylvester in 2011. Since then, he's defended against Eromosele Albert, Osumanu Adama, Felix Sturm (to unify the IBF/WBA titles), and Anthony Mundine. Geale has won eight fights in a row and with his victory over Sturm he became the fourth Australian to become unified champion.
Geale is an action fighter and relentless. He can mix it up on the inside and will throw double, triple, and even quadruple jabs to set his opponents up.
Credentials
Daniel Geale has wins over Anthony Mundine (1-1 overall), Felix Sturm (SD 12), Osumanu Adama (UD 12), Eromosele Albert (UD 12), Sebastian Sylvester (SD 12), and Roman Karmazin (TKO 12). As he's stepped up the competition, however, the knockouts have disappeared.
"Dazzling" Darren Barker
Darren Barker comes into this fight as the challenger. He is on a two-fight winning streak since his lone loss to Sergio Martinez in 2011. Barker is banking on that championship experience to give him an edge against Daniel Geale. The fact that his experience took place in Atlantic City only serves as impetus in his second attempt at a world title.
Barker feels stronger mentally and physically, as he's battled back through injuries since the Martinez fight. Barker employed a defensive style with hands held high to great success against Martinez.
Credentials
Barker is the former Commonwealth Middleweight, former British Middleweight, and former European middleweight champion. He has wins over former English champion Danny McDermott and won titles overseas against Ben Crampton (UD 12), Affif Belghecham (UD 12), and Danny Butler (TKO 7). Not household names at all… at least not to Americans. However, the big name on his resume is Sergio Martinez (TKO-by 11).
The Verdict
Robert Uzzell: Darren Barker has the potential to dictate this fight with his height, his reach, his experience, and his defense. Daniel Geale won't make it easy because he's going to come at Barker. He will try to come inside and he will give Barker angles and mix it up. Barker showed good defense against Martinez. However, I think Geale will be busier than Sergio and will wear Barker down.
I was at the fight between Martinez and Barker. I don't think his style will mesh well with Geale. He won't be able to slow Geale down.
I take a look at Geale's resume and I like it much better than I like Barker's. I know for a fact that he learned from his loss as he bounced back to beat Anthony Mundine more decisively in the rematch. Has Barker learned from his loss? Is he willing to mix it up with Geale if necessary? Will he come out of his shell and go for it when it counts? We will find out on Saturday.
Robert Uzzell Prediction: I like Geale to sweep the later rounds and win a convincing decision. Daniel Geale by 12 round unanimous decision.
Chip Mitchell: There are certain advantages a fighter can have that will work with almost any fighter. Darren Barker has a height advantage and also the experience of going almost 11 hard rounds with Sergio Martinez. He also has been to the States before to fight and is the bigger puncher of the two, based on KO percentage.
If Barker employs the same rabbit-eared defense he used against Martinez, he will be in for a very long night. Barker is going to have to be aggressive, such as he was against Paul Samuels earlier in his career. As Geale comes in, Barker must hook to the body. He must stay busy because one thing will be sure. Daniel Geale will be busy. He can potentially double the punch output of Barker and Darren is going to have to do more than switch to defense from offense whenever Geale comes in. He must stop Geale in his tracks and make him pay.
Geale on the other hand will come in aggressively behind multiple jabs. He will apply pressure and try to break Barker down over the course of this fight. This tactic could leave Geale wide open for something big, if Barker can time him.
I think this has the potential to be a good fight, especially if Barker has truly learned from his past visit to Atlantic City. If Barker opens up the offense, we could be in for a treat.
In the end, my gut tells me that Barker isn't going to give us the output (offensively) that he needs to take Daniel Geale's IBF title. I think Geale's activity is going to ask Barker some questions that he may not want to answer. Instead of learning from his last trip to AC, I think he may have calamitous flashbacks that will overwhelm him. I want to believe him when he says he is ready, but I feel the pressure will render him as a guy who almost became a world title-holder on two occasions.
Chip Mitchell Prediction: Daniel Geale's speed will eventually get to Darren Barker and it will be Geale who 'dazzles' his way to a unanimous decision.