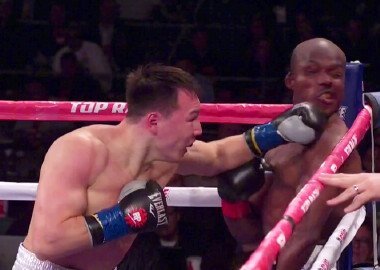 Welterweight Ruslan Provodnikov (22-2, 15 KO's) has agreed to fight WBO interim light welterweight champion Mike Alvarado (34-1, 23 KO's) on October 19th in a fight that could take place in Alvarado's home city of Denver, Colorado. HBO would be televising the fight.
Now they're waiting on Top Rank promoter Bob Arum to get his fighter Alvarado to agree to the deal. It's not likely that Alvarado will turn it down, because he doesn't have a ton of options right now in terms of fights.
He needs to face Provodnikov, beat him convincingly, and then hope that Arum will either put him in with Manny Pacquiao, Tim Bradley or a rematch against Brandon Rios.
Dan Rafael said on his twitter "Artie Pelullo [of Banner Promotions] tells me Provodnikov has agreed to face Alvarado & they are done on their end for 10/19. Now up to [Bob] Arum to finish w/Alvarado."
This is a fight that promises to be an exciting one as long as Alvarado doesn't run around the ring like he did against Rios last March in beating him by a 12 round unanimous decision. Alvarado chose to box Rios to avoid getting knocked out again. He had tried to go toe-to-toe with Rios last year in October, and didn't work out well with Alvarado getting stopped in the 7th round.
Alvarado is a powerful puncher, but his face tends to swell and cut up fast. and he struggles against guys that can punch back. Alvarado was on his way to losing to Breidis Prescott in their fight in November 2011 until pulling the fight out and stopping him in the 10th and final round.
Provodnikov put his face on the boxing map by giving WBO welterweight champion Tim Bradley all kinds of problems last March in losing a 12 round unanimous decision. Provodnikov hurt Bradley in that fight and had him down on the canvas. Rather than give Provodnikov a rematch, Bradley decided to move forward with his career and face Juan Manuel Marquez next instead of another tough fight against Provodnikov.