Exclusive interview by Paul R. Jones!  Although the dust has settled between Gervonta "Tank" Davis (28-0, 26 KOs) and Héctor Luis García (16-1, 10 KOs), and the Davis vs. García rebroadcast is behind us, many boxing fans are still talking about some of the surprises from the card, including Roiman Villa's (26-1, 24 KOs) much-written-about comeback win over Rashidi Ellis (24-1, 15 KOs), and Michael Ogundo's (17-16, 14 KOs) improbable win over former 2-division champ, Lamont Peterson (35-6, 17 KOs). However, far less press has been devoted to the performance of a talented super featherweight prospect that was neatly tucked away on the untelevised undercard: Mia "Killer Bee" Ellis (6-1, 5 KOs).
Ellis, a Baltimore native and daughter of one-half of Gervonta Davis' ringside brain trust, Coach Kenny Ellis, dominated veteran Karen Dulin (5-26-1, 3 KOs), laying waste to Dulin in a single round. Ellis displayed impressive power and a no-nonsense approach throughout, leaving her foe with few options other than being on the business end of Ellis' jab and right hands.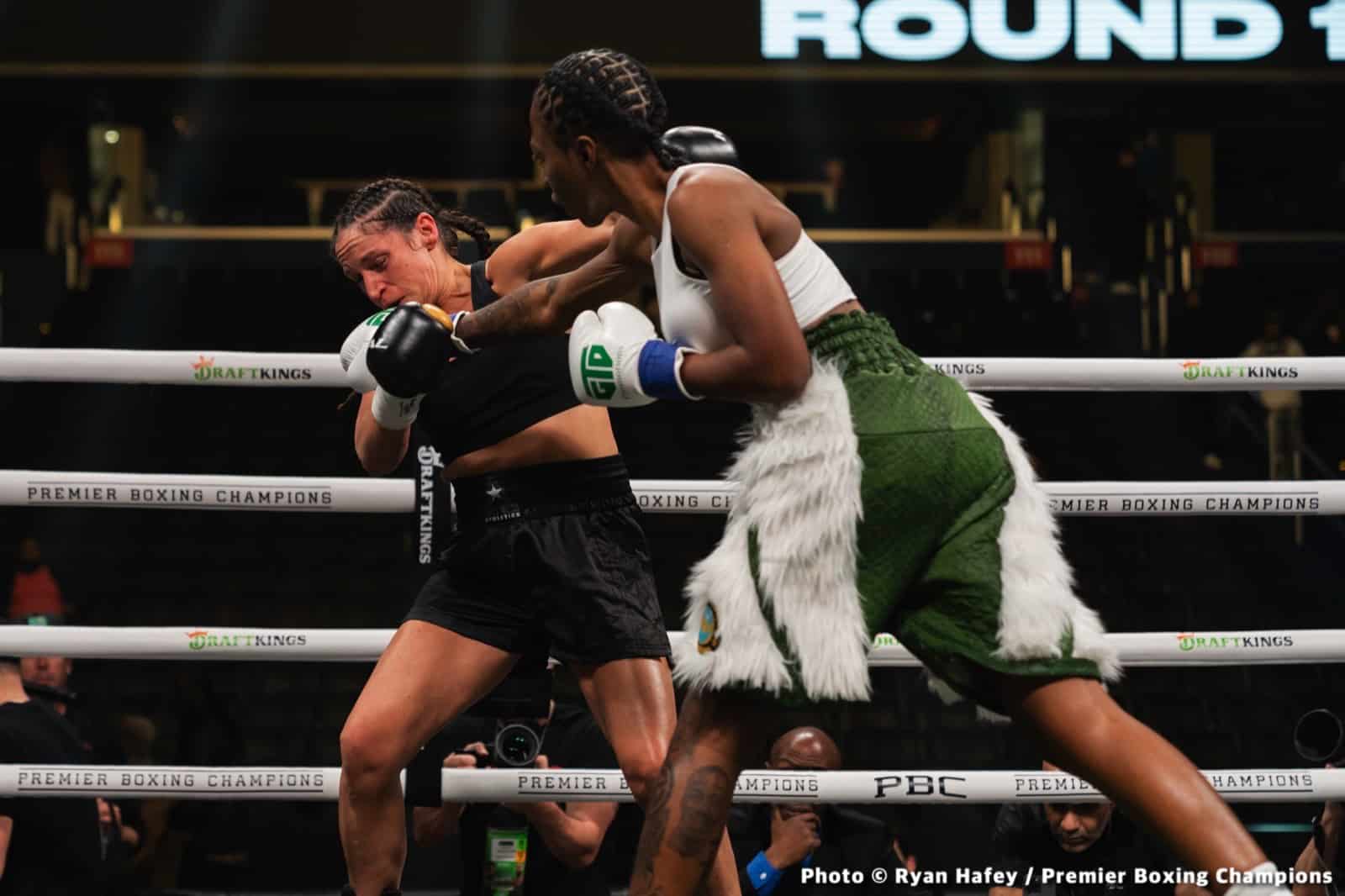 Though Ellis is comfortable fighting anywhere from super featherweight to lightweight, at 5'9", and with a long reach and non-stop motor, the 22-year-old prospect is intent on using her physical gifts to climb the ranks of Women's Boxing. Perhaps, more impressive, Ellis is a true student of the fight game, having watched hundreds of hours of boxing film in her formative years — the level of film study one might expect from an aspiring college quarterback aiming to go pro.
And, if Ellis has her way, she'll have a shot at fighting the sport's elite one day, including dream matchups against reigning world champs Katie Taylor and Amanda Serrano.
East Side Boxing's Paul R. Jones! caught up with Mia Ellis for a short interview before her dominant win over Dulin. We discussed her start in the sport, her views on Women's boxing, and much more!
Here's an excerpt from our chat (edited for length and clarity):
Paul R. Jones! (PJ): Hi Mia. Let's start by introducing yourself to our readers, and telling us how you got started in boxing.
Mia Ellis (ME): OK. I'm Mia Ellis, better known as Mia "Killer Bee". I got into boxing because my dad (Kenny Ellis) is a coach, and when he went to the gym, I would go to the gym with him. And, since I was born, I used to watch old boxing footage with him. Eventually, he noticed me starting to mimic the moves in the videos.
Once I started walking, I started throwing punches in my boxing stance. And that's when he really started taking me to the gym, just to see if I would like it.
He put me in the ring one day, [and] he thought I wasn't gonna like it, because I got hit. But, the next day I wanted to go again. So, he was like, "She must really like it!"  After that, I just stuck to it.
PJ: Did you have an extensive amateur career?
ME: I didn't have many amateur fights. I was 20-4.
I went to tournaments, but my Dad wasn't too big on USA boxing tournaments and that system. But, I still was able to get that tournament experience.
PJ: How would you describe your style?
  ME: I always go in looking to feel my opponent out, showcase my skill, and show that I can box or brawl.
It just depends on my opponent. I don't go in looking for a knockout. But if it's there, I'll take it!
PJ: You've worked out with "Tank" Davis for a long time, and you two have a connection to the Gym. What are some of the things that you've picked up from him?
  ME: I learned a lot from him. I'm still learning, too. I did my whole training camp with him. I just want to give thanks to him for putting me on.
This is my 4th time on Tank's undercard, so I watched him grow. When we was babies, to now. And it's still not over.
PJ: I noticed you on SHOWTIME's ALL ACCESS: GERVONTA DAVIS vs. HECTOR GARCÍA (16:14 minute mark) and I remember Coach Calvin Ford saying, "I love what I hear, ya'll making 'em sing!" when you and Tank were hitting the double-end bags. How did you feel when you saw yourself on the big screen?
ME: That was crazy because I wasn't even expecting it!
I knew I was there, but I didn't know I was actually in it. When I saw it, I was like, "Dang!"
It was good for me.
PJ: You're fighting at lightweight. At the top, and near the weight class, are a bunch of phenomenal fighters, like Taylor and Serrano. Once you get things rolling, are those the kind of fights you'd like to eventually get to?
ME: Right now, I'm still getting my feet wet, [and] getting used to the pro life. But I would love to share the ring with those big names in the future.
PJ: Speaking of Taylor and Serrano, they had a huge fight last year with record purses. A major win for Women's Boxing.
What's your view on the state of Women's Boxing today?
ME: It's getting better and better. I feel like Claressa Shields is the one that opened the doors up for Women's Boxing.
And last year, Serrano and Katie, that was the first million-dollar fight in Women's Boxing. I'm glad that they're trying to make it equal to men's [boxing].
We work just as hard, and I feel like I turned pro at just the right time.
PJ: Looking ahead, what types of opponents would you like to face in your next 3 – 5 fights?
ME: Some names that are still coming up, just like me. I still have some stuff to work on, so we're not going to rush into nothing.
But, if we get a call, I'm always ready.
As long as the money is right. We're going to take it!
PJ: As we finish up, where can fans learn more about you, and catch up with you on social media? And is there anything you'd like to tell your fans?
ME: I'm on Instagram: @miakillerbee1. I'd also like to tell all my fans, thanks for all the support!
And I'll continue to showcase my talent.
PJ: Thanks for your time, Mia. And you're officially on our watch list moving forward!  
ME: Thank you so much!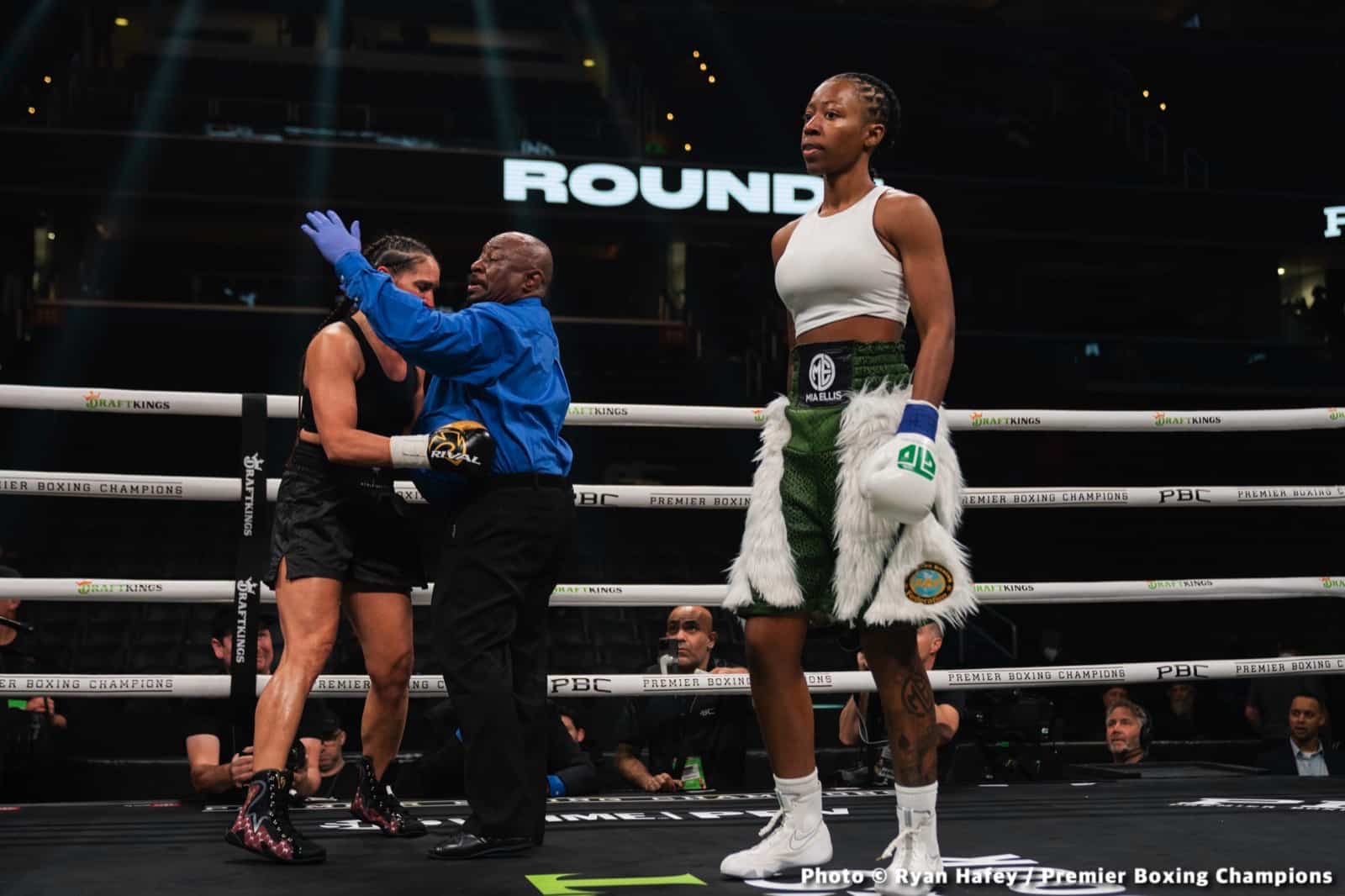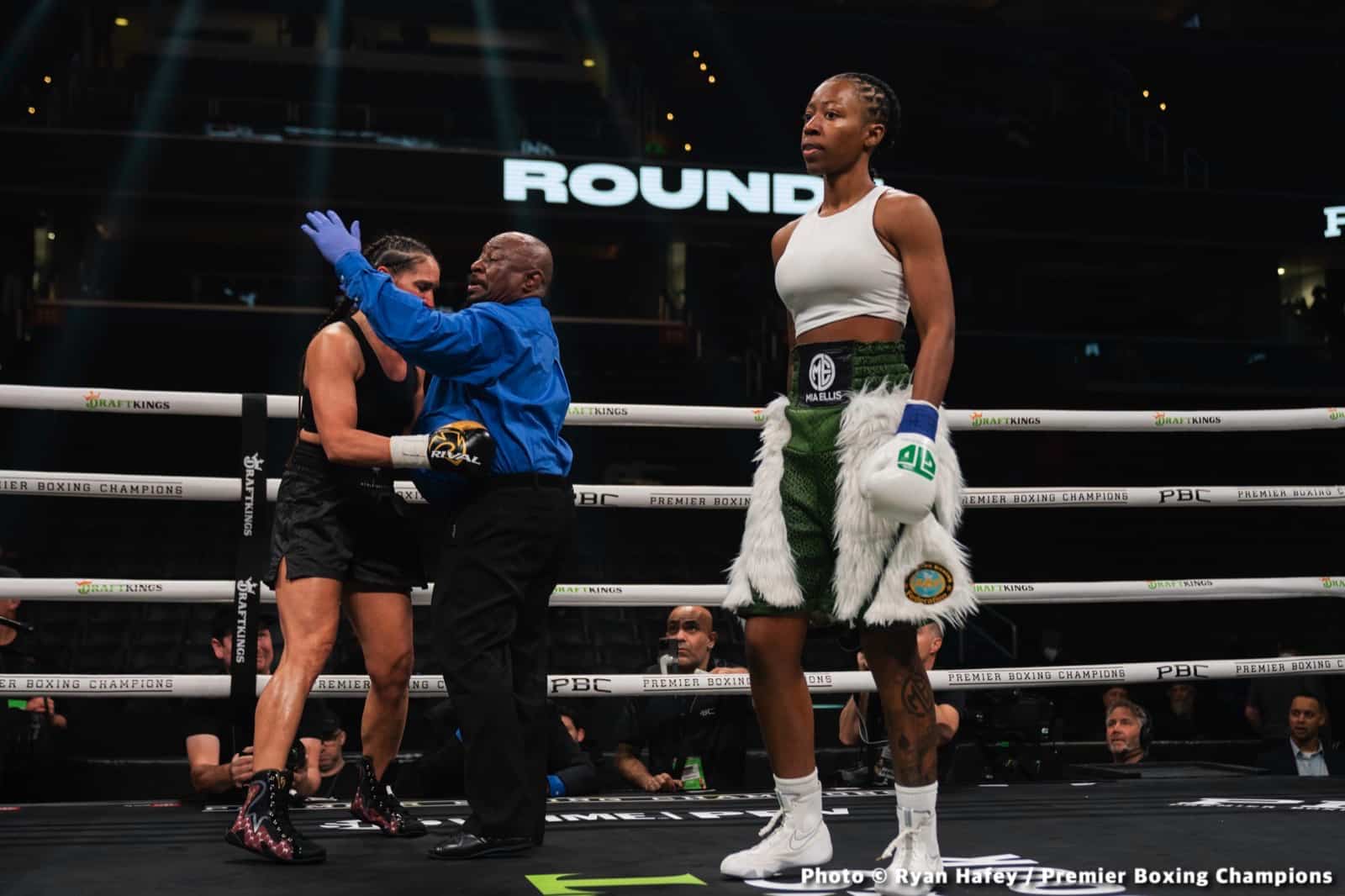 Help Spread the Word!
Please share this article on Twitter and Instagram, it would mean a lot to us.
About the Author: 
Paul R. Jones! is a longtime writer and ringside photographer for EAST SIDE BOXING. His articles, photographs, and commentary have appeared in Boxing News 24, Round by Round Boxing, Boxing Insider, Medium.com, and more.
Follow me on Twitter @boxingepicenter. Email me or send me a secure tip at prjones1@hotmail.com.
More Great Articles from Paul R. Jones!
Boxing's Best Of 2022: East Side Boxing Hands Out Its Annual Awards!
2021's Best Fighters, Fights, And Knockouts: East Side Boxing Hands Out Its 2021 Awards!
Which Fighters, Fights, And Knockouts Were Truly the Best Of 2020? East Side Boxing Hands Out Its 2020 Awards!
The "ESBYS": Handing Out East Side Boxing's 2019 AWARDS – Winners and Nominees!
EAST SIDE BOXING's 2018 AWARDS: Complete List of Winners, Nominees, More!