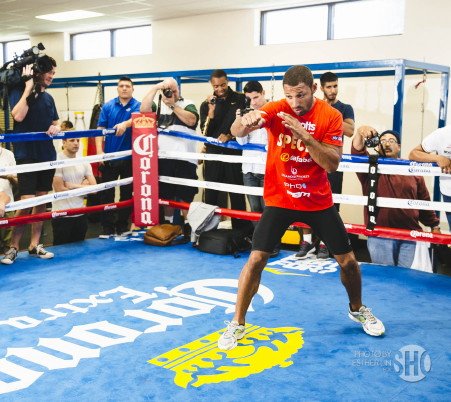 IBF welterweight champion Shawn Porter (24-0-1, 15 KOs) doesn't plan on letting challenger #1 IBF Kell Brook (32-0, 22 KOs) get any kind of confidence in their fight this Saturday night at the StubHub Center in Carson, California.
Porter wants to get to Brook and hammer him into the canvas within the first 4 rounds, and he believes he's got a good chance of carrying that off due to Brook's stiff, straight up and down fighting stance. Porter sees Brook as someone he can hit early often with his best shots, because he doesn't have the kind of pro style that would make him a difficult opponent to put hands on.
"I am going into the fight looking for that knockout. I told myself that going four rounds or less would be a beautiful night for me," Porter said.
Porter has the advantage in this fight on the inside, and plans on using that advantage by getting to Brook as much as possible in close to nail him with shots. Brook's trainer Dominic Ingle has talked about Brook timing Porter and nailing him with big shots each time that he surges forward to get on the inside, but that may be easier said than done, because Porter is not easy to hit when he comes forward.
In the past, he could be picked off when he came after an opponent. But in his last 3 fights, Porter has learned how to attack without getting hit by using head movement and coming in low. Brook might still be able to connect on Porter's chin while he's coming in, but the chances of him being able to stop him or slow him down are remote.
The reality is that Porter is going to get on the inside against Brook repeatedly on Saturday night, because he's not going to be able to keep him on the outside. The only question is will Brook be able to tie him up in a clinch or get away from him quickly.
Brook may try and fight Porter on the inside, but that would probably be bad idea for Brook because he looked lost in his first fight against Carson Jones when he was able to get inside on him. Brook didn't have the inside game to handle Jones from that distance.
In their rematch, Brook was able to keep Jones on the outside to work him over in the process of scoring a knockout win. Jones, however, isn't in the class of Shawn Porter, and he's not really what you would call a 1st tier fighter. It's telling that Brook had major problems against Jones in their first fight.