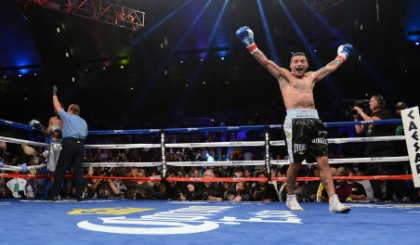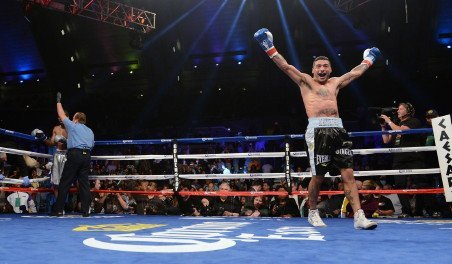 (Photo credit: Naoki Fakuda) Lucas Matthysse wants to face WBA/WBC light welterweight champion Danny Garcia (26-0, 16 KO's) next on September 7th, and he's hoping that Garcia doesn't continue to duck the fight because he wants to get it over with by beating him and taking his two world titles.
Matthysse isn't impressed with Garcia's hand speed or his defensive ability, and he feels it's going to be easy to land his big shots on him and get out of the way of his slow return shots.
Matthysse said "I hope the fight happens, but he's a slow fighter. He's slow and wide open. I know I'll win that fight as well."
Matthysse won't win if he can't get Golden Boy Promotions to try and convince Garcia to take the fight. Thus far, Garcia has shown very little interest in fighting him and it's doubtful that Matthysse's 3rd round knockout win over Lamont Peterson did anything to change his mind in that regard. If anything, Garcia might be even more reluctant to fight Matthysse after watching what he did to Peterson.
Matthysse's promoter Richard Schaefer of Golden Boy Promotions is optimistic he can put together the Matthysse-Garcia fight, saying "It's very likely [we can make the Garcia-Matthysse fight]. We talked to his manager Al Haymon. That's the fight we want to do on September 7th at the Verizon Center in Washington, DC. That's a fight I want to do. That's a fight fight fans want to see. Danny Garcia is the type of fighter that has never turned down anybody…he always steps up and delivers. This was one of the most amazing performances I've ever seen. You can't even be touched by the guy [Matthysse] because if you get touched you're probably going to go down."
Let's hope that Garcia can live up to Schaefer's high thoughts of him because he hasn't exactly been breaking down doors to make the fight with Matthysse in the past. Schaefer says Garcia has never turned down anybody. He may not have turned them down, but he also hasn't been saying yes to the fight with Matthysse.