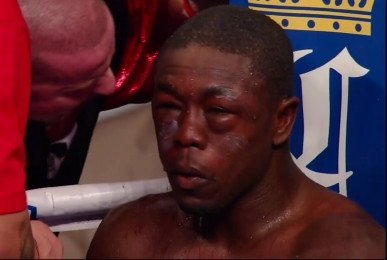 By Rob Smith: Andre Berto (28-2, 22 KO's) may have been soundly beaten and may have looked horrible in losing to WBC interim welterweight champion Robert Guerrero (31-1-1, 18 KO's), but that's not going to get in the way of Golden Boy Promotions CEO Richard Schaefer of giving Berto another world title shot next year against possibly WBA World welterweight champion Paulie Malignaggi.
Schaefer said to RingTV "He [Berto] will be back, bigger and stronger. I am convinced that he will be back fighting for a world title again in 2013."
Berto is going to have to raise his game if he wants to keep getting world title shots, because he didn't look good in losing to Guerrero. Berto's footwork, stamina, decision making and defense were all flawed against Guerrero. Berto looked really stiff, and was easily pushed to the ropes by the slender Guerrero.
Surprisingly, Berto didn't put up much resistance to get off the ropes, which was odd because most veteran fighters know enough to get off the ropes in order to avoid getting punished. But Berto looked like he was physically incapable of fighting in the center of the ring due to then amount of energy that it would require. He looked much more comfortable resting against the ropes and letting Guerrero do most of the work in the fight.
This is how Berto fought against Victor Ortiz last year in Berto's 12 round decision loss to him. If this is how Berto is going to be stuck fighting for the remainder of his career, then Schaefer needs to cut his losses and look for another fighter to be putting title fights because Berto isn't going to find success with that kind of style. It's possible Berto might have enough power to defeat Malignaggi, but that's not saying much because Malignaggi is a champion that won't last.
Berto won't either if he beats Malignaggi, so it'll be like exchanging one temporary champion for another. Berto will have to change his all around and drop his futile attempt at using the shoulder roll made famous by Floyd Mayweather Jr. Berto used that technique really poorly last Saturday night, and it seemed like he was leaning into Guerrero's straight left hands. Berto and his team should have known that the shoulder roll wasn't going to be effective against a southpaw like Guerrero.