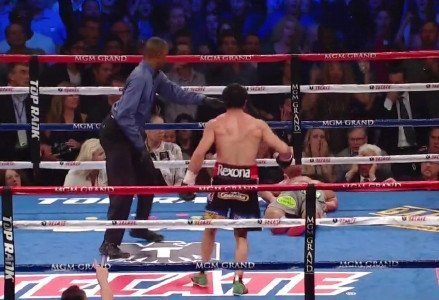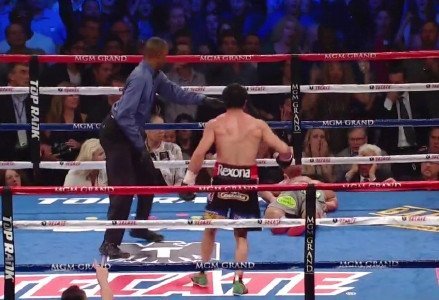 By Marc Livitz: Boxing received a cattle prod to the backside on Saturday evening and amazingly, it took but one bundle of dynamite from a certain "Dinamita".
It was the sweet science's rendition of a Saturday night special which likely sent one nation into hysterical levels of celebration and another into a deep sadness. To further illustrate the significance of Manny Pacquiao's knockout loss to Juan Manuel Marquez: the news of the Filipino Congressman's defeat as posted on the website of the Manila Times took brief (and hopefully very brief) precedence over the destruction unleashed upon the Philippines by Typhoon Bopha, which has left the country in a state of utter devastation.
Simply because the nature of Marquez's savage gift of unconsciousness passed on to Pacquiao was delivered in the style that it was, the dying seconds of round six from the MGM Grand will do more than just remain etched in the hearts and minds of boxing fans worldwide. This is a flash bulb memory moment to be sure.
Most of us will remember where we were and what we were doing when it all went down or more to the point, when the Pac Man's preeminence over the sport went face first into the canvas. His lucrative endorsement deal with Nike may yet prove to be prophetic. As per custom, the sportswear company releases a special line of Pacquiao shoes and clothing before each of his fights. One in particular is a simple outline of the fighter's shag hair, mustache and goatee printed upon a t-shirt. This design may have been discovered upon the ring apron once the maintenance workers began their breakdown of the ring late Saturday evening.
The knockout was just that memorable.
Vindication for Marquez and his trainer, Ignacio "Nacho" Beristain finally came, but the Mexican legend from el Distrito Federal has already been shortchanged by bits of the media and some disgruntled fans. More than a handful boxing scribblers have already begun to put a boot to the throat of his accomplishment in Las Vegas. "He must have been juicing", some have implied. Perhaps unbeknownst to those in the pugilistic know, many of whom don't appear fit enough to climb a flight of stairs, the mere presence and constant reminder of a tough loss or feelings of outright injustice can supply more emotion and drive in the gym than a shot of 'roids to the butt could ever hope to achieve.
Let's just wait and see what the post fight drug testing reveals. And to think – many of these are the same hacks who scoffed at the idea of Marquez facing Pacquiao for a fourth time. For certain, while this may be "Dinamita's" greatest victory for more reasons than three, his contribution to the sport of boxing cannot be overstated.
There are those who are only upset at the petty fact that Manny may now not have to worry about the fight to end all fights. Of course, this in and of itself is another "wait and see". Should the right offers be made, the matchup between Pacquiao and Floyd Mayweather, Jr. would neither be the first nor the last matchup forced down our throats way past its respective expiration date. Speaking of a shelf life, therein lies the dilemma faced by many a boxing fanatic. Fighters have a "must sell by" date, while us as viewers do not. Some of us expect our heroes to go on forever. They change and we do not. Finally, the personal and emotional investment many put upon their favorite boxers create a giant wave that lingers on much longer than any athlete possibly could.
No one is unbeatable. Not in any walk of life. We all have our day. In the eyes of many, Pacquiao's stock had already began to fall long before he stepped into the ring to face Marquez on Saturday. He hasn't scored a knockout in over three years and has become a "twice a year" fighter. Just as much an attraction as a champion fighter.
His ride may not be at its end.
Each fighter had promised and subsequently sought to finish the other via knockout. The very sight of Manny Pacquiao being sent to the canvas in the third round was a difficult one to process for more than a few million people. Hearts rested somewhat when he returned the favor to Juan Manuel, although it was but a glove to the mat in the fifth. Then came the dying seconds of the sixth, which would of course prove to be the long walk for the former pound for pound king.
It doesn't matter what the story is. Typically, when one strides full force into a thunderbolt of a punch to the face, that person becomes acquainted with a few pink elephants. The elasticity of the neck is put to the test. The shot delivered by Marquez was perfectly timed and expertly delivered. Matters were undoubtedly delivered assistance by way of Pacquiao leaving himself completely exposed when he was working on setting up a left handed shot of his own.
Nevertheless, it was a great night for the sport. We didn't get the calculated, wait and see back and forth ring banter between the two contestants. Marquez can now put a long piece of masking tape across his "I Beat Pacquiao Three Times" shirt. He really beat him this time. He beat him down.
And what exactly is the "Fighter of the Decade" title for which the two men competed? The entire decade? We're hardly through the third year of it. Was it a sign of respect for their irrefutable contributions to the sport or just another prize in the Cracker jack box?
As fans, we should be grateful. We got entertainment. We got the bulls in a China shop.
And finally, no…please stop. No one predicted this.