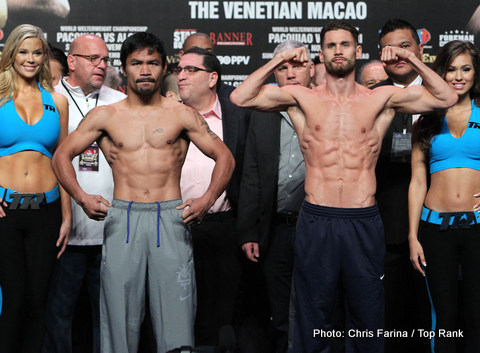 Tonight, Filipino phenom, Manny Pacquiao (56-5-2, 38KOs) will return to the ring as he squares off against New York native, Chris Algieri (20-0, 8KOs). At age 36 and facing the proverbial 'westside' of his sun-setting career, one of the biggest subplots surrounding this showdown sheds light on one major question: How much does Pacquiao have left? There's no better way to answer that question than to place him in the ring across from a young, talented lion like Algieri. As we prepare for this clash, we now take a look at "Keys to Victory", "Four to Explore", and an "Official Prediction".

MANNY PACQUIAO – KEYS TO VICTORY
For Pacquiao, keys to victory will start with pace and pressure. In the aftermath of his KO loss to Juan Manuel Marquez, we've seen a major decline in Pacquiao's overall aggression and his level of pressure put on the opponent. He seems to be more methodical in his pursuit, which in a fight like this against a taller, more athletic opponent could totally work against him. Pacquiao will need to be the same ravishing menace who took the fight to the taller Antonio Margarito. But can he sustain that pace? Algieri was a few punches shy of 1000 against Provodnikov. Pacquiao hasn't faced anyone with that work rate in years. Again, pace and pressure will dictate this evening. If Pacquiao can be the one to dictate those two things, he wins easily.
CHRIS ALGIERI – KEYS TO VICTORY
For Algieri, keys to victory are a bit more complex. Although Pacquiao hasn't quite seemed himself lately, he's still a very dangerous opponent, and coming down to 143lbs for the first time in a few years, speed will be his primary weapon. Algieri will need to be very sharp defensively, using strong footwork, circling away from Pacquiao's strong side. Algieri will need to keep Pacquiao on his backfoot and not allow him to get into an offensive rhythm. If Algieri can use his jab effectively, circle away from Pacquiao's strong side, and demonstrate the same tireless workrate he showed against Provodnikov, he could shock the world!
FOUR TO EXPLORE (CRITICAL GAME CHANGERS TO WATCH)
PUMP UP THE VOLUME: For Algieri, one of his strengths as a fighter is workrate and stamina. It comes as no coincidence that he has a Bachelors Degree in Healthcare Science. Fitness is his strong suit, and tonight, he'll need to demonstrate just how much! Margarito was the last opponent Pacquiao faced who had such a punch rate, yet Margarito was right in front of him and easy to hit. If Algieri can throw as many punches and somehow avoid the power shots, does Pacquiao have enough 'punch' left in him to win on points?
'AMATEUR' NIGHT?: Despite his extended history in the ring as a kick boxer, Algieri has no amateur history as a boxer, and in 20 professional fights, he has never fought an opponent outside of the state of New York. Pacquiao, on the other hand, has had better than 60 professional fights which have taken place all over the world, against some of the best competition around the world. In a showdown of untested youth versus over-tested experience, typically, experience wins out. Will tonight be another classic example of why experience is so pivotal? Or will a strange twist of fate make this an 'amateur' night?
HUGS or KISSES?: Studying film of Algieri, one can't help but notice his penchant to control aggression by hugging and clinching. The intriguing thing about this is that it's always in a very cerebral way. Wherein some fighters do it solely as a means of avoiding close punishment, Algieri employs it more so for the purpose of creating a distraction to allow himself to reset his position, which is typically followed by a timely jab or body shot. When you have the speed of Pacquiao, some of these type efforts can be blunted before they happen, which allows him to catch the opponent before they execute the reset clinch. Considering that we know Algieri will try, what gives? Will Algieri be able to blunt Pacquiao's speed with his many 'hugs'? Or will that effort be nixed and halted by way of a few timely shots to the 'kisser'?
WEIGH-IN or BLOW OUT?: In an odd sequence of events, the normally 140lb Chris Algieri failed to make weight, despite being given an extra 4lb cushion. For some, this means very little; however, history has proven to us that there's no greater sign of a fighter on the brink of defeat than failure to make the established weight. As a matter of fact, you'd have to dig awfully deep to unearth a fighter that actually won under those circumstances. When asked about the gaffe, Algieri stated that he had "put in all the hard work he needed to". He would follow that sentence in saying "this is a dream come true and I'm ready to rock"! Those words came pretty easily, but fulling them the action itself is another story. Is he ready to seize this colossal moment? Or does the failed weigh-in mean a potential blowout?
PREDICTION – UPSET BAROMETER (RANGE FROM 1 – 5)
In the end, the dynamics and subplots of this fight are many, yet the most probably outcome is only one. Pacquiao will attempt to turn back the clock, boasting great speed, footwork, and aggression. Algieri will also come out with something to prove, and oddly enough, fans can expect him to have better than average success in the early going. Due to Algieri's work rate, jab, and cerebral approach, it will take Pacquiao longer than average to begin the arduous process of breaking him down. But once he does, the end will come fast and furious. With scorecards reflecting a tie across the board and Algieri gaining steam, Pacquiao will land something wicked around the 7th or 8th round, and a stoppage will follow.
OFFICIAL PREDICTION: MANNY PACQUIAO VIA 8TH RD KO (UPSET BAROMETER PEAKS AT 3 OF 5)
(Vivek "Vito" Wallace can be reached at wallace@boxing247.com, Twitter (@vivekwallace747), Instagram (ViveksView), and Facebook)