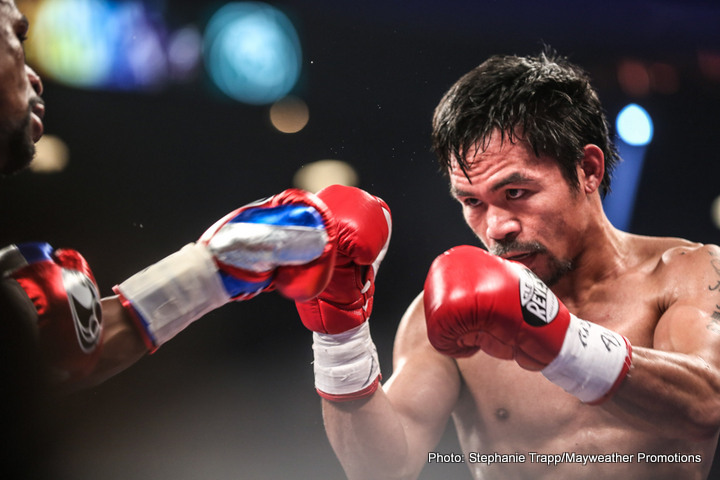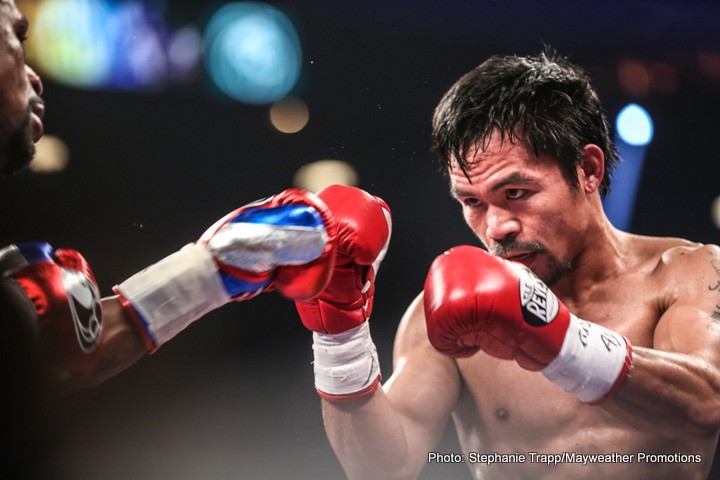 For boxing fans not already tired of seeing Manny Pacquiao (57-6-2, 38 KOs) fight WBO welterweight champion Tim Bradley (33-1-1, 13 KOs), they'll get a chance to see the two of them face each other again on April 9th on HBO pay-per-view from the MGM Grand in Las Vegas, Nevada. Their promoter Bob Arum, 84, is saying that Pacquiao has made his decision and will be fighting the 32-year-old Bradley next in what will be a third fight between them.
While some fans are obviously disappointed in this selection due it being an already played out fight, it's a fight that some fans are interested in seeing because they feel that Bradley has improved since his last fight against Pacquiao in 2014.
Pacquiao will be getting a guaranteed purse of $20 million for the April 9th fight. Arum has already sent Pacquiao a $2 million advance of his guaranteed money. It's unknown how much money Bradley will be getting for the fight. Whatever it is, I'm sure Bradley is pleased. If not for this fight, Bradley's options were not that great. He would have had to defend his WBO 147lb title against #1 WBO mandatory Sadam Ali, and that wouldn't have been a big fight.
Other than that, Bradley was looking at a bleak landscape of him likely getting stuck fighting Jessie Vargas again and whoever else Arum has in his Top Rank stable to put in with him. Terence Crawford wouldn't have been an option for Bradley, because the two of them are good friends.
For Pacquiao, the Bradley fight will likely be the final fight of his career. Arum isn't willing to say this is the end, but it looks like it will be. Pacquiao is expected to be voted into office in the Philippines senate next May, and he won't have time to continue his boxing career once that happens.
"I am not going to position this as his last fight," Arum said to ESPPN.com. "It may very well be his last fight, but I won't put myself in the position of selling it as his last fight and then he decides he wants to fight again and I look like a schmuck. I'm not sure it is his last fight, despite what he told me."
Whether Pacquiao fights again or not is something will find out in time. Arum would obviously be overjoyed if Pacquiao were to come for a fight in late 2016 against someone like Crawford or perhaps another fight against Bradley.
Pacquiao lost to Bradley by a controversial 12 round decision in their first fight in 2012. It was a badly scored fight in the minds of a lot of boxing fans, as it seemed like a clear victory by Pacquiao. In their rematch in 2014, Pacquiao had little problems dominating the slower, weaker Bradley in winning a 12 round unanimous decision by the scores of 116-112, 118-110 and 116-112. Pacquiao appeared to win the fight by 10 rounds to 2. The two 116-112 scores were disturbing because it was a one-sided fight.
It remains to be seen how much interest the boxing public will have in paying to see a third fight between Pacquiao and Bradley. Since it's not likely that Arum will reduce the price of the fight due it being a rerun, it's quite possible that the pay-per-view buys be less than they've been in the past between two fighters. Arum likely realizes this, but he doesn't have a lot of options for Pacquiao in his Top Rank stable.
It was basically Bradley or Crawford, and Bradley was the more recognizable name of the two. Arum couldn't have thrown one of his other Top Rank fighters Viktor Postol, Jessie Benavidez or Jessie Vargas in with Pacquiao, because there would have been zero interest in that fight. At least by having Pacquiao fight Bradley a third time, there will be some interest from fans in this fight. Probably not a lot of interest, but enough to turn a nice tidy profit for Arum and Top Rank.
https://www.youtube.com/watch?v=oP9X27IHcpY
Pacquiao vs. Bradley is definitely a watchable fight. However, I'll watch it on HBO replay though rather than pay to see it live. If I thought that it was a 50-50 fight, I would pay to see it on HBO PPV, but I think it's pretty much a given that Pacquiao will win. It's too bad Top Rank couldn't come with some new blood for Pacquiao to fight instead of having him fight Bradley again. It would be like Floyd Mayweather Jr. asking boxing fans to pay to see him fight Andre Berto again immediately after having beaten him soundly last September. Some fans would obviously he happy to pay to see another Mayweather vs. Berto fight, but my guess is there wouldn't be a huge amount of people willing to shell out their hard-earned money to see another mismatch.