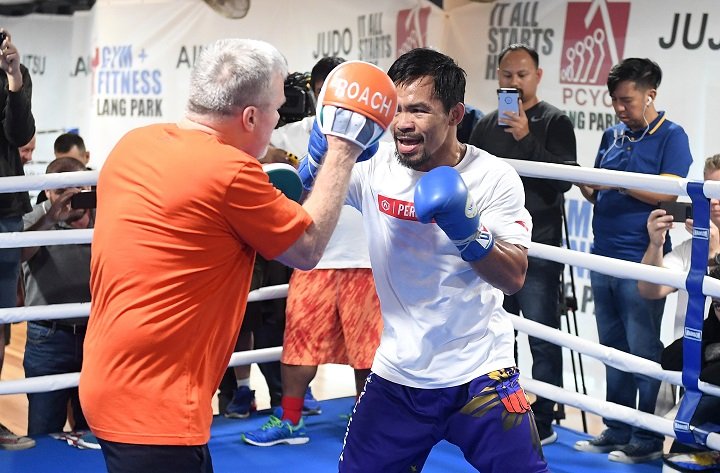 Oscar De La Hoya has stated how the Manny Pacquiao-Lucas Matthysse fight is "on," and is "signed, sealed and delivered" for Kuala Lumpur, Malaysia on July 14. ESPN will televise the welterweight title fight (Matthysse's version of the WBA welterweight title on the line) on pay-per-view.
Pac Man will be making his ring return, having had a year out (come fight night) following his upset points loss to Australian warrior Jeff Horn. Matthysse will be making the first defence of the belt he won last year. One of the big talking points surrounding this fight is, will Manny work with long-time trainer Freddie Roach? It seems not.
In speaking with The Los Angeles Times, Pacquiao's manager Michael Koncz said it is entirely possible the future Hall of Famer and all-time great could replace Roach with Buboy Fernandez as lead trainer and corner-man.
"Manny will make the final decision on this," Koncz said. "He's contemplating letting Buboy shine at the finish of his career. If Buboy can get a stable of boxers out of this………no hard feelings to Freddie, but Manny has not made a final decision. Freddie had a great run and they did a lot of great things together, but that does not mean that Manny cannot go on without Freddie. Manny learned a lot from Freddie, but he's at the stage where he's going to be ending his career, and I truly believe this: a fighter must only have one voice in the corner and it must be a voice he can trust."
Pacquiao trusted Roach sincerely for many years, but is this no longer the case – and if so, why? Manny has also known Buboy, his good friend, for years, but is Fernandez capable of running Pacquiao's corner and full training camp for what could potentially prove to be a tough fight? It could work, it could prove to be a disaster.
One thing Pacquiao cannot afford at this late, closing stage of his great career is another loss. If that happened, retirement would likely be the only remaining option for the former multi-weight world ruler.