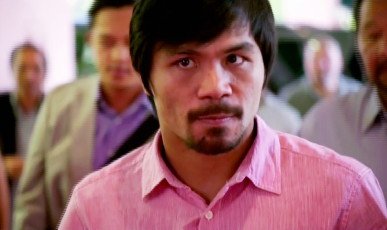 WBO welterweight champion Manny Pacquiao (56-5-2, 38 KOs) has a formidable task ahead of him in facing the taller, younger and slicker Chris Algieri (20-0, 8 KOs) this month in their HBO pay-per-view fight from Macau, China. There's a decent chance that Pacquiao could lose this fight if Algieri doesn't fight stupid like Tim Bradley did in his rematch against Pacquiao. But despite Pacquiao having his hands full with Algieri, Pacquiao is still looking past him towards a big money match-up against WBA/WBC 147 pound champion Floyd Mayweather Jr.
That's the fight that Pacquiao badly wants if he can get it. Pacquiao had an opportunity to get the Mayweather fight on several occasions, but the fights failed to take place due to questionable decisions on Pacquiao's part.
"I do have one specific goal and that is to give the boxing fans the fight they have always asked for," Pacquiao said via Dan Rafael of ESPN.com. "I want that fight [with Mayweather] too. "I believe good-faith negotiations could produce that fight. But it is impossible to negotiate when you are the only one sitting at the table. Two fighters who want to fight each other have never been kept from fighting each other."
Pacquiao's finances would be greatly enhanced if he were able to get the fight against Mayweather. Pacquiao will probably will do well just by him continuing to name drop Mayweather's name. Just by mentioning Mayweather's name, Pacquiao may be able to receive more pay-per-view buys for the Algieri fight.
I think a fight between Pacquiao and Mayweather isn't likely to happen. Mayweather doesn't need Pacquiao in order to make huge money, and Pacquiao isn't helping himself by moving down to 140 and not talking on big names. Since Pacquiao's loss to Juan Manuel Marquez in 2012, Pacquiao has beaten Brandon Rios and Tim Bradley; neither of which were big names.
Pacquiao is now burning up another fight by facing the little known Algieri instead of a better known fighter. With Pacquiao not fighting the big names, it means that Mayweather has no real reason for why he should fight him.