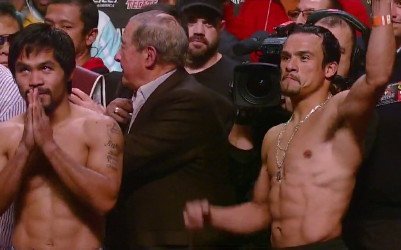 By Rob Smith: Manny Pacquiao has a perfect explanation for why he's not looked good since his win over Miguel Cotto in 2009. He says it's because all of his opponents have been literally running from him in the ring instead of standing stationary and slugging it out in an old fashioned style of fighting that Pacquiao favors.
Pacquiao thinks that his opponent for Saturday night Juan Manuel Marquez will look to slug it out the entire time so that they can giving boxing fans a show that will please them, and at the same time finally prove who the better fighter is between them.
Pacquiao said to Sky Sports News "It just happens that in the last three fights I've fought people who run around, who won't fight me toe-to-toe. I expect more action…I'm expecting him [Marquez] to try to prove something and fight toe-to-toe with me."
It sounds like Pacquiao doesn't want Marquez to be Marquez the counter puncher. Looks like Pacquiao wants Marquez to be Ricky Hatton, a fighter that accommodated Pacquiao's toe-to-toe fighting style and paid for it dearly by getting knocked out in the 2nd round.
Pacquiao is saying his last three opponents ran from him, which would include Marquez because he fought Pacquiao last November. I saw that fight and I don't remember too much running from Marquez. To be honest, it looked like it was Pacquiao that was backing away through many of the exchanges, so I think his recollection of that fight is foggy to say the least.
Marquez wasn't running. Mosley and Bradley used movement, but what did Pacquiao expect them to do? Bradley had no power to speak of, and he had put on too much muscle and it had robbed him of his hand speed. And Mosley was a shot 40-year, who hadn't won a fight in two years. Did Pacquiao honestly expect Mosley to go toe-to-toe with him at this point?
It's sad that Pacquiao's promoter Bob Arum even made that fight because it wasn't going to be a competitive fight and it gave a really bad product for the tons of boxing fans that paid to watch the mismatch on pay per view. Do you think Pacquiao would look could if he were 40-years old asked to fight a fighter in their prime? I think Pacquiao may have even less in the tank when he's 40 than Mosley did.