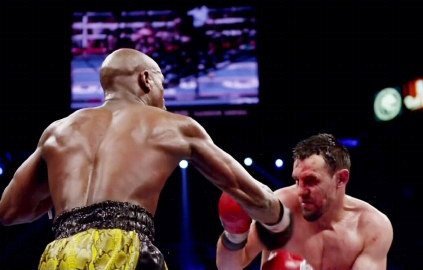 Manny Pacquiao has reached the point where he now suspects that Floyd Mayweather Jr. is not serious about ever fighting him. Pacquiao notes that Mayweather Jr. has been asking him to agree to an ever increasing amount of things before he'll agree to fight him. It was originally drug testing, but now Mayweather wants him to leave his promoter Bob Arum before he'll think about fighting him.
The thing is there's no guarantee that Mayweather will actually fight Pacquiao even if he does leave Arum. That would put Pacquiao in a situation where he could wind up leaving Arum for no reason if Mayweather decides he still doesn't want to fight him.
"He's been asking for so many conditions which we have expressed intentions to abide by like drug testing, purse split and everything,' said via abs-cbnnews. "Now he wants me to separate myself from my promoter which I cannot possibly do without violating my contract. He really looks like he does not want to fight me, so, I think there's nothing we can do about it already. Let's forget about the Mayweather fight for the meantime."
By saying that he wants to forget about the Mayweather fight in the meantime, it seems to suggest that Pacquiao could be thinking of revisiting the idea of fighting him down the road at some point. When that is and under what conditions is unclear. Is Pacquiao planning on leaving Arum at the end after all to try and get the Mayweather fight, or is he thinking of trying to set up a fight later on in the year while he's still with Arum?
Even if Pacquiao leaves Arum and Mayweather still doesn't fight him, it won't be a total loss for him. Yes, he still won't have the Mayweather fight, and that obviously would be a big disappointment for him. But by leaving Arum, Pacquiao would then have available to him guys like Saul "Canelo" Alvarez, Danny Garcia, Amir Khan, Lucas Matthysse, Adrien Broner, Shawn Porter, Devon Alexander and Keith Thurman from Golden Boy Promotions. That wouldn't be all bad. In some cases you could see it as an upgrade in potential opponents for Pacquiao. Instead of fighting Tim Bradley, Brandon Rios and Mike Alvarado with Top Rank, Pacquiao would have a new stable of fighters he could fight.
The Mayweather fight will likely happen if Mayweather's fights against Amir Khan or Marcos Maidana tank badly in the area of PPV buys. Showtime/CBS won't be happy seeing Mayweather unable to reach the threshold of 1 million buys for his mismatches against Khan and/or Maidana, and they'll likely put pressure on Mayweather to put his issues behind him and take the fight against Pacquiao, whether he's still with Arum or not.