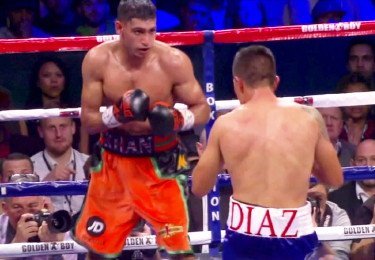 Floyd Mayweather Sr. has zero worries about whether his son Floyd Jr. can successfully defeat Amir Khan and Marcos Maidana if he faces either one of them next on May 3rd. It's widely thought that Mayweather will be fighting one of these two fighters next at the MGM Grand in Las Vegas, Nevada, but Mayweather Sr. doesn't see either of them as giving Floyd Jr. a competitive fight.
"Both of them easy. Two easy fights; both of them is easy. Maidana might have punching power, but you still can't hit what you can't see," Mayweather Sr. said to Hustleboss. So that's going to put Maidana under a tree. Amir Khan's got a glass jaw. And if you look at it too hard, it'll shatter."
From the looks of it, Floyd Sr. seems to be saying that he sees Maidana as a tougher opponent than Khan. However, that doesn't mean that he's hoping that Maidana gets the fight, because Floyd Sr. has repeatedly said that he'd like to see his son fight Khan so that he can knock him out. Floyd Sr. thinks Khan talks too much trash, and he'd like to have Mayweather Jr. put him in his place. Unfortunately, Khan has already been put in his last in 2 out of his last 4 fights, so Mayweather Jr. won't exactly be the first to have done it. That's what kind of what takes away from this fight. Khan has defeats that he never avenged against Breidis Prescott, Danny Garcia and Lamont Peterson.
Some of that isn't Khan's fault, though, because he wanted to fight Garcia and Peterson again, but circumstances have prevented him from fighting those guys again. But Prescott is someone that Khan could have and should have fought to avenge the defeat. But Khan felt that because Prescott was beaten by fellow countryman Kevin Mitchell soon after his loss that there was no longer any real reason for him to fight Prescott again. I think a lot of boxing fans disagree with that, as they still wanted to see Khan fight Prescott again no matter how many times Prescott was beaten. Even now, Prescott would likely give Khan a lot of problems and would have a good chance of knocking him out again. It's a style match-up thing. Precott has huge power, and Khan's fragile chin makes him susceptible to that power.
Mayweather Jr. is running out of interesting opponents for him to fight. When it's to the point where he's thinking of fighting Maidana and Khan, it shows you how bleak the outlook is for Mayweather. Unless he fights Manny Pacquiao in the near future, fans are going to have to get used to more Khan-like mismatches from Mayweather.