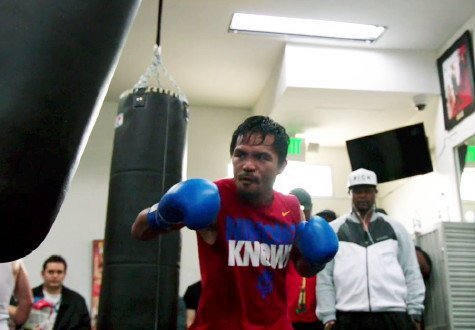 In an effort to drive some badly needed interest in his fighter Manny Pacquiao's November 22nd fight against Chris Algieri, Top Rank promoter Bob Arum will be having a 6-city promotional tour for them starting on August 25th in Macao, China. Pacquiao and Algieri will then travel to Shanghai, San Francisco, Las Vegas, Los Angeles and New York.
With this fight, Arum probably should have thought of making it an 11-city press tour because it's going to need an awful lot of buildup in order to get boxing fans excited about it, especially if Arum fails to add a quality undercard.
Right now the talk is that flyweight Zou Shiming will be on the undercard. That'll obviously help make the fight a big deal in China, but for the fight to do well in the U.S, Arum is going to need to somehow convince the casual boxing fans in America that Algieri is an exciting fighter with a good chance of winning. Of course, Arum could also open up his piggy bank and put together a good undercard with some of his best Top Rank fighters appearing like Terence Crawford, Julio Cesar Chavez, Brandon Rios, Mike Alvarado, Miguel Cotto, Mikey Garcia and/or Nonito Donaire.
If Arum stacked the Pacquiao-Algieri undercard with good fights instead of with obscure guys, he might be able to get a lot of pay-per-view buys in the United States. But other than that, it's not looking like the Pacquiao vs. Algieri fight card is going to generate a lot of PPV buys in the U.S.
Arum picked out Algieri for Pacquiao because he liked the storyline that it would bring in. Algieri has a Master's degree and he's talked about wanting to go to medical school in the future. Arum believes the casual boxing fans will be interested in seeing a fighter like this fighting for a world title against Pacquiao.
Just how much mileage Arum can get out of Algieri's educational background is hard to tell. I'm not sure that fans will care much about how many degrees that Algieri has. If all they have to go by is his fight against Ruslan Provodnikov last June, a fight where Algieri was in high gear running for his life the last 11 rounds of the fight, then Arum could be very unhappy when the PPV results are less than what he'd hoped for.