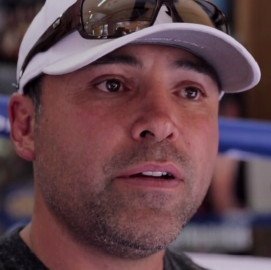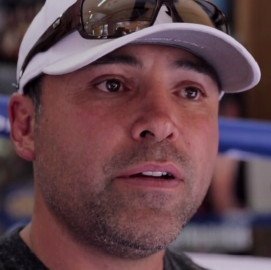 It's always both very interesting and a great honour being a call in participant whenever a big fight is preceded by a teleconference; especially an international one ahead of a massive, massive fight such as the fast approaching Floyd Mayweather-Saul Canelo Alvarez clash. Yesterday, with big name scribes such as Dan Rafael and Lem Satterfield asking Canelo and Oscar De La Hoya questions regarding "The One," it was hugely exciting being on the line.
I listened to the ESPN.com scribe ask his questions, along with writers for USA Today, Ring Magazine and other instantly recognisable publications, and the thing that struck me most, well actually there were two things – they were: Canelo's amazing maturity and quiet self confidence, and Oscar De La Hoya's bold pre-fight predictions.
Canelo stated that at no time has Mayweather gotten under his skin, and the 22-year-old was wholly convincing as he said this. Also, refusing, or simply being incapable, of being a big head, the talented fighter who may well become the next truly global Mexican superstar made no egotistical claims or predictions whatsoever. Alvarez, as level-headed as they come, merely stated, with total conviction, that he will win the fight. Alvarez also kept his ego in check when he was asked if he considers himself to be the best Mexican fighter in the sport today. Canelo replied how it is not for him to say.
Promoter Oscar, however, doing a fine job to further sell a fight that needs no further selling, made some notable statements.
Some of De La Hoya's bold teleconference predictions included:
"The One" will break the pay-per-view record currently held by his own, losing fight, with Mayweather – which had an astonishing 2.5 million buys!
Canelo will "land the perfect punch and KO Mayweather."
"That's my personal position, and that's my personal feeling," De La Hoya answered when yours truly asked him if Canelo can indeed KO a fighter who I stated is arguably the best defensive fighter of the last fifty years or so. "That's how I feel that the fight will pan out. In boxing, anything can happen, and in boxing, any punch can land and knock you out. So, my feeling is that a fighter like Saul Canelo Alvarez has what it takes to land that perfect punch."
Oscar went further, stating how he feels "The One" will lead us to a rematch, maybe even a trilogy.
"If Canelo wins, there is going to be a rematch – unless Mayweather retires, which I doubt," the all-time great said yesterday. "Both guys are competitors, both guys want to be in against the best. And with Canelo winning – we know and we're sure we are going to see a great fight – I strongly feel that both guys will want to fight again."
De La Hoya also said how he feels we will see "the very best" of Alvarez a week on Saturday, and that Canelo will have "no problems whatsoever" with the 152-pound catch-weight; either making it or during the fight because of having made it.
It's clear to see De La Hoya is incredibly confident in Canelo and his shot at upsetting a man who has never tasted defeat as a pro. But which of Oscar's pre-fight predictions will shock you the most if they come to fruition? And for the record, De La Hoya says Canelo will stop Mayweather inside eight rounds!