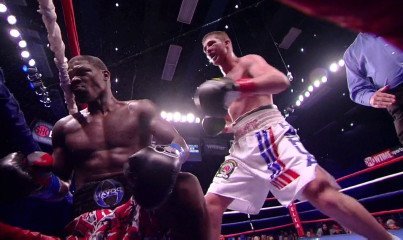 By Michael Collins: The team of unbeaten super middleweight contender Thomas Oosthuizen (20-0-1, 13 KO's) has reportedly said no to a match-up against IBF super middleweight champion Carl Froch for November. It's unclear why Oosthuizen's team don't want the fight but it likely comes to one of several things: Money, venue or readiness for the fight.
Brian Mitchell, the manager for the 6'4″ South African Oosthuizen, said to Sowetanlive.co.za "We've turned down that fight. Oosthuizen is a potential superstar…It's proper that [promoter] Lou Dibella will feature him in Shobox. The American boxing public just loves Tommy."
Indeed, the 24-year-old Oosthuizen, #4 IBF, is quickly building up a following in the United States with his fights being aired on Showtime. If he can continue to progress he could be a world champion in no time. Oosthuizen has youth on his side and he can outstay the older super middleweights like Froch, Mikkel Kessler, and Arthur Abraham, all of which are starting to get up there in age and likely won't be around too much longer before they retire.
Oosthuizen would have been in a bad situation had he agreed to fight Froch, because the fight would have taken place in Froch's home city of Nottingham, England, and it may have been very difficult for Oosthuizen to have much chance of winning a decision there. Andre Dirrell appeared to beat Froch in Nottingham in 2009 and found himself losing the fight by a 12 round split decision in the Super Six Tournament.
Froch is going to have to keep looking for an opponent to fill his November fight date. Kelly Pavlik had been a possibility but there's talk that he's not interested in traveling to England to fight Froch over there. As such, Froch is going to have to likely settle for someone a little lower ranked. One idea fighter would be Sakio Bika, a tough contender who has been in with names like Joe Calzaghe and Andre Ward in the past. However, Bika is an excellent inside fighter and Froch isn't all that skilled in that area. Froch had problems with Ward's inside fighting ability last December, losing the fight by a 12 round decision. If Bika was able to establish an inside game against Froch, we could see an upset. Froch can't afford to lose his next fight because he's got important rematches coming up against Lucian Bute and Mikkel Kessler in 2013.