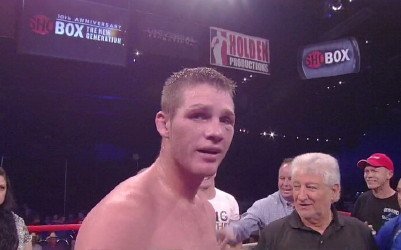 By Marcus Richardson: #4 IBF Thomas Oosthuizen (20-0-1, 13 KO's) is hoping he can get a shot against IBF super middleweight champion Carl Froch (29-2, 21 KO's) next in October. Oosthuizen's manager is reportedly trying to set up a fight against Froch for October. It's still unclear at this point whether Froch will choose to face the 6'4″ Oosthuizen because he's a difficult opponent to fight due to his height, reach, chin and boxing skills.
Oosthuizen's trainer Harold Volbrecht told IOL Sport "Tommy's worth ethic in the gym is amazing. He keeps improving all the time. He's ready to take on Froch."
Oosthuizen is coming off a lopsided 12 round unanimous decision victory over Rowland Bryant last Thursday in an exciting fight. Oosthuizen was able to take Bryant's big shots and outwork him over 12. That fight showed that Oosthuizen has got a top notch chin because he took some monstrous shots from the hard hitting Bryant and never took a backwards step in response. Froch can punch plenty hard too, but Bryant is the bigger puncher in my view. Oosthuizen took Bryant's shots and really worked him over with a high punch volume attack.
Froch is coming off of a 5th round demolition of IBF super middleweight champion Lucian Bute last May. Bute couldn't handle Froch's power from the get go, and spent much of the fight backed against the ropes taking huge bombs from Froch one after another. Although Bute probably had the better power of the two, he simply couldn't put his punches together like Froch and he didn't have the chin to stand up to Froch's power.
Oosthuizen will be a real test for Froch because he probably will be able to handle Froch's power, and this fight could come down to whether the judges value Froch's better power over Oosthuizen's high punch output. It's obviously going to be a problem for Oosthuizen going into Nottingham, England to fight Froch, because the loud fans there energize Froch, and it might be tough for Oosthuizen to win a decision there.