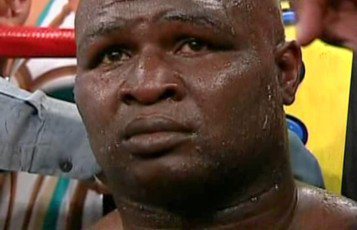 James Toney, once a truly great fighter, is not quite ready to call it a day and retire just yet. The 48 year-old (49 in August) will reportedly face journeyman Mike Sheppard for the vacant WBF heavyweight strap on May 13, the scheduled 12-rounder to go down in Ypsilanti, Michigan. So far there is no word of any TV coverage, not even an internet presentation.
Toney, a remarkable 76-10-3(46) – numbers compiled without "Lights Out" ever succumbing to a single stoppage defeat – was last seen in a losing effort. It was back in August of 2015 when Toney was simply out-worked by another heavyweight journeyman in Charles Ellis, Toney dropping a decision in Missouri. Who knows what we can expect from Toney-Sheppard.
Sheppard, 24-20-2(10) is getting on in years himself at age 41 and he too is coming off a loss – a 7-0 Sergey Kuzmin halted him back in October. Sheppard has been in with some big/recognisable names, including Antonio Tarver, Ruslan Chagaev and Gerald Washington, but the slugger from West Virginia has lost every time he has stepped up in class.
Still, Toney, or what's left of him and his once quite remarkable boxing skills, was out-hustled by Ellis and it could happen again against Sheppard. This fight is truly a case of how the mighty have fallen, for Toney, the former king at middleweight, super-middleweight and cruiserweight, really was mighty. Now fighting for the much maligned WBF belt (previous owners include Audley Harrison, Richel Hersisia and Joe Bugner!) Toney is facing a guy who would not have landed a glove on him in his prime.
In a way, it is to be hoped Toney actually loses to Sheppard, that way he will surely do the only thing left and retire, having never been stopped in close to 100 fights (unless Sheppard does something that was once unthinkable and flattens Toney). For if Toney wins and feels good in doing so, there could be even more fights in the future.
Toney's place in The Hall of Fame is secure, even though he should have retired at least five years ago.