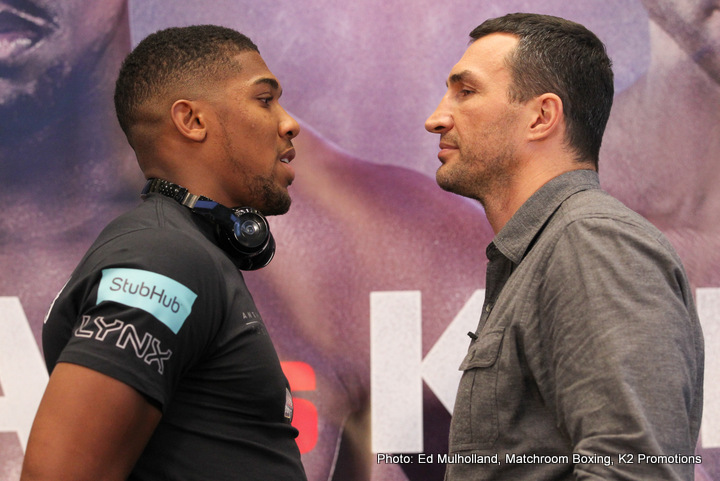 Arguably, and very possibly, the last great American heavyweight champion (begging Deontay Wilder's pardon) Lamon Brewster will be a very interested viewer when heavyweight giants Anthony Joshua, the IBF king, and Wladimir Klitschko, the former world ruler, clash in London next month.
Brewster, the former WBO king who retired with a fine 35-6(30) record in 2010 (when eye trouble contributed greatly to the Indianapolis warrior's decision to call it a great career) is the last man to have stopped Wladimir; sensationally – and somewhat disturbingly – scoring a TKO over "Dr. Steel Hammer" in April of 2004 in a wild and shocking slugfest. But Brewster is not worried about losing the distinction of being the last man to have sent Klitschko to the canvas, far from it – Lamon, in kindly giving some of his time to this writer, predicts that AJ will do what he did, and stop Klitschko on April 29.
"Yes, I do believe that Joshua is going to stop Wladimir Klitschko. He is young, skilled, hungry, but at the same time, humble," Lamon said today. "To be honest, I really don't see anyone beating Anthony Joshua, except, maybe, Deontay Wilder down the road."
Is Joshua, 18-0(18) really that good? Brewster, who, as the cliché says, fought 'em all (the cliché is true in Lamon's case) ought to know – who for example, can forget the "Relentless" display of pure power and aggression Brewster gave us in utterly destroying Andrew Golota inside a round back in May of 2005 ("That was a great night. I hate bullies!")
Most fans, experts and pundits have the eagerly awaited April 29 sell-out at Wembley down as a 50/50 affair, or close to it. But Brewster, who took Wladimir's heart and, for a while at least, his self belief, is convinced there is only one winner:
"I don't know if Joshua can [stop Klitschko early], but at the same time, I think he will. He has really impressed me with his skill and accuracy. Of course Wladimir has a lot of great experience, which could turn out to be a determining factor, but I must say, I see Joshua winning no matter what."
A tough time to be a Klitschko supporter? Maybe.