Undefeated WBO Cruiserweight champion Krzysztof Glowacki will make the 2nd defense of his title this Saturday when he takes on undefeated Oleksandr Usyk in a highly anticipated bout that will be streamed live and exclusively in the United States on www.klowdtv.com at 2:30 PM ET / 11:30 AM PT
This fight, along with all content on www.klowdtv.com is free for the month of September.
The bout will take place at the Ergo Arena in Gdansk, Poland, will feature two of the best cruiserweights in the world as they will risk their unblemished marks.
"We are elated to be able to pick up this bout and be able to show it to the fans in the United States," said Chris Schickedanz, Directing manager of www.klowdtv.com
"This fight has been mentioned by many of fans around the world as a can't miss fight and has been the chatter of a lot of the boxing message boards. With fight's like this and next weekend's Lightweight championship bout between Anthony Crolla and Jorge Linares, www.klowdtv.com will become the hub of boxing on the internet.
"We are committed to bringing the best fights from all over the globe to the great boxing fans of America. We are equally as excited to bring these fights for no extra charge and we look forward to providing these types of fights going forward."
www.klowdtv.com is FREE for the month of September and will carry price of just $7.99 per month. The service currently showcases 15 networks which includes AWE, OANN, The Fight Network, Fantasy Sports Network and GOLTV.
Glowacki of Walcz, Poland has a record of 26-0 with 16 knockouts.
He won the WBO Cruiserweight title with a stunning knockout of longtime champion Marco Huck in what was a 2015 "Fight of the Year" finalist. He followed that win up with a 12-round unanimous decision over classy two-time world champion Steve Cunningham on April 16th in Brooklyn, New York.
Usyk of Kiev, Ukraine is 9-0 with nine knockouts and is considered one of if not the top prospect in the sport.
After capturing the 2012 Olympic Gold Medal, the 29 year-old Usyk has blown through his professional competition as he has stopped every man who has stepped in the ring with him. In his last bout, Pedro Rodriguez (22-1) was Usyk's victim as he succumbed to Usyk's fury in the seventh round on December 12, 2015 in Kiev.
Сoach talks Usyk – Glowacki fight preparation
Serhiy Vatamanyuk, coach of undefeated Ukrainian cruiserweight talent and WBO mandatory challenger Oleksandr Usyk, talked about Usyk's mood and preparation for the most significant fight in his professional career. Olympic gold medalist-2012 from Ukraine will clash with Polish WBO cruiserweight champion Krzysztof Glowacki and try to capture his first world title as a pro. Glowacki and Usyk are officially to square off on September 17th in Gdansk (Poland).
«Usually we spent the first part of training camp in Carpathian Mountains were Oleksandr used to work on his physical strength and stamina. But this time we decided to spend whole training camp here, in Carpathian health resort Bukovel. We want to thank to Oleksandr and Viktor Shevchenko who helped us to organize our training camp. There are great conditions, clean air and beautiful nature in Bukovel. All these factors promote productive preparation.
I cannot say that our preparation for clash with Glowacki is cardinally differ than training before any other fight. We have three work-outs per day so Sasha is working as hard as usually. High-quality nutrition and wholesome sleep are also important aspects. James Ali Bashir will join to our camp very soon and we are going to start sparring-sessions since second ten days of August.
Sasha is a gifted, clever and diligent guy who understands very well that hard-working is a key to advancement. He takes upcoming fight as actually serious challenge. Glowacki is a raining defending champion of the world so he cannot be a weak opponent for Usyk. Krzysztof is a very tough and confident fighter but we go to our goal and need the belt of world boxing champion. We want to thank everyone who sincerely supports us and believes in our victory.»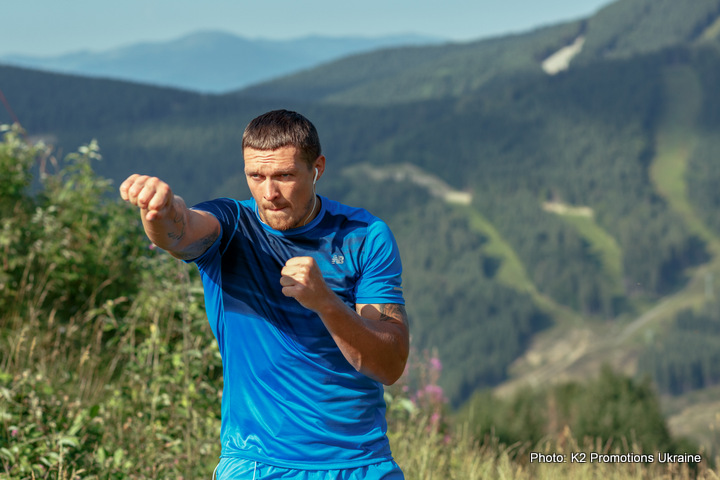 Oleksandr Usyk preparing for Krzystof Glowacki
Undefeated #1 Ranked Cruiserweight Contender Oleksandr Usyk, (9-0-0, 9KO's), is deep in training in the beautiful city of Bukovel, Ukraine for his world title showdown with WBO Cruiserweight World Champion Krzystof Glowacki, (26-0-0, 16KO's) set for Saturday, September 17, 2016 at the Ergo Arena in Gdansk, Poland.
Gold Medalist for Ukraine in the 2012 Olympics in London, England, the 29-year-old Usyk, promoted by K2 Promotions Ukraine, is looking to become the fastest world champion in cruiserweight division history in his 10th professional fight. The record is currently held by boxing legend Evander Holyfield who captured the world title in his 12th fight against Dwight Muhammed Qawi in 1986.
"I feel terrific and I'm completely focused on winning the world championship on September 17th," said Usyk. "This was my next goal after winning the Gold Medal in 2012."
Usyk is coming off his career best victory, a seventh round stoppage of Pedro Rodriguez on December 12, 2015 in Kiev, Ukraine.
Glowacki won a 12-round unanimous decision over Steve Cunningham on April 16, 2016 in Brooklyn, New York.
Photos Courtesy/K2 Promotions Ukraine