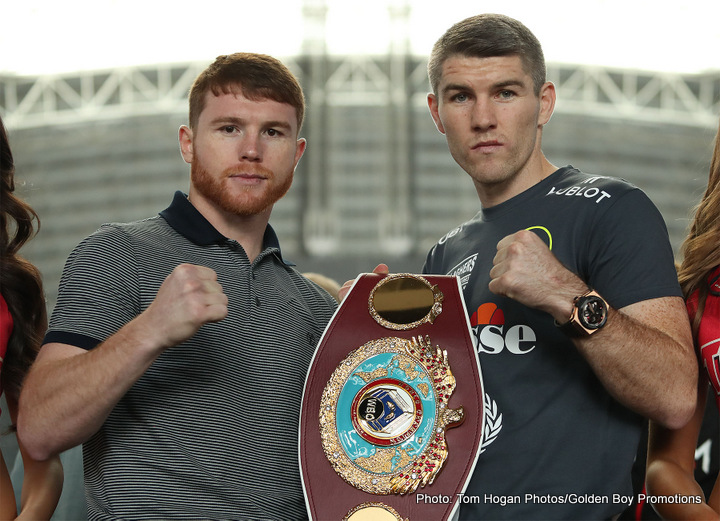 World champion Liam Smith believes he is being overlooked in his superfight with Canelo Alvarez and has vowed to cause a huge upset.
The Merseyside light-middleweight puts his WBO title on the line this Saturday night, exclusively live on BoxNation, as he battles the Mexican superstar at the 80,000 seater AT&T Stadium in Texas, home of the Dallas Cowboys.
The undefeated Smith, however, feels that he is being unfairly written off and has promised to cause a major surprise by beating the heavy favourite Canelo and is even preparing to rematch him as a result.
"I'm coming to fight Canelo, and you're going to be in for a massive shock. This fight is me making a name for myself the world over and establishing myself to the world of boxing and not just for British fight fans," said Smith.
"My mind is just set on Canelo. And when I beat Canelo, my next fight will be Canelo again, because I know they will throw everything back. They overlooked me, and I know after September 17, the excuses are going to come.
"I know they're going to do what they can to get the rematch again. So my mind will be focused on Canelo, and it will be on Canelo again because I can see what's going to happen," he said.
28-year-old Smith will be fighting Stateside for the first time and is going in against fan-favourite Canelo, who has lost just once, that being against pound-for-pound legend Floyd Mayweather in 2013.
The British fighter knows he will enter the ring with the odds stacked against him but has asked for a fair shake should the fight go to the scorecards.
"I know on paper I'm the B-side of this fight. Canelo's the big name. It's always Canelo, and it's Mexican Independence Day, so I know that. But I'm the champion, and just looking back on that, that is one reason why I hope they'll respect that I'm champion and be fair," Smith said.
"If I win the fight, then make sure I get the decision. Give me the respect I deserve. I am the champion, even though I am the B-side in the fight.
"I'm not in a situation where I have nothing to lose in this fight. I've got a title to lose. So I've taken this fight because it's an opportunity to make a name for myself and establish myself as one of the best fighters pound-for-pound in the world," he stated.
Both fighters have an attractive style that is set to make for an explosive affair, with Smith believing that Canelo's way of fighting is perfect for his approach in the ring.
"This is the fight that if I could pick a style of a fighter, it would be similar to Canelo's style. I always wanted a Canelo fight, a Cotto fight. A style like that is what I prefer to fight. This fight can only be a great fight. There's no way the styles will make a bad fight," he said.
"They gel well, and this is a fight, again, you're going to see me smile in. Because I smile even when it's not going my way. I'm not going to not smile because I'm not winning. I'll smile because I enjoy every minute of this fight.
"Canelo and this fight is right up my street stylewise," Smith said.
Tonight's weigh-in ahead of the fight this weekend will be live free-to-air on Sky Channel 437 from 8pm.
Canelo v Smith is exclusively live on BoxNation (Sky/Freeview/Virgin/TalkTalk/Online & App) this Saturday night. Buy now at boxnation.com.
###
WBO World Junior Middleweight Champion Liam Smith came face-to-face with challenger Canelo Alvarez at today's final head-to-head press conference at the AT&T Stadium in Arlington, Texas. Undefeated Smith (23-0-1 13 KO's) defends his World Title against Mexican pound-for-pound star Canelo (47-1-1 33 KO's) this Saturday (17th) live on BoxNation.
Merseyside hero Smith looked calm and relaxed as he vowed to prove his doubters wrong and carve his name in to the history books.
"All I can say is wait and see what happens on Saturday," said Smith. "Make sure you admit you were wrong and wrote me off without properly judging me or watching my fights. When I turn up on Saturday and put the performance in that I know I have in me then you will realise that Liam Smith is a very very good fighter.
"When you strip him down and forget he is one of the biggest names in boxing, he is a very good fighter but he isn't out of this world. He's not the best defensive fighter in the world, he's vulnerable when he opens up. It will take a good fighter to exploit any weaknesses he has but I am confident I am that fighter.
Mexican superstar Canelo admitted that he was in for one of the hardest fights of his life but promised his fans that they would celebrate together after he took Smith's belt from him.
"I've prepared for a very tough fight against a tough opponent," said Canelo. "Some people in the U.S. might not know who Smith is yet but I definitely do. He's a world champion for a reason and the important thing is that I know what he has and what he brings. That is what I have prepared for and that is what I have worked really hard for.
"I love his aggressive come-forward style, I think our styles will gel and we will provide fight fans around the world with an exciting contest. We have had an amazing camp and come Saturday night we can all celebrate together; we are taking home the title!"
BoxNation, the Channel of Champions, will televise this fight on Sky (SD Ch.437 and HD Ch.490), Freeview (Ch.255), Virgin (Ch.546), TalkTalk (Ch.415), online at watch.boxnation.com and via apps (iOS, Android, Amazon).
Go to www.boxnation.com to see how you can watch this fight and more live!