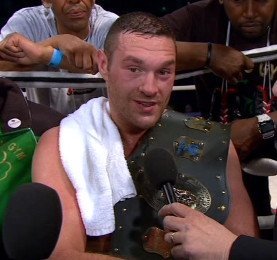 By Jeff Sorby: Big 6'9" unbeaten former British and Commonwealth heavyweight champion Tyson Fury (20-0, 14 KO's) didn't see much he liked of Deontay Wilder (26-0, 26 KO's) in watching his 3rd round knockout win over Kelvin Price (13-1, 6 KO's) last Saturday night.
Fury sees Wilder as having little more than his right hand going for him, and he doesn't think that's going to be enough for Wilder to amount to much in the heavyweight division. Fury, 24, also thinks that his recent opponent Kevin Johnson would beat Wilder if the two guys went at it.
Fury said on his social media site twitter "Just watched Wilder fight! Not impressed at all. He couldn't beat Kevin Johnson! Very raw and open to big shots. Long way to go; big punch. Wilder and [David] Price are the same, untested hype! To be a top fighter you need more than a punch! They have a long way to go. Why not fight each other."
Fury isn't giving Wilder much credit for his knockout win over Price for some reason. To be sure, Wilder did look really raw in that fight, and he definitely needs a lot of improvement. However, to say that he couldn't beat a fighter like Johnson is way off on Fury's part. Wilder has huge power and Johnson wouldn't do well to try and mix it up with him because he's get planted just like Wilder's opponents.
It's interesting that Fury is saying that Wilder and Price are both untested because Fury hasn't exactly faced anyone all that good either. He did beat Dereck Chisora, but that was an out of shape Chisora, and Fury ended up getting rocked at point in that fight. The rest of Fury's opponents have all been weaker opposition, and frankly no better than the guys that Wilder and Price have been facing.
Both Wilder and Price have been trying to get Fury in the ring, but Fury hasn't jumped at the chance to fight them.