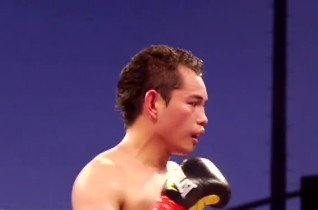 By Rob Smith: Promoter Bob Arum is practically tripping over himself with his happiness at how good his fight IBF/WBO super bantamweight champion Nonito Donaire (29-1, 18 KO's) is looking as he prepares for his October 13th fight against 36-year-old former WBC super bantamweight champion Toshiaki Nishioka (39-4-3, 24 KO's) on HBO at the Home Depot Center, Carson, California.
Speaking with Manila Standard, Arum said that the 29-year-old Donaire is displaying "Unbelievable strength" in getting for their fight for the vacant Diamond super bantamweight strap, which the World Boxing Council has conveniently put on the line for this fight, as if the bout didn't already have more than enough titles up for grabs. Not only happy with Donaire's strength, Arum gushed about the interest in the fight, saying "A lot of interest, real grassroots interest in the fight, and everybody is excited while while ESPN is giving him [Donaire] a lot of coverage."
That's kind of weird, because I can't see any threads about the Donaire-Nishioka fight at any of the major boxing forums. It's as if the fights not taking place at all. Usually when there's an important fight taking place in a week like the Donaire-Nishioka fight on October 13th, the boxing forums have multiple threads daily. But I can't find one thread in any of the sites, which kind of tells me that Arum screwed up by matching Donaire against the guy from Japan Nishioka.
How would the casual boxing fan be able to connect with this fight when they have never, ever even seen Nishioka fight before? How can you connect with a bout where you've never seen one of the fighters? I think Arum would have done a much better job by steering his money fighter Donaire against guys that relevant in the United States, like Abner Mares and Guillermo Rigondeaux. At least those guys fights have been televised in the U.S and fans know who they are. With Nishioka, only the hardcore boxing fans know about him, and he's not been active lately.
I'm not sure what Arum means by saying there's "Real grassroots interest in this fight."? Is that code for Donaire's diehard Filipino fans are interested in this fight? If so, then I'm not surprised. Donaire's fans are interested in all fights no matter who he faces. Look, if they were interested in Donaire's fight against Jeffrey Mathebula, the former IBF super bantamweight champion that few boxing fans have ever heard of let alone ever saw fight before, then of course they would be interested in Donaire facing another fighter that few Americans have ever seen before.
I see guys like Mathebula and Nishioka as just guys that Arum is putting in with Donaire to keep him busy so that he doesn't have to face the real quality guys – Mares and Rigondeaux. Arum should have made those fights already because both of them are MUCH more known in the U.S. than Mathebula and Nishioka. I know Nishioka is supposed to be good, but he sure didn't look good in barely beating a shot Rafael Marquez last October. Nishioka just looked an old guy that used to be good but who no longer is good.