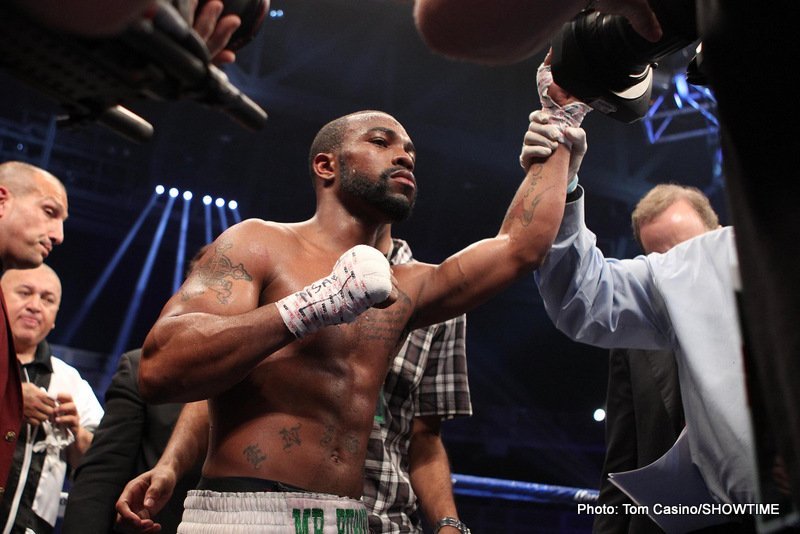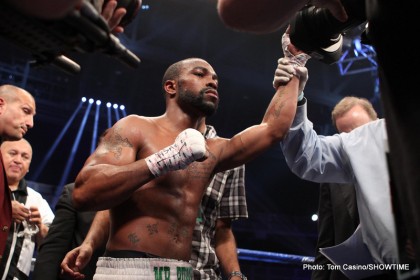 It's been a frustrating year for the talented Mr. Russell.
Following a very active start to his professional career, fighting nineteen times in only three years, the former Olympian from the DMV area could visibly see the light of Championship gold glowing in the distance.
But after suffering numerous physical ailments throughout his 2012-2013 campaign, most recently a fracture in his left hand while competing against Vyacheslav Gusev in March of this year, the seemingly unstoppable momentum of the Russell Junior Express began to decrease, and the luminescent beam at the end of the tunnel started to flicker.
As a result of being riddled with several injuries, Gary was reduced to competing just four times within the last twenty months…an unanticipated and unwelcomed surprise to the ever so hopeful Team Russell.
With growing exasperation among rabid fight fans, coupled with the unfavorable sentiment of discerning boxing critics everywhere, one would think Gary and company to be less than optimistic.
But after watching Abner Mares lose his WBC Featherweight title to hard punching fight veteran Jhonny Gonzalez this past Saturday night at the StubHub Center in Carson, California, the lightning fast DC native is anxious to jump back into ring, hopefully opposite the newly crowned 126 pound champ.
It's an assignment the 25 year old pugilist would gladly accept.
"Is it a fight that can be made? Of course it is," claims Gary Russell Jr. "Is it a fight that I want? Definitely."
Although the three-division champion, Jhonny Gonzalez, was able to knock-out previously undefeated Abner Mares in less than three minutes, the slick southpaw from the DMV is supremely confident that he would capture his first world title if he were to meet the two-time WBC Featherweight title holder in the ring.
"I feel as though I can fight Jhonny Gonzalez and give my fans the same Gary Russell Jr. performance that they're used to seeing; nothing more, nothing less. I will reduce him to a C or D class fighter."
"That's just my opinion. I know other people might feel otherwise, but that's just how I feel about it."
Despite an obvious willingness from Gary's manager, Al Haymon, and Golden Boy Promotions, Russell believes a match-up with Gonzalez might not be as easy to make as one might think.
"Fans have to remember that this is a business," the 25 year old fighter insists. "Boxing is a business. We have to be businessmen first, and fighters second. A lot of fighters make the mistake of not being smart businessmen when choosing their path of progress."
"But if all parties involved can come to an agreement that is collectively acceptable, in terms of finances and other stipulations, then most definitely this fight can and should happen. But all parties involved have to be in agreement."
The parties involved, in which Gary is referencing, would be Frank Espinosa – Gonzalez's manager, Al Haymon – Russell's manager, Golden Boy Promotions – Russell's promoter, Promociones Del Pueblo – Gonzalez's promoter, and last but not least…Abner Mares.
Because the former title holder had an "immediate rematch" stipulation in his contract with Golden Boy Promotions for his first title defense against Jhonny Gonzalez, Mares would have to decline the option for a return bout before any negotiations between Russell and Gonzalez could take place.
And although Golden Boy Promotions has controlling options on the current champ's next three bouts, Jhonny Gonzalez, Frank Espinoza Boxing, and Promociones Del Pueblo would all have to agree to the terms of the bout before any contract would be signed. This means, that the opponent, the money, and the venue would have to be something that Jhonny-Boy would be willing to accept.
Contrary to popular belief, the party with the most control in this convoluted equation is surprisingly the fighter. If Gonzalez doesn't have the desire to step in the ring with Gary Russell Jr, there is very little that Golden Boy Promotions or anyone else can do about it. If Jhonny decides that he never wants to fight again, that's his prerogative.
Although promoters are usually characterized by most as the "bad guys" of boxing, astonishingly the fighters always have the final say.
"If it were simply up to me, I would fight Jhonny as soon as possible," claims Gary Russell Jr. "I would take his title and make my first defense against Abner Mares, because that's the fight that we were hoping to make before he was stopped by Gonzalez this past Saturday."
Despite all of the criticism that Gary has received from fight fans and boxing scribes alike for seemingly not fighting the best opposition in the Featherweight division, it's not entirely up to Team Russell…the truth is, it takes two fighters to create a match-up.