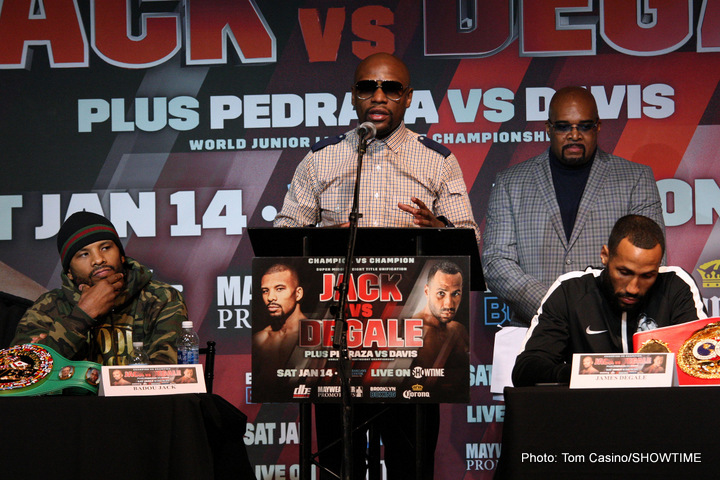 Floyd Mayweather Junior knows all about participating in the big, big welterweight fights, and the former 147 pound king is a very interested observer going into the May 27 shoot-out between reigning and defending IBF welterweight champ Kell Brook and unbeaten challenger Errol Spence Jr.
Mayweather likes the fight, calling it a good match-up, but it is not one he sees as going the distance. Speaking with Shady Slim, Mayweather suggested things will be "rough" for defending champ Brook, especially due to the Sheffield man's decision to go straight from the Gennady Golovkin fight to the Spence fight.
Brook of course got smashed by GGG last September, losing via fifth round stoppage after a game effort; Brook suffering a shattered orbital socket in the battle. Mayweather says Kell "took a lot" in the Golovkin fight.
"I think him and Kell Brook is a good match-up but I don't think it's going the distance," Floyd stated. "I think Brook took a lot and it was a tough fight between him and Triple-G, so I think, coming on the back of that, it's going to be a tough fight. It's not really fast but hopping into another tough fight like that, right after the Triple-G fight? It's going to be rough."
Brook has received plenty of praise for taking this fight, against his mandatory challenger, when he could have easily vacated his belt and moved up to 154. Brook though, a huge welterweight, opted to push his body through another gruelling training camp to make weight and get it on with arguably the most dangerous welterweight out there.
Both men are supremely confident and we could get something special on May 27. You know it's a big and meaningful fight if Floyd Mayweather is talking about it. Will the fight end inside the distance as Mayweather suggests, and if so, in which fighter's favour? Brook predicted a KO win at the recent, somewhat heated presser in Sheffield, while Spence and his team appeared just as aggressive-minded.
If the fight doesn't end early, if it becomes a who wants it more type of battle, might Brook's efforts at making weight take a toll on him? Is Spence the real deal many people say he is? There really are so many questions going into this fight.