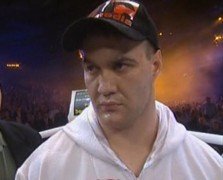 Round by Round: Shane Cameron (29-3-0) V Brian Minto (38-7-0) – Trust Arena, Auckland, New Zealand
Shane Cameron hasn't fought since his 2012 Cruiserweight title bout with Danny Green. Comparatively Brian Minto has fought three times in 2013 for two decision losses and a win. The pro-Cameron crowd know little of Brian Minto. Minto a relatively small heavy is a live dog given against a similarly sized heavy like Cameron. Minto has fought the far higher calibre of opponent and brings great application and heart to his game.
This fight for as long as it last could be a barn stormer given we have two heavyweights who like to exchange. Neither man will have to go looking for each other.
Minto ring walk: Minto is calm as a cucumber. Accompanied by his coach the home-country boy Kevin Barry.
Cameron ring walk: Cameron is relaxed. Seems nonplussed by the packed house, accompanied by his manager Kenny Reinsfield and trainer Henry Shuster.
Minto takes off his shirt. He is carrying a lot of excess around the mid-section. Conversely Cameron as per usual is in outstanding condition.
Great stare down between the pair – both men all business in a great face off.
Key for Cameron is shaking the ring rust early or Minto with his activity could prove a very difficult proposition with his aggressive all in style.
Round 1:
Minto bobbing low, tries for a left hook. Minto shopping for the right hand. Minto isn't pretty to watch with his awkwardly bullish style. Cameron clearly in better nick and the bigger man. Cameron is looking for the left hand as Minto bulls in.
Minto pawing with the left hand. Minto the busier fighter. Cameron looks a little off key.
Cameron is shopping for the fight ending over hand right.
Minto round – busier fighter.
Round 2:
Minto bulling forward trying to push Cameron back. Minto doubling up on the jab pushing forward. Cameron appears to the superior athlete but Minto roughing him up good and proper.
Minto lands a great fight hand. Cameron getting bullied. Can Minto sustain this? Minto shopping for a big punch. Both men swinging. Cameron getting out muscled and hustled by the smaller man.
Minto round – busier more aggressive fighter.
Round 3:
Minto the smaller man fighting like the bigger man. Very aggressive. Cameron lands a great right hand, shaking Minto up. Minto replies in kind. Minto swinging from the bleaches looking for a KO connect.
Cameron simply getting outhustled. A great exchange, Minto gets caught, he's hurt, not sure what the punch was. Cameron trying to light him up with another right hand down the tube. Minto seems to have corrected himself.
Minto seems to have got his legs back . Minto back to coming on and pressing Cameron into the ropes. Cameron is cut. Looks bad. Not unusual for Cameron to cut…and cut bad. Plagued him throughout his career.
Very good action round.
Cameron round – landed the heavier blows but Minto is in it to win it.
Round 4:
Minto back to bulling forward. Minto seems to have made a full recovery. Cameron is trying to set Minto up for the fight ending right hand but his timing isn't matching his technical intent.
Minto showing his experience. Very much a live dog. Minto landing the more effective shots. Minto lands a right hand on the ear. Minto putting shots together, he's coming on and wearing Cameron down.
Minto round – far busier, landed the more effective shots.
Round 5:
Minto coming forward. Minto working Cameron to the body.
Lance Revill the referee takes a point away from Minto for throwing an elbow. Premature and without warning. Hometown baking? No prior warning and he deducts a point!
Cameron is struggling with the cut. Not seeing the punches coming from Minto. Minto standing in the pocket working Cameron against the ropes. Cameron lands a couple but Minto the busier fighter. Cameron looks worse for wear.
Not a fight for purists but a great fight all the same. Minto trying to work the cut and doing a good job.
Even round – Minto would have won it but for the point deduction.
Round 6:
Minto back to bulling. It's worked for him to this point. Cameron looks slow.
Another point taken from Minto. Not sure why.
They're going at it. Both landing some big punches. No quit in either man. Some clean right hands land from Minto that dent Cameron. Cameron getting busted up and will need some panel beating after this fight.
Great stoush.
Even round – Minto would have won that round too if not for the point deduction. Home town baking from referee Lance Revill? Pulling points without fair warning. Premature!
Round 7:
Cameron has received advice from the ringside doctor re his cut. He's got one round to do the business. Mintos fight to win now. Minto standing in the pocket loading up. Minto misses with a hellacious right hand.
Minto doing a number on Cameron. Cameron can't see the punches coming at all. Minto catching Cameron with a series of very heavy shots. Cameron getting worked over. Minto doing a number on Cameron.
Minto round – buiser, landing the heavier shots.
Cameron not seeing the punches coming. His corner having an in-house conversation. Common sense has prevailed. Cameron's corner has followed the advice of the doctor and retired their man. Minto the better man.
Minto win by TKO.
The end of Shane Cameron?
Minto did a number on the bigger man. Cameron's inactivity appeared to be a factor. Tip your hat to Minto though. He fought exceedingly well and with great heart and application in what was a great action fight.