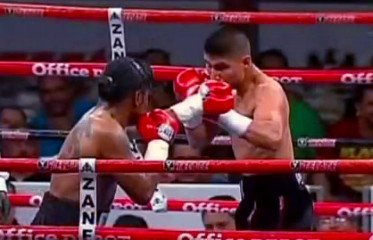 By Joseph Herron: With an HBO date already scheduled for November 10th, and a big title fight with WBO Featherweight Champion Orlando Salido on the 2013 horizon, 126 pound contender Mikey Garcia (29-0, 25 KOs) is ready to make his mark in boxing.
The undefeated 24 year old fighter is slated to face tough Argentine Jonathan Victor Barros (34-3-1, 18 KOs) in the main event of a brilliant double header on HBO Boxing After Dark next month. His original assignment was supposed to be a title opportunity against the hard punching WBO champ, but Salido was sidelined after inadvertently slamming his index finger in a car door.
While some boxing pundits have questioned the decision of Top Rank and manager Cameron Dunkin to fulfill the November HBO date rather than wait for the championship opening, Mikey feels confident in his team and his abilities in the ring.
"Because we've already committed to fighting on November 10th, and we don't know when Salido is going to be ready to get back in the ring, we decided to go ahead and fight Jonathan Victor Barros. I'm not too concerned with whether or not it's a good or bad idea to take an interim fight with a title opportunity on hold; my primary concern is winning the fight on November 10th and getting a decisive victory."
"I'm not thinking about an injury that could further postpone a fight with Salido, because an injury can easily take place anytime even when preparing for a fight. Look what happened to Salido. Yes, there is some risk in taking a fight like this, but I want to give the fans a great fight and a great performance and I feel that staying active is the best way to do that."
While a big title fight against Orlando Salido is possibly the most daunting task in the Featherweight division, according to most fight scribes and boxing fans, the match-up that is most intriguing to the undefeated contender is a super match-up against Cuban exile Yuriorkis Gamboa.
"I've always said that the fight that I want the most is a fight with Yuriorkis Gamboa," admits Mikey Garcia. "If there was one fight that I could choose above every other match-up, it would be that one. I would take that fight over a fight with Salido, because a lot of people consider him the best Featherweight in the world."
"I know he had two world titles in the division at one time, he's a gold medalist, and he's looked sensational in all of his fights. But I feel that I can beat him. I believe that I have the skills, the power, and the overall boxing ability to beat him. I feel that I can do it."
"He hasn't fought in a while, but he's still undefeated and he's considered by many to still be the best at Featherweight. He knocked out Salido, so that's the fight that I ultimately want in the Featherweight division."
According to the talented young fighter, he's been waiting for the opportunity to face the former Featherweight champion for quite some time.
"When he was considered to be the leader of the division, I was his number one mandatory opponent. Before he vacated the title, I was the next in line to fight him. So a fight with Gamboa is the fight that I've wanted for a very long time, and that's the fight that I ultimately want."
Although he has a championship opportunity on the table with Salido, Mikey Garcia remains hungry for the chance to hand Yuriorkis Gamboa his first professional loss.
"I know a fight with Salido will happen and I believe I will become a world champion next year. And when I do get my first world title, I'm immediately going to put it out there that I want to fight Gamboa."