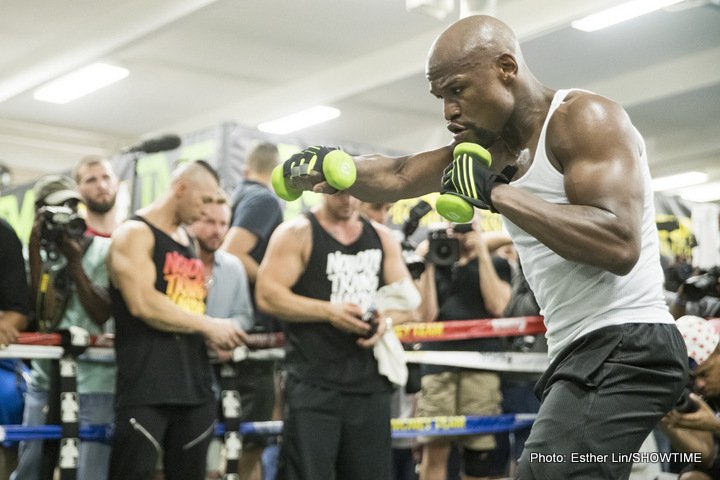 Floyd Mayweather has said it before and last night he said it again: he is going to step away from his usual defensive, even safety-first approach and "go straight ahead" in his fast-approaching "Super Fight" with MMA star Conor McGregor.
Speaking on The Jimmy Kimmel Live! Show, the 49-0 master – referred to by many good judges as the finest defensive fighter ever – vowed to fight aggressively and do his part to put on an exciting contest, because the fans "deserve it."
"He [McGregor] is going to land shots because in this fight I'm going straight ahead," the 40 year old superstar stated. "Normally it's more taking my time, being very cautious, but this time I'm going straight ahead because the fans deserve it. It's going to be bigger than the Pacquiao fight. I feel like I owe the fans seeing as me and Pacquiao didn't give the fans a blockbuster. Me and McGregor should give the fans a blockbuster."
Again, Mayweather has spoken along these lines before; promising fans there would be "blood, sweat and tears" ahead of a number of his fights. Before the massive "The World Awaits" Mayweather-Oscar De La Hoya fight, this a genuine Super Fight, Floyd predicted a massacre. Instead, there was no blood, sweat or tears (okay, there was sweat) while in the fight against De La Hoya there certainly was no massacre.
Can we really expect Mayweather to deviate from his usual, trusted game-plan now, at the very end of the career? In short, no. Mayweather simply does not have it in his DNA to take risks, fans being owed a great fight or not. Look instead for Mayweather to put on a classic display of The Sweet Science as he outboxes the debut-making McGregor.
Could Mayweather score a stoppage, even a clean knockout? Yes, but if one comes it will be as a result of Mayweather picking McGregor apart, demoralising him and wearing him down slowly – not as a result of Floyd coming out on top in a slugfest.
It's still Mayweather on points for me.