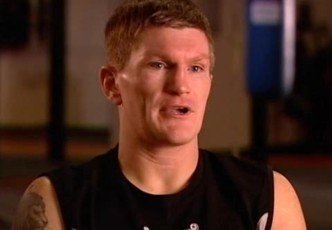 There is a small, yet elite club of fighters past and present who have faced off against BOTH Mayweather and Pacquiao in the ring.
Oscar De La Hoya, Juan Manuel Marquez, Shane Mosley, Miguel Cotto and Britain's Ricky Hatton.
Ahead of Saturday's dust-up Hatton, who boxed Mayweather in 2007 and Pacquiao in 2009 has spoken exclusively to the BBC to offer his tactical analysis of the fight from his insider's perspective.
His fight with Mayweather, after some initial success, sadly began to become one sided and the "Hitman" was caught walking onto a big Mayweather left-hook in the 10th.
His fight with Pacquiao ended in the 2nd round with a brutal ko that finished Hatton's career until his ill-fated comeback three years later.
However the hugely popular Hatton, who enjoyed many an in-ring success at world level, most notably against Kostya Tszyu in 2005, may have an added insight as he was trained briefly by Floyd Snr for his fights against Paulie Malignaggi and Pacquiao after his split from long-time trainer Billy Graham.
Hatton has recently been vocal in the build up to Saturday, previously telling Sky Sports about his belief that Snr is ill- equipped to properly do southpaw padwork. (Something that was crucial in his own clash with Manny.)
Given it's Floyd Snr in his son's corner on Saturday night rather than usual trainer Uncle Roger, when he's facing a fast, dangerous southpaw, it perhaps makes Hatton's thoughts all the more pertinent?
Hatton said of his two former foes;
"They'll go down already as two of the greatest in history. Mayweather's won world titles in 5 different weights and I think Manny Pacquiao has done it at 8 different weights! It's incredible."
The likable Manchester man, continued;
"As a boxing fan, forget me being a boxer, as a boxing fan – we thought it was never gonna happen, which would have been a tragedy for the sport. But finally it's on and you've got two of the greatest fighters who will go down in history, in the same era, in the same weight division and we're finally gonna see them go at it."
"The fact that I've boxed both of them I'm probably more of a – a keen- I've got a keen eye on it more than most I guess"
Of his own experiences with both, Hatton was telling;
"I think with Mayweather it's the accuracy and the timing of when he throws the punch. That's how he gets you. They always say that the ones that knock you out are the ones you don't see. When you've got speed like Mayweather then that is the case."
"I think with Manny he's the bigger hitter, the more explosive – he shuffles in and out with his feet and then when he wants to let the punches go, he lets the go with venom."
"They've both got similar hand speed but they're both very different punchers. I think it's the timing of when Mayweather throws it against the explosiveness of Pacquiao."
So, how DO you solve a problem like Mayweather?
"I think you've got to look a little bit different with Floyd Mayweather 'cause everyone who has tried to pressure him and jump all over him – it's brought the best out in him I think. You need a different approach – in, out, fast hands, fast feet – lots of straight punches. A little bit like Manny did against Oscar De La Hoya, he never stood still."
Of Floyd's legendary defence, that is essentially a uniquely modified version of the fabled "Philly-Shell" Hatton said;
"Lots of straight punches, not too many hooks 'cause with that shoulder roll he just glances them off. Down the middle, that's when you catch him and I think Manny is very good at that, going in and out in straight lines."
"He's got all the tools to do it but Floyd always finds a way to win. He's naturally gifted."
"Yet saying that, with his shoulder roll style, straight left hands are the ones that catch him and from the southpaw stance – I think straight left hand is a winner for me. It's very hard to shoulder roll a left hook or a (straight) left hand from the southpaw stance."
Yet despite all the praise for the potential of Pacquiao to cause problems in the fight, Hatton's belief of who will actually win is firmly with the majority. He said;
"I just think Floyd's… – I mean Manny will cause him problems with that straight left hand, the southpaw stance and his hand speed but after a couple of rounds I think Floyd will suss it out and do what he does best and find a way."
"Everybody thinks Manny's gonna try jump down Floyds throat but I think he'd be foolish to because we've all tried that and that's what Floyd likes. It brings the best out of him I think."
"There's gotta be anothere tactic. Punch volume, in and out, the fast hands and fast feet, which when you think about it (their styles) that way, it doesn't really make for a dust-up. There could be a case where they show each other that much respect, it's a bit more of a chess match? Could also happen."
However, Hatton who always went into the ring to entertain throughout his own long and action-packed career, remains optimistic we are going to witness something to remember. Unlike some big-fights of yesterday that didn't quite live up to the hype, he said of Saturday;
"I think we are going to see a good fight. I think Manny will use speed rather than power – fast hands, fast hands – and that Floyd will have to be the hunter for a change. Normally Floyd likes people coming at him. I think Manny will be in and out and Floyd might have to alter his game a little and go after Manny a little bit. That's how I see the fight happening."
It's one of the reasons British fans in particular love Hatton who is always honest and candid and has arguably enjoyed the best and most loyal support of any British fighter in history. He said in close;
"It's certainly very, very interesting. I think Floyd's gonna do it but I'm going to Vegas and I'm putting my money on Manny 'cause he's got the style to do it yet if he can, that remains to be seen. Yet loathe or like Mayweather, he's a genius isn't he?"
I couldn't have said it better myself, Ricky!!!
Many thanks for reading. You can follow me on twitter @Undilutedpoison