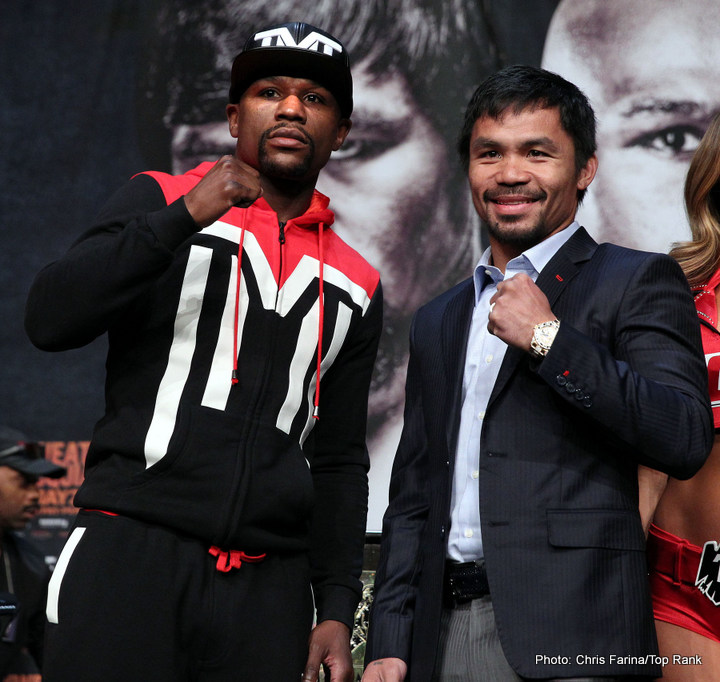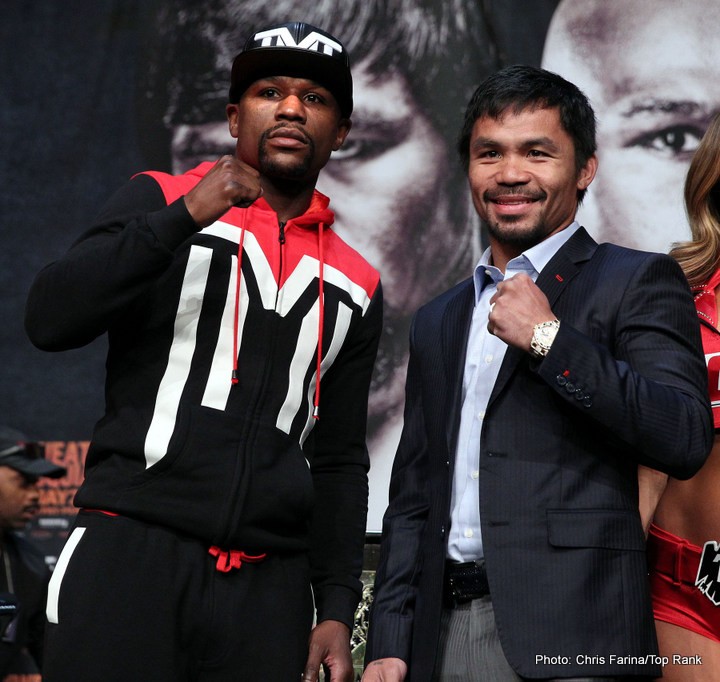 This is fight week and the eyes of the world will be watching as these two first ballot hall of famers will once and for all prove to the world WHO IS the absolute best of their generation. You have Floyd Mayweather who has strategically orchestrated his career into a multi-million dollar empire where he has taken the least-risk most-reward approach, making him the greatest "prize" fighter of all time. Then you have Manny Pacquiao who has been in countless wars and is willing to please the fans even when it's not advantageous for him.
This fight will transcend the boxing world in which I believe the fans will be surprised on how this fight will play out. I have analyzed both fighters' careers, greatest strengths and struggle and came up with my keys to victory for both parties, here goes.
Floyd Mayweather
Abandon the shoulder roll
How can you improve on a record that is perfect? You may be in disbelief, but the first thing Floyd needs to do is abandon that shoulder roll. With a southpaw that shoulder roll from a conventional stance doesn't work. The punches will be coming from different angles on where Floyd will be open for the left. If you look at his fights with Demarcus "Chop Chop" Corley and Zab Judah, they both stunned Floyd with the straight left. Granted Floyd has done what he always does best – adapt to win the fight. Floyd cannot afford to get hurt in this fight, so what he must utilize is his high guard, walk Manny down, and back him up. I know it's easier said than done.
Get respect and stand your ground early
From the first bell Floyd must establish respect and hit him with something hard early. He must give Manny something to think about. That would surprise not only Manny, but the boxing world as a whole. Nobody will expect it and I'm pretty sure that Roach didn't plan for that.
Change up and dictate the pace
Floyd is going to need to use his bicycle for this fight… at least 50% of the time. Manny has a very difficult time in cutting the ring off. So make the square round. Just look at Manny's most recent fight with Algeri. Even though Manny scored 6 knockdowns and won by the biggest margin since modern times. Algeri still hit Manny with some decent shots with his fluid mobility and for the majority of the time prevented his back from touching the ropes. Algeri who lacks punching power did capitalize on the opportunities to get in some decent clean shots… shots Manny can't afford to get hit with by Floyd.
Distance and Body Work
Floyd needs to keep Manny at the end of his straight-right with the jab to the body. This will be key. Floyd needs to slow this energizer bunny down.  Since it's a known fact that Manny has been stopped before with a body shot even though it happen 18 years ago, I know Floyd is going to try to exploit that.
 
After the third round Floyd needs to change the pace of the fight to an economical 30-40 punches a round. This is when Floyd is at his best. Nobody is going to be able to out think him at that pace. If Floyd is able to do this… thanks Manny for showing up – you made a lot of money tonight, but you will hear… still the undefeated champion of the world… Floyd "Money" Mayweather.
 
Manny Pacquiao
Mental and Spiritual Strength
He needs to have the mentality of I cannot and will not lose this significant fight. He has to be willing to go thru hell and back to win. Manny knows that he is carrying many hopes and dreams from his people of the Philippines on his back into that ring. He is looked at as an inspiration not just because of his struggle from the bottom – all the way to the top, but due to his internal strength being rooted in his relationship with God. He truly believes that his Heavenly Father will deliver Floyd to him just like how God delivered Goliath to David. The last time we saw this type of spiritual confidence was Evander Holyfield vs. Mike Tyson pre-fight conference. This is going to be a very vital factor for Pacquiao.
Footwork and use feints
Pacquiao must use his fast footwork in this fight. He must keep Floyd turning and has to escape to his right (Floyd's left) to keep from being counter by Floyd's laser right hand. Going in and out attacking only while in mid-range and getting out of there before Floyd takes the play away from him. Manny can't beat Floyd on the outside and I don't believe he can outfight him in the trenches.
Floyd is the master at setting traps. Manny is going to have to use his feints on Floyd. The reason being is to get Floyd to show his hands. For example, in football you have the quarterback who uses a hard count and subtle movements to get the defense to jump to expose their play. This fight will be a chess game, but it's going to be a speed chess game. Manny has to know he is going to be in the ring with the most prolific counter-punchers in history. He cannot just run in there throwing caution to the wind. If you look at Pacquiao's last fight with Marquez (Even though the outcome wasn't in his favor) he was able to get Marquez to expose some of his traps after the 3rd round and was able to counter the counter-puncher because of his feints and the fight turned in his favor up until the knockout.
Draw first blood and throw combinations
At the opening bell Pacquiao needs to jump on him and make him fight at a pace that he's not comfortable at fighting at; if so, it's very imperative that Pacquiao wins the early rounds. Mayweather has never had to play catch up in a fight. If this happens, this would make Floyd open up more offensively which might give Pacquiao a better opportunity to get the type of fight he wants.
He has to try to inflict as much damage as possible. If Mayweather throws one punch Pacquiao has to throw three. He needs to try to effectively out hustle Mayweather and impress the judges at the same time. You are very seldom going to hit Mayweather with just one shot. So Pacquiao must keep Floyd on the defensive and not let him get into his rhythm.
Forget about KO
The biggest mistake fighters have made with Mayweather is they try to be overly aggressive and land that one big punch that will end it all. We saw that with the late great Diego Corrales, Ricky Hatton, and Shane Mosley. Their main focus was to try to get Floyd out of there. I don't think they were thinking that this fight was schedule for 12 rounds. So what did they do? They followed Floyd around and were getting picked apart. How they were fighting, it appears that his opponent's mind set was I'll get him the next round. By midway or ¾ of the fight they were behind – and now they must get a knockout. They were mad and frustrated… and in boxing that is a recipe for disaster. Because when those elements are entered into a fight on any level, you start to make mistakes. By the way, they have already spent up their energy trying to seek and destroy this technician, who is already difficult to hit. Then you will find yourself on your back or being called the loser at decision – wondering how you got there.
In conclusion
I really feel that this fight will live up to the hype. Reason being is that these two combatants have tremendous egos. The winner of this fight will go down to be the absolute best of their generation. The pressure is on both fighters, but more so on Mayweather. This is a must win fight for him. He has built this persona of being an undefeated fighter, he's filthy rich, and he is his own boss. Oh that's right; in addition, he made the world wait 5 years for the fight of the century due to said drug testing concerns. So he has to pull this one off to save face. If he wins, he's a self-promoting marketing genius with a nine figure bank roll.
Manny really has nothing to lose in this fight. He is a huge underdog, the experts and the fighters feel he is not the same Manny of old, so he is expected to lose.
Truly there are no real losers here because they are both, at the end of the day are going to clear nine figures, but I feel that this fight will be too close to call with a climatic 12 round finish but  my prediction is that this fight could go either way but I'm going against the grain on this one and lean towards Manny Pacquiao by a split or a very close decision.