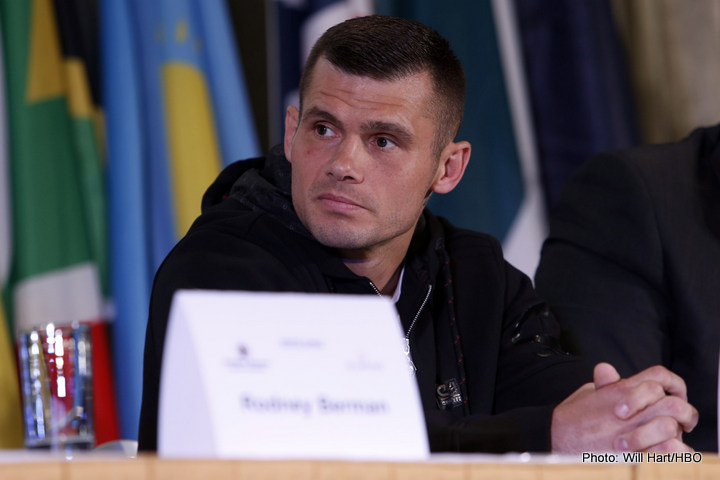 According to British super-middleweight Martin Murray, he will likely face fellow Brit and fellow former world title challenger George Groves on the upcoming card that will see new IBF heavyweight champ Anthony Joshua make his very first defence. The date penciled in is June 25th, but the card has yet to be announced officially.
But Murray, 32-3-1(15) and coming off a split decision loss to Arthur Abraham, told Sky Sports the fight between he and Groves, 23-3(18) and two wins removed from his points loss to Badou Jack, is likely to go ahead.
"It's looking like a goer and it's going to be chief support on the Anthony Joshua card," Murray said today. "It's a tough fight for both of us and the winner goes on to bigger and better things. It's a risky fight for us both, but we're both confident of winning and that's why we're taking the fight. He's got a fantastic jab. He controls fights with that and he's got power in a good right hand, but you take the jab away and then I think that's where you win the fight. We're working on that. It's going to be hard because his jab is world class. I think he's got stamina issues. George starts fast. He fades towards the end, so the longer it goes it favours me. But I'm ready for war for 12 hard rounds."
This fight has the look of a very good one, perhaps even a great one that will steal the show in June. An argument, also a very good one, can be made for a Murray win – he might be physically stronger (despite having moved up from 160-pounds just four fights ago) and he has always had a great engine; while one can also be made for a Groves win – he is faster and arguably hits harder with a single shot. This is what makes the fight look very much like a 50-50 affair. In terms of experience, the two are very evenly matched. Both men have fought at the highest level: Groves losing in world title challenges of Carl Froch twice and Badou Jack – Murray coming up short against defending world champions Felix Sturm (getting a draw many people thought he'd actually won) Sergio Martinez (another close one on the cards) Gennady Golovkin and, up at 168, Arthur Abraham (in yet another very close decision loss).
It goes without saying that neither man, both of whom very much retain the desire to rule the world, can afford a loss in June. Groves came very close to upsetting Carl Froch in the first grudge-match between the two, yet he was brutally knocked out in the massive return fight. Some good judges, including Froch, feel that KO loss took something out of Groves. Then again, Murray took quite a beating, a long and prolonged one, at the hands of GGG in his only stoppage loss. In terms of age, Groves and Murray aren't quite so close – Groves being 28, five years younger than Murray. Perhaps this fight will come down to wear and tear and who has more left in the tank.
A very tough fight to pick, I go for Murray to win a close one on the cards. A draw cannot be ruled out.
Murray is scheduled to box a tune-up against a TBA on May 7th.