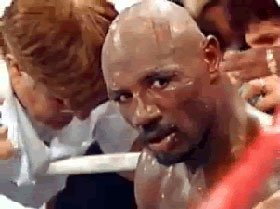 Former undisputed and long-reigning middleweight king Marvelous Marvin Hagler was lucky, in that he fought during a golden era that was literally cluttered with stars and big marquee names. There was The Marvelous one himself of course, and Thomas Hearns and Roberto Duran and Sugar Ray Leonard. Hagler fought them all, along with other attractive names like John Mugabi, and this served him well – money-wise and fame-wise.
Hagler, speaking with Yahoo! Sports, says boxing today needs a new superstar in order to keep the sport as relevant and as popular as it was in his heyday. Hagler said he loves boxing and always will, but that the next superstar needs to come along soon. Hagler is looking towards the upcoming Olympic games in Rio, hopeful that that is where the next big thing will originate from and break through.
"Maybe the new fighters will learn from the past fighters, and understand it's not just about money, but about representing yourself and your country and knowing what a champion really is," Hagler said.
In the past, Hagler has been critical of fighters of today avoiding one another and, as he put it, "taking the easy route." Hagler of course, avoided no-one (although even he has some stubborn critics who are able to bring up the odd name they say Hagler wasn't keen on facing – this while the middleweight ruler was busy giving fans the mega-fights they wanted to see!) and it is undeniable how the sport has changed today. Hagler and Duran for example, got it on with no fuss. Okay, it did take three years to make the epic Hagler-Hearns showdown, but three years is nothing in comparison to the six or seven years it took for Floyd Mayweather and Manny Pacquiao to finally meet.
If the next big star does come from the 2016 games (some fans would say the next big thing has already arrived in the shape of Errol Spence Junior) he won't be moved any differently to the current big names of the sport. Times have changed and there is more picking and choosing of opposition today. Hagler ain't liking it, but that's just the way it is. Other old-time fighters, such as Larry Holmes, also lament the way the top fighters conduct their business these days, but as Hagler says, boxing will never die.
Even if the spectacle of the very best fighting the very best seems harder to come by these days.