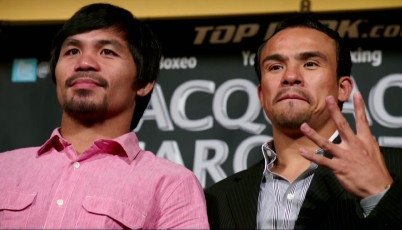 By Robert Jackson: This edition of 'just the facts' will discuss the merits of the fight including conditioning, trainers, skills and the like, so stayed tuned. This writer feels that even though both fighters have said they will knock the other out, both fighters have made a silent agreement with each other over 3 previous fights. This agreement – similar to the agreement that sparring partners have with the fighter they're sparring with to get ready for a fight, prevents that sparring partner from doing anything more than giving the main event guy rounds and good preparation. In a sense both fighters have a sparring partners mentality at this point in their rivalry. Enough of that let's get on with the analysis.
Trainers
Freddie Roach is a multi-time trainer of the year and counts among his charges Martirosyan, Kayode and others, but Pacquiao is his top pupil. Roach has taken Pacquiao from a one-handed fighter, to a well rounded fighter.
Long time Marquez trainer Nacho Beristain at this point is just a gameplanner, Marquez knows how to fight, and he knows how to fight Pacquiao. The training will be the same as it always was and the gameplan will probably be the same. Adding some bulk and strength for the 147lb weight class, seems to be the only major change they've made.
Advantage Trainers – Even
Skills
In the skills department Marquez has all of the tools in his belt, primarily a counterpuncher, for this rivalry Marquez has had to lead at times or be on his heels against this foe. Marquez will lead momentarily to set up his countering opportunities. Marquez' punch diversity and selection is second to none in Professional boxing and is the primary asset and matchup problem he presents for Pacquiao.
Pacquiao's skills have improved under trainer Freddie Roach but are not at the level of Juan Manuel Marquez, what Pacquiao lacks in skills he makes up for with speed, explosiveness, constant activity and the ability to punch from odd angles. Pacquiao using his legs gets in to land his punches and then gets out as his defense. Pacquiao's explosiveness hasn't been what it was for the past 2 or 3 fights, with S&C Coach Alex Ariza saying it will be back for the 4th go around.
Advantage Skills – Marquez
Power
Power is the last thing to go as a fighter ages, but in the case of Marquez who'll be fighting for the 3rd time at the 147lb limit, he's been underpowered. Undergoing a weight training regimen for this fight Marquez hopes this will add additional punching power. Marquez' bulked up physique is a testament to the lengths he's willing to go to, to get the win.
Pacquiao has a track record of power, having pounded De La Hoya and Hatton into retirement, Cotto and Margarito into submission, all this after coming up from a 106lb start as a professional.
Advantage Power – Pacquiao
Conditioning
Both fighters are equally conditioned and able to fight hard 12 rounds as evidenced in their previous 36 rounds of fighting.
Advantage Conditioning – Even
Intangibles
The unknowns for this fight may be how strong or slow JM Marquez turns out to be lifting weights like he has. Is what Marquez gains in power, subtracted from his speed and quickness? Manny Pacquiao may just be on the downside of his career after all of the wars, he could get old in the ring. With personal problems that were said to have affected Pacquiao's showing for the 3rd fight now behind him, will Pacquiao return to form? As this writer said at the beginning, these fighters know each other, this fight like the others will probably be determined by inches rather than feet. I do expect a violent confrontation but I don't expect a knockout, the judges may have to decide this one.
Intangibles – Even
Prediction
These 2 fighters are no doubt evenly matched. I don't know what either guy can do to best the other, but I do think that Marquez will get the nod from the judges this time around probably controversially – Marquez by 12 round UD, SD, or MD.