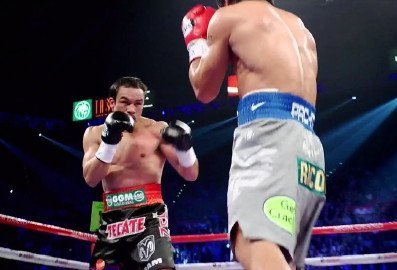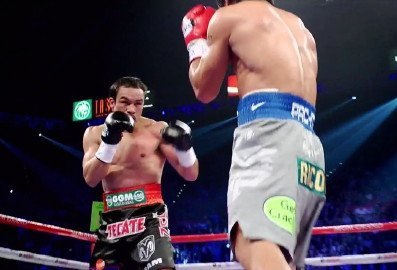 Top Rank promoter Bob Arum is going to need to look in another direction for his fighter Manny Pacquiao for his April 12th fight in Las Vegas, because Juan Manuel Marquez has his mind made up about not wanting to fight Pacquiao again.
There was some that believed that Marquez would eventually change his mind about fighting Pacquiao a fifth time if Arum waived enough money under Marquez's nose, but it doesn't look like Marquez wants the fight judging by his comments.
Everyone has price though, and I'm sure that Arum could persuade Marquez to take the fight if he gave him a 50-50 deal. Would Arum do that to get Marquez to agree to another fight with Pacquiao?
"Don't want a 5th fight [with Pacquiao], it's not worth it," Marquez said via Univision. "People are happy with the knockout and that's why I'm staying. My interest is to see a fight between Manny Pacquiao and Floyd Mayweather Jr. gets made to clear all doubts. I think it will be a great fight, and it would be good not to keep people in suspense about what would happen between these two fighters if they faced."
If Marquez is saying it's not worth it and telling Pacquiao to fight Mayweather, then Arum needs to give Marquez an even split of the pot to get him to agree to another fight with Pacquiao. Look at this way: A fifth fight between Pacquiao and Marquez will probably bring in over 1 million buys. That's money that won't be there if Pacquiao fights Tim Bradley again, which would be lucky if he brings in 500,000 PPV buys at best. Bradley won't get a 50-50 offer for 2nd Pacquiao fight, but the money the money from that fight would pale in comparison to the cash that Pacquiao can get for a fifth fight against Marquez. That's why Arum and Pacquiao need to give Marquez an even split to make that fight happen. If not, then they'll to fight Bradley again and that's not going to be a big PPV fight.
Pacquiao and Mayweather won't be able to fight until Pacquiao leaves Top Rank. Mayweather said that this week. He said he'll never fight Pacquiao while he's with Arum. Pacquiao has one year left on his contract with Arum, but many people believe Pacquiao will immediately re-sign next year with Arum and finish out his career with him. That means no Mayweather-Pacquiao fight unfortunately for fans.