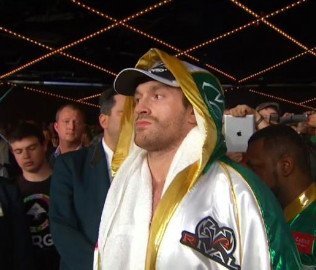 British heavyweight Tyson Fury (21-0, 15 KO's) hasn't had much luck in getting a heavyweight title shot against the Klitschko brothers. Fury is asking Wladimir to give him a heavyweight title shot straightaway without him having to fight for the shot in an eliminator.
Fury just flat out wants the title shot without having to fight his way into position. Will Wladimir does this for Fury? I wouldn't hold my breath if I were Fury waiting for that to happen.
"If Wladimir Klitschko offered me a fight I'd go there and I'd smash his jaw all over the ring for him and he knows that," Fury said to On the Ropes Boxing Radio. "Emanuel Steward told him that he would get knocked out by me. He knows he's gonna get knocked out by me, his brothers retired because he didn't want to fight me and now he's trying to avoid me. I've been chasing him for two years and he wont fight me."
Fury seems a little desperate at this point to get the Wladimir fight. No doubt he's heard the bad news about how the WBC has ordered Chris Arreola to face Bermane Stiverne for the vacant WBC heavyweight title that previously was in the possession of Vitali Klitschko. But the WBC is going to make it difficult for the next mandatory to get a shot against the Arreola-Stiverne winner, because they're going to order fights between the likes Deontay Wilder, Bryant Jennings, Mike Perez and Dereck Chisora.
Fury, ranked #8 by the WBC, isn't ranked high enough to be part of those fights, so he's going to have to sit around and cool his heels for a long time waiting and hoping that the WBC heavyweight title will pick him out in an optional title defense. I don't think that's going to happen. If Fury wants a crack at the WBC title, he's going to have to work himself in position to get it. The same thing for Fury in his hopes of getting a shot against Wladimir Klitschko.
Fury chose to ignore an IBF eliminator bout that he could have taken part in against Kubrat Pulev to become the mandatory challenger for heavyweight champ Wladimir Klitschko.
Fury thought he was going to get a fight against David Haye, but that failed to happen after Haye suffered two consecutive injuries that wiped out their fight. Now he's left out in the cold with nothing to show for it. Fury recently made noises about fighting Deontay Wilder, but when he showed interest in the fight, Fury then retired for some reason.