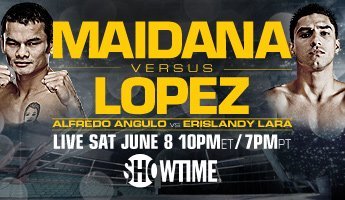 From the opening bell in this highly anticipated matchup between Josesito Lopez and Marcos Maidana one thing will be clear, both fighters will dig deep for a victory and have a win by any means necessary attitude. In what is yet another main event being billed as a possible fight of the year for 2013, a boxing year that has exploded from March to May it's hard not to assume that this fight will live up to the lofty expectations placed on it by hardcore fans. These fighters managed to pull off upsets versus Victor Oritz, making him quit without a 10 count. The winner puts himself in great position to land a title fight at welterweight. Style and the mentalities of these fighters should make for an instant classic, something the Home Depot Center (now named StubHub) has become accustom to in recent years.
Golden Boy has been burnt twice by these guys in their quest to turn a popular young prospect into a full fledge star. In case you haven't been paying attention I will break it down iller, see Oscar De La Hoya was a businessman and "El Chino" was the killer(note: 50 cent song explains that sentence). Although most people were calling him Madonna leading up the fight, Maidana went down early and often but returned the favor shocking the pro Ortiz crowd that night in June 2009 at the Staples Center.
In their quest to find an opponent for what was to be Canelo Alvarez's first time as a headliner on PPV, the opponent which most people thought Josesito Lopez was, would not back down and shocked the world with a huge upset, breaking Victor's jaw forcing him to retire at the Staples Center once again. Even in defeat both guys have shown they can fight back when the odds are stacked against them, whether in that particular fight or in their respected careers.
Opportunity brought them to the 147 pound weight class. Lopez's success presented a risk-reward fight with Canelo. Although he was rewarded with a career payday, moving up another weight class proved to be too risky to secure the victory. The first appearance at welterweight for Maidana turned out to be bad. Bad style matchup versus Devon Alexander and his body looked even worse at that weight. He has since regrouped with the help of Robert Garcia, trainer of the year for 2012, and now his body looks to be more adjusted to the weight.
Since Victor Ortiz is the best opponent each fighter has in the win column on their resume, will use this to help sort out what may end up being the keys to victory in this sure fire battle. Oritz is a very skilled offensive fighter that gave both men problems. Maidana was dropped 3 times, but was able to drop Vic twice before making Oritz saying uncle. Josesito and Victor were took turns being hurt a in their fight. Lopez responded when pushed to the brink and countered well with both hands throughout the night.
Then in the 9th round, landed a left hook on Ortiz's already damaged jaw, Victor's open mouth compounded the problem and sealed the deal for Lopez. Lopez never went down employing veteran tricks to buy time when hurt. However, he wasn't able to score a knockdown on Ortiz. Maidana not one to hold in moments he should, went down but gave what could be called a walking concussion to Victor in the 1st round. Point being that Maidana has more power but also has shown a weakness of exposing himself trying to head hunt his opponents.
The trainer of Josesito Lopez Henry Ramirez has made it clear that he wants his fighter to brawl only in spots, citing the example of Mike Alvarado exchanging in spots but also boxing on the outside, using his length in the rematch with Brandon Rios. Lopez does have a slight reach advantage over Maidana and has shown the ability to use his solid jab countering on the outside or inside. He also mixes up his punches very well. Left hook comes off the shoulder smoothly. He can fight on the inside as well, digging to the body and is very accurate with both hands when throwing uppercuts. He may be able to come over the top with a right hand or counter with a left hook when Maidana throws his new and improved jab, something he was showing off in the first few rounds of his fight with Jesus Soto Karass.
Speaking of Marcos Maidana's improved jab, there are some other things that seem to be improved after watching his fight with Soto Karass. His gameplan was a bit smarter and dare I say slicker. We will never confuse "El Chino" with "The Man" at defense Willy Pep. However we did see head and upper body movement along with an ability to step back or step to the side. Jab first instead of head first makes a man that was a known as a beast at 140, a very dangerous fighter in this fight and in the future at 147. That said he did at times seem to be overwhelmed by Karass, who was the bigger man having fought at 154 early last year and many thought the fight was stopped prematurely although he had clearly taken over the fight.
Will this be an old school style fight that not only features great exchanges on the inside, but also has both fighters using skills to play tug of war in terms of momentum? Skill full aggressive fighters like boxing greats Marvelous Marvin Hagler and Roberto Duran come to mind back when inside fights were fought with skill and balls. Josesito will not be able to fight like Alexander. He can't move like him or match his hand speed. Nor will he get away with holding and clinching like Devon did with Maidana. Surely the southern California boo birds will make him change his mind almost forcing him to throw punches instead of withholding what the crowd came and expect to see in this fight.
It may get dirty and downright nasty at times on the inside or after the bell like it did in Maidana's fight with Soto Karass. I do see plenty of back and forth action throughout this fight. Watching both fighters versus Ortiz you can make a case for both sides. As of a few days ago many betting sites were staying away from this matchup and the ones that are taking action have "El Chino" a slight favorite topping out at 2-1 odds. Power will be a key as it always is at least to some extent in all fights. But assuming that both fighters do majority of their work near the pocket or all the way inside, it will be the difference.
Victor Oritz may be an accurate puncher who sets up his power shots with a stiff jab, but his activity, mentality, and aggressiveness does not match Marcos Maidana as a come forward fighter. He will always try to flurry back like he did successfully in his fight with Berto. More times than not, once Vic gets hurt or hit too many times he tends to switch up his game, drop his activity, choosing to bounce on his toes not that effectively on the outside like he did in his fights with Floyd, Josesito, and Maidana. On the contrary, when bombs are landing on Maidana even if he has to climb off the canvas, he will respond tenfold the way he did against Khan and Oritz, and to a lesser extent Soto Karass.
If Josesito can duplicate some of the things that the one eyed Erik Morales was able to do. Or mix in some outside work the way Mike Alvarado recently did in his close victory over Rios. He will not only have a great chance to win the fight but also prove that he's not just one hit wonder. My guess is the constant pressure that will be applied by the Argentinean paired with his improved skills if only sharpened by a fraction, will be the difference in earning a victory that will pave the way to a title shot and bigger fights in the near future for Marcos "El Chino" Maidana.
Written by Chris Carlson Owner and Host of Rope A Dope Radio at www.blogtalkradio.com/ropeadoperadio
Follow on Twitter @RopeADopeRadio
YouTube Channel "The Rope A Dope Report" Subscribe at http://www.youtube.com/user/kg21carlito
Visit http://ropeadoperadio.wordpress.com/