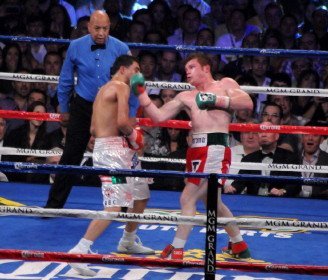 by Robert Jackson,y photo: Alma Montiel: 2 champions were on full display this past Saturday night and neither one disappointed. Except for a glitch in the 12th round, Sergio 'Maravilla' Martinez was dominant, except for a stubborn Josesito Lopez, Saul 'Canelo' Alvarez was dominant. A case can be made for either man to be the next opponent for one Floyd 'Money' Mayweather.
With Canelo we have a 22 year old WBC 154lb champion whose skillset improves each fight. Facing Jose Lopez in the place of an injured Victor Ortiz, Canelo was supposed to win. Lopez who'd previously campaigned at 140lbs moved up to 154lbs to try and take Canelo's WBC strap. If Lopez thought that lightning would strike twice as it had struck when he faced Ortiz, he was in for a rude awakening. Extremely focused, conditioned and strong Canelo took nothing for granted and made an early night of it for himself by taking Lopez out in 5. The moments that the always game Lopez had were few and Canelo always had an answer for them. After 4 knockdowns referee Joe Cortez had seen enough and stepped in to protect the overmatched Lopez from himself.
While Canelo was making easy work for himself; a few blocks down the Vegas strip Maravilla stayed true to his pre-fight admonitions to punish Julio Cesar Chavez Jr and that he did, winning rounds 1 – 10 in a workmanlike fashion taking a few from his opponent while giving many more to his foe. In the late rounds of the fight Maravilla with victory all but his began to slow down while also using less movement then he had during the fight. Maravilla was also taunting the youngster – sticking his chin out with his hands down daring his opponent to hit him. In the 12th round Chavez Jr finally caught up to the 37 year old and unleashed the fury he was unable to throughout the fight and down went Maravilla seriously hurt. If only Chavez Jr had more time, maybe he could've taken Maravilla out and pulled the upset ,but the master boxer Maravilla used all of his tricks to stay upright, finishing the fight and getting his hand raised.
It's a well known fact that both of these main event fighters have Floyd 'Money' Mayweather on their respective RADAR, either man would welcome a BIG MONEY fight with the P4P king. But who will Mayweather chose? I'm almost positive had Lopez pulled off the upset Mayweather would've faced him…only BECAUSE the drama of it all would've have made it compelling while also raising its value to a MONETARY level satisfactory to Mayweather's requirements! Facing Canelo has more risk than reward at this point for Mayweather, he'd be expected to BEAT Canelo, but losing to him would throw Mayweather's whole career into question by his naysayers; and Mayweather's not ready to pass the torch anytime soon.
Facing Maravilla for the 160lb CROWN would be a high risk/HIGHER reward fight for the 'Money' Mayweather. Having Maravilla's name on his resume plus the middleweight titles would be great for Mayweather's LEGACY and also his pocketbook. Having to move up in weight Mayweather would be EXPECTED to LOSE! Fighting and BEATING the other preeminent southpaw fighting today would enhance Mayweather's ring exploits to LEGENDARY status. And afterwards Mayweather could always end his career with BIG MONEY fights against Canelo and/or Manny Pacquiao, which is how things will probably play out.
Here's to hoping that Mayweather's next fight will be against Maravilla for the middleweight crown.