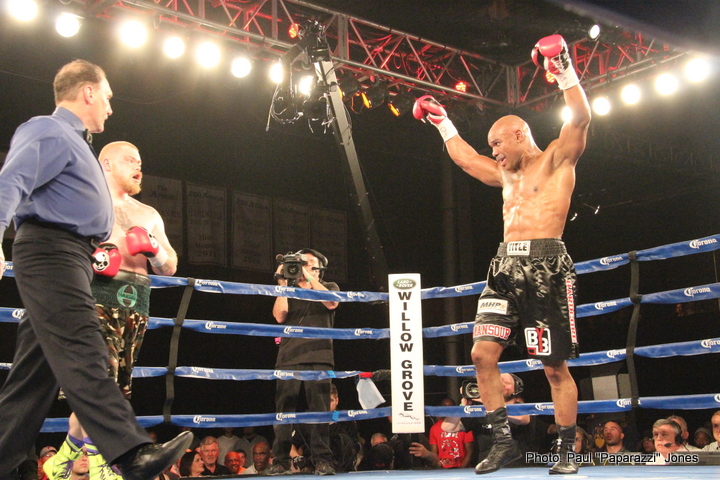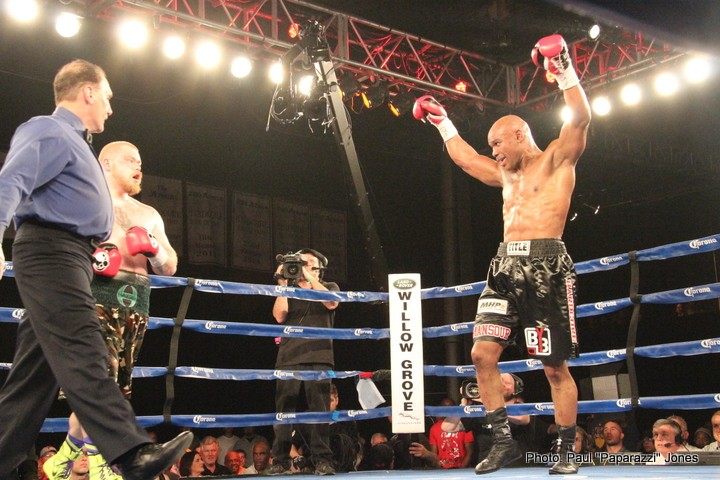 Amir Mansour continues his road to redemption with a hard-fought victory on ESPN2's "Friday Night Fights"
By Justin Jones – Photos © Paul "Paparazzi" Jones
Philadelphia, PA —In an entertaining heavyweight tilt, which headlined ESPN 2's Friday Night Fights card at the 2300 Arena in South Philadelphia, Amir "Hardcore" Mansour (22-1, 16 KOs) demonstrated true grit and determination last night in outworking Joey Dawejko (14-3-2, 7 KOs) to earn a unanimous decision victory. Official scorecards were 98-92, 97-93, and 96-94 all in favor of Mansour.
The bout could have been billed as the South Philly Blood Bath, with both heavyweights suffering nasty cuts for the first time in their professional careers.
Mansour was the first to fall victim to a cut when a deep gash opened over his right eyebrow stemming from a head-butt. Although Mansour's vision was obstructed from the constant blood flow, the chiseled heavyweight contender – who came in 20 lbs. lighter for this contest than his previous fight – was the aggressor throughout, throwing and landing the more meaningful shots to secure the win.
"I don't even want to look at the cut right now," Mansour said in a post-fight while applying a bag of ice to his eye wound. "This is the first time I ever have experienced a cut during a fight. It's near the same place that I had a cut from a car accident involving a drunk driver that hit me a while back. It was tough, [and] I couldn't see out of my right eye after the second round. If he went southpaw I couldn't see his left. If he went orthodox, I couldn't see his left."
Dawejko's cut, located above his left eyebrow, came in the fourth round from an official head-butt. Despite the cut and coming in as the heavy underdog, Dawejko gave a valiant effort in front of a raucous hometown crowd of more than 1,300 attendees. Dawejko also proved to be quite elusive for a man of his size, displaying a solid chin in withstanding Mansour's well-known power in his first 10 round fight.
"I expected everything from Mansour coming in to the fight and he was definitely a fast and strong puncher," said Dawejko, who is now trained by Buddy McGirt. "I thought I could've pushed a little more in there and attacked a bit more like my corner said, but overall I felt great. The crowd was amazing, and I'll use this experience and come back stronger."
With the victory, Mansour adds another trinket to his mantle, namely the USA Pennsylvania State Heavyweight Title. The New Jersey native will have to put his career in overdrive, however, because he turns 43 in July and the sand in his boxing hourglass may be running out with respect to getting a high profile title shot against Wladimir Klitschko (64-3, 53 KOs), Deontay "Bronze Bomber" Wilder (33-0, 32 KOs), or even Philly's own Bryant "By-By" Jennings (19-1, 10 KOs).
"We've knocked on all their doors and nobody wants to fight," Mansour said. "Wilder didn't fight nobody to get that title shot. He was fighting bums. He beat a guy I knocked out in with a bad shoulder in one round. Klitschko is prime to be beat right now in my opinion. I don't think his heart is in it no more. Even Shannon Briggs had his shot already, I'm ready for mine. Tell all of them guys to stop hiding behind their promoters and fight me."
Side Notes:
Heavyweight title contender Bryant "By-By" Jennings was in attendance. Eastside Boxing was able to briefly catch up with him and Jennings had the following to say to his heavyweight counterparts, "Please quote this. I will fight anybody, anytime, anywhere. I am ready right now."
Notable Philadelphia Eagles signee, quarterback Tim Tebow, was also in the building enjoying the fights and obliging to numerous selfie requests from fans in attendance.
Author Contact:
Justin Jones: Justinjones2112@gmail.com, @jusjones29
More from "Paparazzi" and Justin Jones:
Lamont Peterson "Anxious for April 11" — Open Media Workout Photos, More!
OPEN 'MIKE': Rising Prospect Mike "Yes Indeed" Reed Vows to Bring Top Rank to DC — More!
The Year in Review: Six Notable Fights in 2014 – Part I — Pacquiao, Hopkins, Froch, More!
Boxing Goes High-Tech with GoPro
"The Alien" vs. "Superman" Coming Soon to a Theatre Near You?