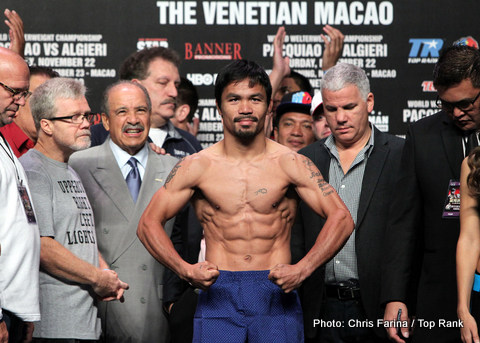 A flicking right jab immediately followed by a thunderous, booming left cross, detonated on the chin of Chris Algieri, sending him crashing to the canvas midway through round nine. Rising unsteadily at the count of nine, or possibly ten seconds, Algieri turned away from the referee in a desperate attempt to conceal his scrambled senses. During the first fifteen seconds after the New Yorker hit the floor it can be argued that he was in no position to continue. Nevertheless, all questions about the Filipino superstar's dwindling punch power had been silenced. It appeared Manny Pacquiao was back to his best.
Nineteen seconds after the knockdown, with one minute left to finish his prey, Pacquiao threw a flurry of almost a dozen punches, driving Algieri into the ropes. There would have been little to no dispute if the beating had been halted at this point, but after another count from the referee the thrashing continued.  Algieri was able to utilise his size advantage, good footwork and all round toughness to survive the remainder of the fight. Six official knockdowns in total, the 120/102 scorecard highlighting the Filipino's dominance. Memories of the Barrera and Hatton annihilations were briefly rekindled.
Algieri was undefeated, had a five inch reach advantage and almost four inches in height over Pacquiao.  Fresh off a career best performance in winning the WBO light welterweight title against the feared Ruslan Provodnikov, the man nobody seems to want to fight, Algieri would have been a reasonable challenge for any other boxer weighing up to one hundred and forty seven pounds.  It is testament to the high regard with which Pacquiao is held that Algieri was seen as a massive underdog, and merely easy pickings in the build up to the fight. Saturday's twelve round drubbing proved those early predictions to be accurate. Against a suitable opponent Pacquiao can still look sensational, but it was apparent Algieri was able to find Pacquiao's head with multiple right hands throughout the fight. It could be that Pacquiao simply lacked respect for Algieri's punch power so saw no need to refine his defence, but if the American had possessed Juan Manuel Marquez's or even Kell Brook's power, Manny may have been visiting the canvas himself.
Prior to the Marquez defeat, Pacquiao's decline had already been noted. His lack of "killer instinct" in his over-friendly twelve rounder with Shane Mosley in 2011 followed by his waning fitness and punch output in his first fight with Timothy Bradley in 2012 was clearly evident.  Manny's animalistic, frenetic pace and his ability to pounce on a wounded opponent are two of the qualities that have separated him from the rest. At just five foot six inches and with a mere sixty seven inch reach, a boxer of Manny's size needs youth on his side in order to compete with the bigger foes he meets at welterweight. This coupled with Pacman's aggressive ring style means fighting at the highest level into his 40's like Vitali Klitschko and Bernard Hopkins is simply not possible.  Yes, Pacquiao has been defeated at the elite level by his Mexican nemesis, but the loss that ends a boxer's career is often the one that comes at the hands of a lower level fighter, an "average" fighter, when compared to the Filipino's elite level standard anyway. Algieri flattered Pacquiao and hid his cracks. The comprehensive nature of this latest victory may be enough to deter Floyd Mayweather from agreeing to a long overdue showdown with Pacman next year; he may feel Pacquiao is still too dangerous to risk his unmarked record against. Therefore we may end up seeing Pacquiao in against a lower calibre opponent.  Kell Brook, Keith Thurman, or even Danny Garcia at light welterweight are each capable of inflicting the final defeat of Pacquiao's career.
In boxing, the final performances of a great fighter's ring career may be intriguing, but by no means do they tell the whole story. Nobody measures Roy Jones Junior by his stoppage loss to Denis Lebedev. Nobody will judge Roberto Duran or Sugar Ray Leonard by their final fights with Hector Camacho. The boxing world remembers Sugar and Jones at their peaks, when they each dominated the 1980's and 1990's respectively.  Duran is viewed as possibly the best lightweight that ever lived, the greatest boxer of the 1970's. Similarly, Manny Pacquiao already has his place in the history books secure. Victories over Ledwaba, Barrera, Morales and Marquez meant entry into the Boxing Hall of Fame was a certainty, but the fact a former flyweight was able to demolish comparative giants in De La Hoya and Cotto elevated him to another level. The Ring Magazine, Sports Illustrated and the Boxing Writers Association of America agreed that Manny Pacquiao was boxer of the decade for the period 2000-09, and that is how he will be immortalised in boxing history.