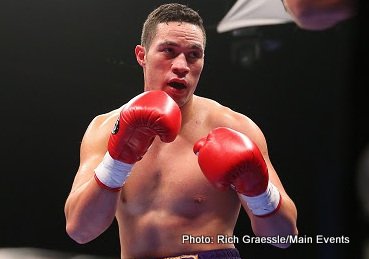 Young up and coming heavyweight Joseph Parker has been rewarded for his busy schedule in 2014 by being moved into the WBA's top 10 ranked heavyweights.
Parker has already fought 4 times this year with a 5th and final bout being announced to take place on December 6th in Hamilton, New Zealand against WBO 15th ranked heavyweight, Brazilian knockout artist Irineu Beato Costa Junior.
Beato Costa Junior has ended 13 of his 15 victories by KO and this fight presents an element of risk for Parker, especially when considering the limited time available that Parker and Coach Kevin Barry have had to study tape on their opponent.
After handily beating Sherman Williams in October, Parker's promoters Duco were keen to sign up an opponent for his December bout within a week of that fight. However finding ranked fighters who were willing to sign on the dotted line proved more challenging than first anticipated for his team. Several high profile fighters such as Lucas Browne were tabled significant career high purses but deemed the challenge too risky, preferring to protect their own rankings instead.
Strong rumours suggested Vinny Maddalone as a potential opponent but Parker's connections wanted Parker to push himself against much higher ranked than Maddalone. Settling on a big puncher like Beato Costa Junior might make some fans nervous but it shows that Parker remains intent on taking the biggest challenges that are open to him at this time.
Parker's busy schedule and improving ranking also hasn't gone unnoticed by champion Wladimir Klitschko who invited Parker to spar with him in 2 camps this year, an invitation that Parker had to unfortunately decline on both occasions due to a clash in schedules. Should the opportunity arise again in 2015 it is something that Parker and Coach Kevin Barry are keen to do, believing (as is logical) that there is no better way to improve your game than to work with the very best.
Looking to finish off 2014 with a bang, Parker and his team are looking forward to an even bigger 2015 as they continue the steady rise up the rankings as Parker emerges as one of the new viable heavyweights who are capable of making big noises in the division.