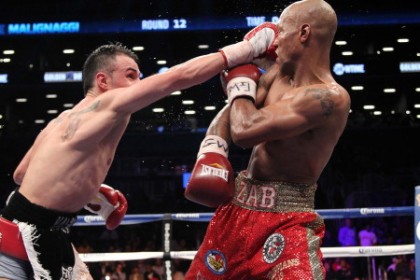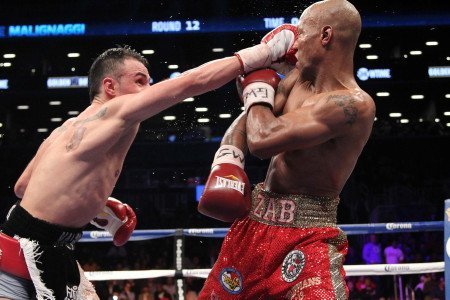 (Photo credit: Tom Casino/Showtime) BROOKLYN, N.Y. (December 8, 2013) – Two weeks after his 33rd birthday, Paulie "The Magic Man" Malignaggi (33-5, 7 KO's) picks up his 33rd win in a unanimous decision victory over Zab "Super" Judah (42-9, 29 KO's) in front of his hometown crowd at Barclays Center in Brooklyn, NY. The fight, promoted by Golden Boy Promotions, headlined a four-fight SHOWTIME CHAMPIONSHIP BOXING event.
Despite being knocked down in the second round, Malignaggi was able to regain his stride en route to a strong 116-111, 117-110, 117-110 victory which earned him Brooklyn bragging rights and a potentially bright future in the stacked welterweight division. In addition, he was awarded a special Brooklyn's World Championship belt designed by SARTONK.
"This is an emotional win for me," said Malignaggi. "It definitely allows me to continue boxing. If I had lost, I don't know that I would have wanted to continue. But this big win puts me in the right spot to fight in this division for lots of money…lots.
"Walking to the ring was pretty surreal. As a teenager I watched Zab fight and to walk into the ring and fighting against him was very surreal. Not that I never expected myself not to be successful, but it was still something very surreal," continued Malignaggi. "I felt like this showed that this sport can unify everyone. I looked up to this guy when I was coming up in the sport and he's one of the greats."
Judah said, "I came to fight and so did Paulie. It just wasn't there. This was a great opportunity and a great event. I wanted to be the King of Brooklyn. He wasn't tougher than me. He stayed on the outside and didn't engage."
In the co-main event, Shawn "Showtime" Porter (23-0-1, 14 KO's) was crowned the new IBF Welterweight World Champion after defeating Devon Alexander "The Great" (25-2, 14 KO's) by unanimous decision 115-113, 116-112, 116-112. Porter dominated Alexander from the first punch until the closing bell in a hard-fought battle that left both fighters battered and bruised. Porter, a decorated amateur, was able to execute his game plan by being, "aggressive, backing him [Alexander] up, and making him fight."
After the fight, Porter said, "This is a blessing. We wanted to come out here and establish that I was the better fighter and we made it happen. I think I was able to control the fight because of my experience and I'm the bigger guy. We did what we had to do. I paid my dues. The opportunity was here and I stepped up to the plate."
Alexander said, "I'm disappointed. I didn't do what I was supposed to do. I didn't follow the game plan. He was rushing in and I didn't capitalize on that. And that's what we had planned on."
Erislandy Lara (19-1-2, 12 KO's) soundly defeated Austin Trout (26-2, 14 KO's) by unanimous decision in a technical bout. The scores were 115-109 and 117-110 twice. Trout never seemed comfortable in the ring. Lara sent Trout down in the 11th round for only the second time in Trout's career.
"I did what Canelo couldn't do. I dominated Trout and I dropped him. Now we have to make a fight that everyone wants to see which is me against Canelo," said Lara.
"I'm coming right back," said Trout. "Who can say that they fought such high caliber fighters as Cotto, Canelo and Lara back-to-back-to-back? His style was tricky, but I don't sign up for easy fights. He was the better man tonight."
The opening bout of the evening, a thrilling slugfest, had the excitable Barclays Center crowd on its feet at times. Sakio Bika (32-5-3, 21 KO's) and Anthony Dirrell (26-0-1, 22 KO's) went toe-to-toe from the first bell and battled to a split draw. Dirrell floored Bika early in the fight, and Bika later lost a point for a low-blow. In the end, the final tally was a split draw: 114-112 (Bika), 116-110 (Dirrell), 113-113. After the scores were announced, Dirrell immediately left the ring without commenting on his performance. Ringside reporter Jim Gray was able to catch up with Dirrell in his locker room shortly after.
"I want to apologize to the fans for leaving the ring like that but I was just disappointed," said a frustrated Dirrell. "He hit low and head butted. I definitely want a rematch."
Bika felt differently. "I feel like I was fighting the referee as well. The body shot was a legitimate body shot. Not below the belt line. I got him on the belt line, Dirrell just wanted to milk it. I was the busier fighter and now I just want to fight the best ahead of me."
The SHOWTIME CHAMPIONSHIP BOXING telecast, will replay Sunday at 9 a.m. ET/PT on SHOWTIME and Tuesday, December 10 at 10 p.m. ET/PT on SHOWTIME EXTREME. It will be availabe on SHOWTIME On Demand and SHOWTIME Anytime.
Results and quotes from tonight's non-televised preliminary bouts:
JULIAN WILLIAMS (14-0-1, 7 KO's), def. Orlando Lora (29-5-2, 19 KO's) via unanimous decision in an eight-round super welterweight bout
"I was going to take my time. I kept touching the body more and more and using my jab.
"He was easy to hit and I'm difficult to hit. His feet were slower and mine are faster.
"I always rep Philly. I love Philadelphia. I want to keep the tradition of great boxers from Philly.
"We have a lot of great talent coming out of the city right now and I want to keep this thing going."
SADAM ALI (18-0, 11 KO's), def. Jesus Selig (12-2-1, 6 KO's) via TKO7 in a 10-round welterweight bout
"[On the stoppage] I think the referee saw what was going to happen eventually. Everything was landing.
"I like to entertain the crowd so I really wish they wouldn't have stopped it that fast.
"The crowd wanted to see action, but you have to respect the ref.
"I felt less rusty than my last fight. My opponent [tonight] had a better record.
"I still felt a little rusty, but I know that as I go, I am going to just keep getting better and better."
MARCUS BROWNE (8-0, 7 KO's), def. Kevin Engel (20-9, 16 KO's) via TKO1 in an eight-round light heavyweight bout
"Going the distance [in my last fight] showed me how to be patient. I know that if I don't catch him in the first round, I will catch him in the second. If I don't catch him in the second, I will catch him in the third.
"[I feel so good] I could fight again tomorrow if I wanted to."
JUAN DOMINGUEZ (16-0, 11 KO's), def. Camilo Perez (9-2, 4 KO's) via unanimous decision in an eight-round featherweight bout
"It is great fighting in Barclays Center. This is a special night. A whole night of world title fights that no one will forget.
"It felt great to go eight rounds. This is my second time going the distance.
"I need to learn to box more because I'm going to have to fight against tougher guys from here on out."
ABOUT "JUDAH VS. MALIGNAGGI":
Judah vs. Malignaggi was a 12-round fight for the NABF Welterweight title taking place on Saturday, Dec. 7, 2013 at Barclays Center in Brooklyn, New York. The event was promoted by Golden Boy Promotions in association with Super Judah Promotions and sponsored by Corona, AT&T, Grudge Match and Casamigos Tequila.