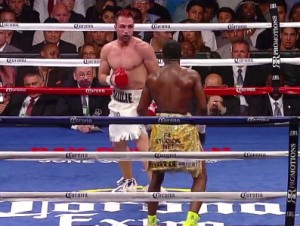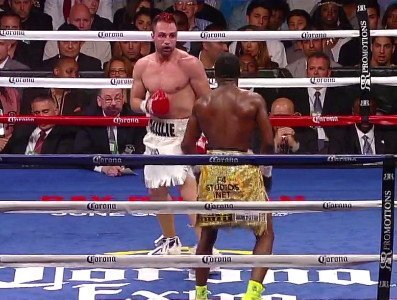 About the only thing(s) close to being a surprise was that Paulie Malignaggi went the distance and one judge thought he won the fight? Not much doubt who won. Paulie Malignaggi displayed even less "pop" than usual on his punches. In a way, you have to admire Paulie. it's must take a lot of courage for Paulie to enter the ring unarmed, knowing that he can't hurt his opponent. It's a shame, because "The Magic Man" could be one helluva fighter if he had a punch.
The fight itself was predictable and silly at times. Adrien Broner was the farce, jester or wag. He has no class. He acts the fool, or maybe he's not acting. One wonders if there's a worthwhile thought that passes through his brain? If there is, it departs faster than his lead right. He always seems to get away with questionable tactics, not unlike someone else fans know without naming names. He uses his forearm and left elbow as weapons, and on one occasion actually kneed Paulie. It came about when Paulie tried to clinch and was pushed down. At leg level, Paulie grabbed Broner's left leg. Broner took advantage of the faux pas and brought his knee up like he was in a street fight. He also pulled off a spinning act a couple of times, tapping Paulie over his shoulder. Referee Benjy Esteves, Jr. was not amused.
Acting comical surprised no one. Predictably, Broner wasted the first round getting warmed up, and then gradually started to walk down Paulie. He showed disdain for Paulie's lack of power, often shaking his head after Paulie tapped him a few times. Paulie pulled off enough mock blows to distract Broner and then moved out of range, or jumped in to momentarily tie up Broner.
Paulie's pre=fight claims about being the bigger, stronger man never materialized either. Broner came into the fight heavier and stronger. Paulie couldn't muscle him at all. Paulie took some pretty heavy blows, and once again demonstrated that he can take a punch. As the fight progressed, you wondered whether Paulie getting stopped was going to be the case. He took some pretty hard shots. Lot's of other guys would have wilted under the beating.
As an added attraction, the ring at Barclays Center in Brooklyn, New York warranted attention. It was so uneven Showtime's ring announcers Al Bernstein, Bernard Hopkins and Mauro Ranalto all expressed trepidations that the thing might collapse! The condition of the underlay was so bad, it had officials pleading with the usual post-fight entourages to get out of the ring. It probably wouldn't have been such a bad thing if it kept Broner from making his usual post-fight nonsense comments. This time he wanted to further embarrass Paulie by saying he not only beat him, but took his girl as well. Paulie didn't appreciate it, and pushed his way in close to The Problem Child and Jim Gray to let everyone know how he felt. He shouldn't have bothered, because if it were true, and Paulie's girl really did take up with Broner, she must have rocks in her head. Jim tried to caution Paulie about his remarks, because he veered off into making insinuations the fight was fixed, He quickly backed off and said I'm talking about the "politics" in boxing and the power of adviser- manager Al Haymon. Hopefully, Paulie's post-fight remarks won't jeopardize his announcing job with Showtime. In that spot, he's a winner and offers good insight and analysis.
Now, The Problem child has more bragging rights, as he captured Paulie's WBA welterweight title. He ended things by saying he wants to let the fans pick his next opponent. How about Brandon Rios, or Mike Alvarez. Throw in Lucas Martin Matthysee or Amir Khan the Pacman for good measure. Any one of them might be able to put a knot or two on The Problem Child's noggin. Now that would be fun to see. Maybe he should fight his idol, Little Money. That fight would be hilarious. The two of them could exchange elbows, forearms, insults and lead rights. Instead of being a losing proposition, it would be win win, because at least one of these two knuckleheads would get beat. We can only hope.