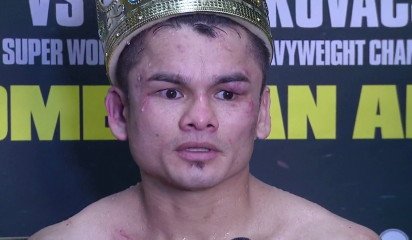 WBA welterweight champion Marcos Maidana (35-3, 31 KO's) isn't being given much of a chance to defeat Floyd Mayweather Jr. (45-0, 26 KO's) in their May 3rd fight in Las Vegas, Nevada, but this is the way that Maidana likes it. He says he likes it when fans doubt him, and when he's being brought in to a fight where he's expected to lose, as he is with the one against Mayweather at the MGM Grand.
"He [Maidana] likes to be the underdog. He likes when he's being brought to get beat. To prove them wrong." His trainer Robert Garcia said to esnewsreporting. "And he plans on doing it one more time."
Maidana was definitely the underdog for his fight against Adrien Broner recently, but he wasn't nearly the underdog in that fight that he is now. Leading up to the Broner fight, there were still a lot of boxing fans who saw it as a winnable fight for Maidana. With the Mayweather-Maidana fight, no one is giving Maidana a chance to win. He's a puncher's chance, but not a good one. If Maidana has better hand speed, then he'd be seen as someone with a decent chance to get the win against Mayweather, but he doesn't have speed.
Another thing that is going against Maidana is that Mayweather recently beat Saul "Canelo" Alvarez last September, and he's someone that can do pretty much everything that Maidana can do but a lot better. Canelo's a skilled fighter with huge power, and Mayweather made him look bad. Maidana doesn't have Canelo's size, power, speed or boxing ability, and that's going to make it very difficult for him to get a knockout win over Mayweather. There's no other way for Maidana to beat Mayweather then to knock him out. He's not going to be able to outbox him or grind out a decision. Maidana literally has to knock Mayweather out to get the victory on May 3rd, and not too many people are giving him a chance of doing that.