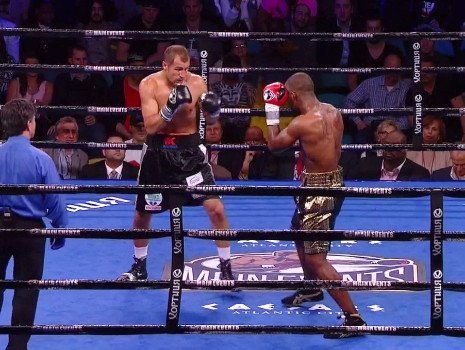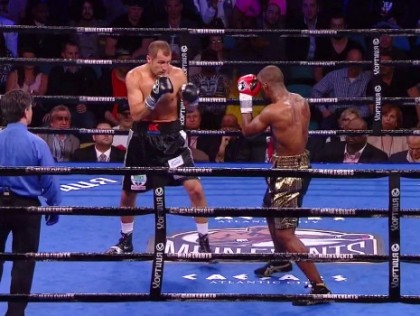 Sergey "Krusher" Kovalev 24-0-1 (22KOs) was single minded in his attack on Cedric Agnew 26-1-0 (13KOs) Saturday night at the Ballroom Boardwalk Hall, Atlantic City, N.J. There was no feeling out period for him. At the opening bell he quickly closed in on his foe, and with the first punch of the fight he threw a right hand to the body. Agnew knew he was in for a hard night.
Early on in the fight, Agnew had opportunities to fold up. He was tagged with some very hard shots, but he refused to go out easily. He kept a tight defense, and when possible, he threw counter shots. His pre-fight plan was to keep moving just enough to stay as problem free as he could. He was very selective with his counter punches, throwing enough to keep Kovalev thinking twice about just rushing in for the kill.
Kovalev remained disciplined, businesslike in applying pressure. But, he probed, prodded and poked Agnew, analyzing what would work and what would not. As this was being carried out, the Krusher found out early on that Agnew's decision to keep his guard high provided openings to the body. Kovalev provided a good lesson for all fighters. He demonstrated you don't have to wait for the opportunity to step around to try and land a left hook behind the elbow. Instead Kovalev it is much easier to simply drive a powerful straight hard jab to the body. It is efficient and rewarding.
First Sergey's jabs were aimed at the closest part of Agnew's southpaw stance. The target was Brewer's right kidney, a vulnerable spot where there is not as much muscle overlay to shield and absorb the impact. When the punch landed, you good see Agnew's struggle to keep from buckling over. The pain from from body shots like that doesn't go away quickly. Actually the reverse is true, their effects build up over time.
Even a tight defense has holes. Kovalev proved that with his precise punches to those unprotected areas, up and down. Lefts and rights to the body, the straight punches up the middle to the head. When Agnew repositioned his gloves, so did the Krusher's punches, and to make matters worse for Agnew, the knockout artist started to pick up the pace with fast hard combinations, up and down his target. You could hear the sizzle.
The first knockdown came from a straight left to the chin of Brewer. Agnew really didn't make a mistake. It was more the quality of Kovalev's attack. Preceding the left came a combination, which Kovalev finished up with a shift from his orthodox stance to that of a southpaw. The move enabled him to throw a straight left like a southpaw. The punch had enough torque on it to cause Kovalev's left foot to come off the canvas. Many fighters would have just stayed down after absorbing that shot. It was to Agnew's credit that he got up.
Agnew fought on, and in desperation throw hard punch south of the border. Later there was a clash of heads. Kovalev came out of it with a cut to his right eyelid. Not long after that Agnew's right elbow caught an area around Krusher's left eye. That one was more of an immediate problem, because blood from it dripped down near the eye. Agnew continued to throw enough hard counters to keep Kovalev careful, but, careful doesn't mean he quit attacking. Just the opposite was true. He turned up the pressure, intimidating Agnew. With one hard left that missed, the Krusher spun himself right down to the canvas. It wasn't wild, it was just an example of how much power Sergey puts into his punches. He's not wild in his method, so there's not much chance he will punch himself out. Something Agnew hoped would happen.
Sergey won every round, but the big question was how long Agnew might last. He was tough and courageous, but he was taking a lot of punishment. Another left put Agnew down again, and in round seven, Sergey drove a hard straight left into Agnew's bread basket. The way Agnew went down, and the way he bent over in pain, you just knew he wasn't going to beat the count. It ended at 58 seconds of the 7th Rd. The fight was another impressive kayo for Kovalev. He continues to demonstrate his fierce overpowering attack.
In the post fight interview, HBO's Max Kellerman started to ask Sergey about Adonis "Superman" Stevenson, and before Max could get to the question, Sergey spit out "Adonis is piece of shit"! Then he quickly apologized for using bad language. Max never got into the HBO versus Showtime problems. He was satisfied that Sergey was willing to fight anyone that had a title to go with his WBO world light heavyweight championship ship belt. Sergey seems to say, prop em up and I'll mow them down.
The semi-main event pitted the tall light welterweight Thomas "Cordero" Dulorme 21-1-0 (14KOs) versus Karim "Hard Htta" Mayfield 18-1-1 (11KOs). It also included two of boxing's best trainers. Robert Garcia was in Dulorme's corner, and Virgil Hunter was coaxing Mayfield.
Dulorme won a unanimous ten round decision for the vacant NABF light welterweight title. It wasn't pretty though. Dulorme made the fight harder than it should have been. He did too much posing, and he failed to make use of his feints, wasting the purpose. He also tried too hard to nail the shorter Mayfield with wild amateurish counter shots. Garcia kept telling him to shorten and straighten out his shots, but Dulorme kept up the same tactics
Lucky for him, Mayfield failed to capitalize on Dulorme's mistakes. Instead, Mayfield let Dulorme maintain a comfortable distance. Hard Hitta seemed determined to land a big right, which he attempted every so often. The momentum from his wild swing would carry him into a clinch with Dulorme. Virgil Hunter kept on telling him to stop smothering himself. Instead Virgil harped on him to use his jab, and to punch Dulorme's arms and gloves to open him up. Virgil repeatedly pointed out that in his opinion Dulorme was tight, and he should take advantage of it. He didn't and was outpointed as a result.