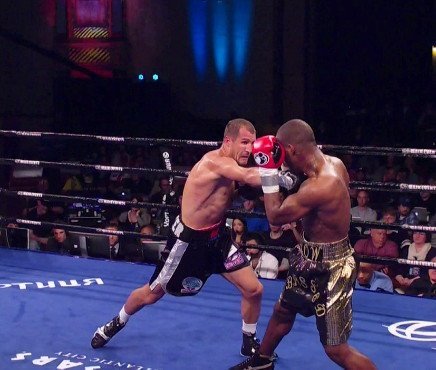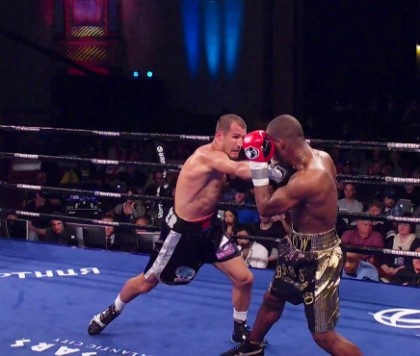 Adonis Stevenson came out of the woodwork last night following WBO light heavyweight champion Sergey Kovalev's 7th round knockout win over Cedric Agnew to tell him via twitter that he's very interested in taking him on now and suggesting that he contact his promoter to make the fight happen. Stevenson said that he felt that Kovalev looked slow against Agnew last night and that his defense was nonexistent.
Stevenson's sudden interest in the Kovalev fight is good news in theory for boxing fans, but it's not realistic that a fight between them can actually take place due to Stevenson signing a contract with Showtime. Kovalev is still locked up in a long term contract with HBO, and there's no way that either of them can fight each other until their contracts expire.
"@KrusherKovalev You just a real slow BUM with no defence. Easy work," said Stevenson on his twitter last night following Kovalev's stoppage win of Agnew. "@Main_Events @KrusherKovalev Tell your mama Kathy Duva to stop crying and to call @yvonmichelGYM and @AlHaymon to make the fight happen! BUM."
Stevenson may seem like the bad guy for trash talking Kovalev, but he did this in response to Kovalev's comment to HBO's Max Kellerman moments after the fight when Kovalev called Stevenson a "piece of sh–" while being interviewed. Kovalev said he didn't want to even talk about Stevenson.
It would be a great fight if Stevenson and Kovalev were to face each other, because that's really the only interesting match-up in the entire division. Bernard Hopkins, now 49, stands no chance against Stevenson, and that fight will likely be a one-sided affair that will have fans shaking their heads wondering why they even bothered thinking Hopkins had a chance.
The only way that Stevenson and Kovalev will face each other is if Stevenson is able to leave Showtime after his one fight coming up against Andrzej Fonfara on May 24th. However, Showtime will likely make sure that they sign Stevenson for a longer contract after that fight, and that'll pretty much end any chance of Stevenson and Kovalev ever fighting. Stevenson's age clock is clicking, as he's 36 now and he obviously isn't going to be able to keep fighting too much longer at a high level.