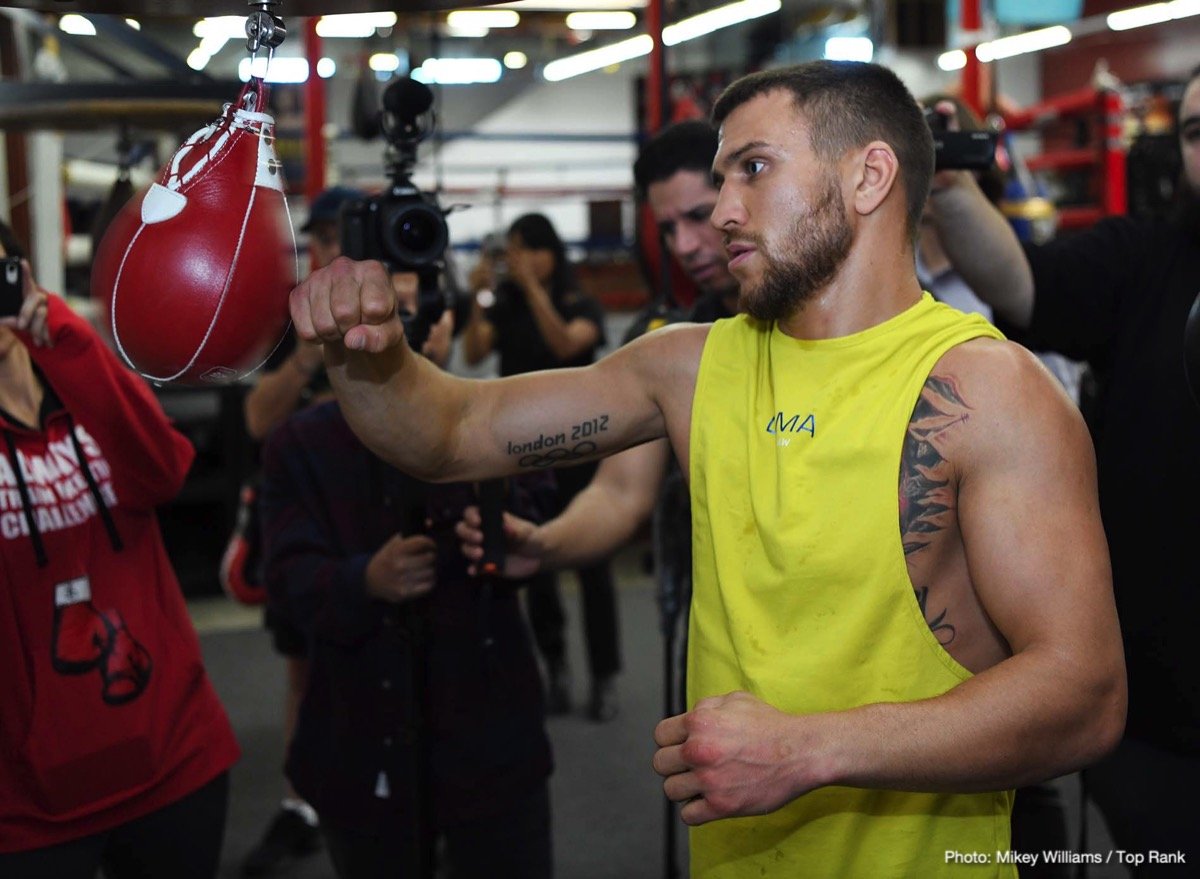 Puerto Rico's Jose Pedraza is fast approaching the biggest, and toughest, fight of his entire career. As fans know, the reigning WBO lightweight champ will face the returning (from shoulder surgery) Vasyl Lomachenko in a Ring Magazine/WBA/WBO 135 pound unification clash in New York on December 8th. Pedraza, 25-1(12) and a two-weight champion (having also held a belt down at 130 pounds) fully believes he has what it takes to score the big upset. Lomachenko, 11-1(9) speaking at a recent open workout, said that he had a good rest after his shoulder surgery but that he himself is curious to see how his shoulder feels during the December 8 fight.
(Photo Credit: Mikey Williams/Top Rank)
Pedraza, a clever and tough switch-hitter, will of course be very interested himself in seeing how Loma's shoulder holds up (who knows, maybe Pedraza will get lucky, with the WBA and Ring Magazine champ hurting himself again). Still, that unfortunate scenario aside, is there any way to make a case for the recently crowned WBO champ winning?
Gervonta Davis stopped Pedraza, taking his 130 pound belt via seventh-round TKO back in January of 2017, and Lomachenko will be widely expected to halt Pedraza himself. The fights could get tougher for Loma up at 135 pounds, simply because he is no big lightweight, and he was pushed hard by Jorge Linares last time out, back in May. Loma himself said at the open workout how 135 is "not yet" his natural weight class, his ideal weight class, but that in a couple of years or so "it will be." Lomachenko says he plans to stay at 135 and, after he beats Pedraza, "get the unification fights."
A win on December 8 will, Loma said "open doors." The fight the Ukrainian sensation really wants is that unification with Mikey Garcia. This is a fight we all want to see. Pedraza aside, it seems only Garcia himself can prevent this fight from taking place. Let's see if Loma is 100-percent healthy on December 8. If he is, a stoppage win looks likely for him. It should, in an ideal world, be nothing but big, big fights, super-fights even, from then on in. Lomachenko's amazing skills deserve nothing less.