Can former undisputed lightweight king Vasiliy Lomachenko regain what he once had? Can Devin Haney achieve his goal of becoming the best 135 pounder in the world? These two gifted fighters, each at different stages of their careers, might wind up fighting one another sooner rather than later. Bob Arum recently told Barbershop Conversations that a Loma Vs. Haney fight would be "a really good fight." Arum said the match-up is "certainly one we would consider."
Loma needs to put that October 2020 decision loss to Teofimo Lopez and come back (Lopez has said time and again he has zero interest in a return fight with Lomachenko). Haney, he wants the world, and if he cannot get a fight with Lopez, or one with Ryan Garcia, maybe he will indeed face Loma. The two have spent the last few hours going back and forth on social media and the exchanges were pretty savage, as well as hugely entertaining.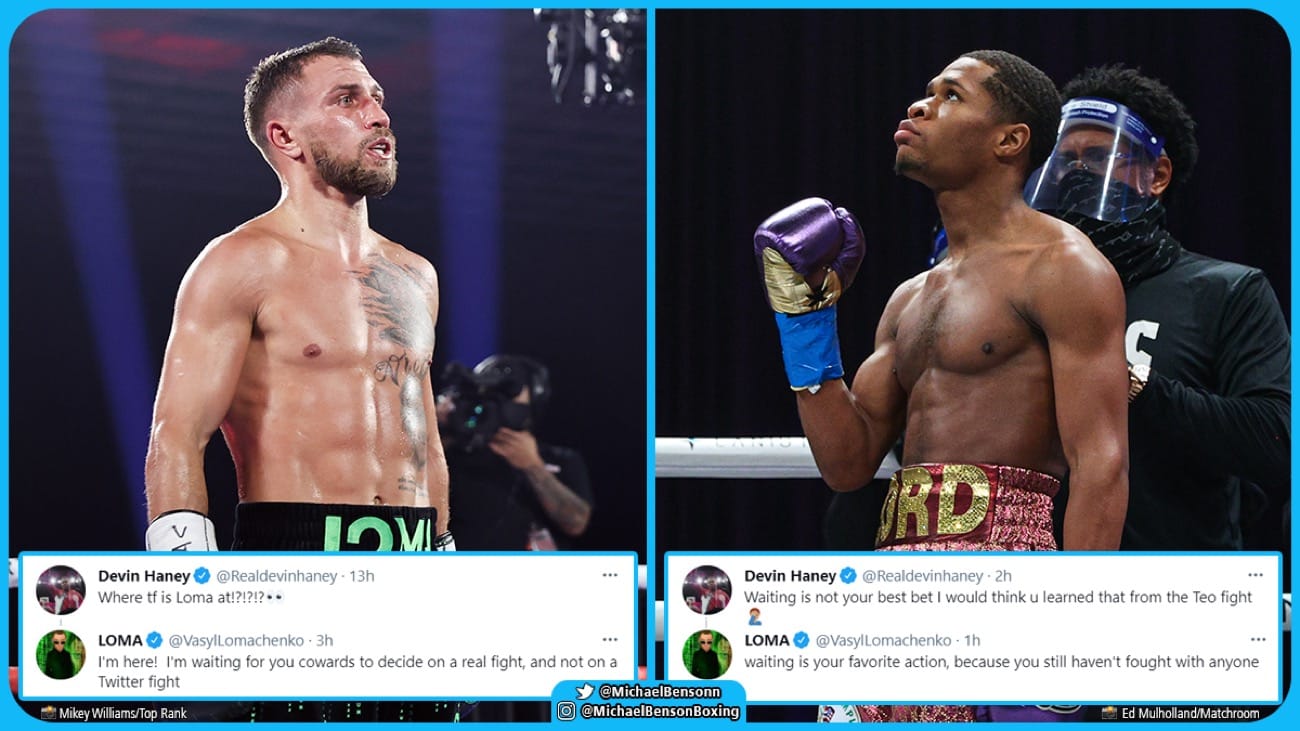 Check out the exchange, started by Haney.
"Where tf is Loma at?!?!?!?," Haney tweeted last night.
"I'm here! I'm waiting for you cowards to decide on a real fight, and not on a twitter fight," Lomacheko responded today.
"Waiting is not your best bet I would think u learned that from the Teo fight," Haney shot back.
"Waiting is your favorite action, because you still haven't fought with anyone," countered Loma.
So will these two get it on in the only place that matters, the ring? It sure would be a fascinating fight, as well as a risky fight for both men. Loma might feel he would prefer a "tune-up" type fight when he does return to the ring, whereas Haney, as good as he is, might not be quite ready to tackle someone as experienced and as super-clever as Lomachenko. Loma, 14-2(10) blew it in the Lopez fight, waiting as he did far too long before he finally began throwing punches. It might be that in his big-fight return, Loma looks to take out his frustrations on the guy standing opposite him. Or maybe Loma is approaching the end, close to finished even. Wear and tear, a flow of injuries and of course age are all against the former pound-for-pound king. Maybe Haney, 25-0(15) would be too fast, too energetic and too determined for the 33 year old; Haney being almost a decade the younger man.
This battle of brains, of southpaw versus orthodox, of experience versus youth, of speed versus timing, would be most welcome. Let's hope Arum can get these two fighters, one great, the other a possible future great, in the ring together. The verbal shots have already been fired!