Ryan Garcia was really lighting into Devin Haney last Saturday night, scolding the WBC lightweight champion for him trying to move ahead in the sport through his political maneuvering rather than by beating the best and looking good.
Unbeaten 'Kingry' Ryan (21-0, 18 KOs) doesn't see any point in challenging Haney (25-0, 15 KOs) for his WBC title, as he's not showcased himself when facing better opposition.
Like many boxing fans, Ryan wasn't bowled over by Haney's performance in his last fight against the past his best 38-year-old Yuriorkis Gamboa last November.
Haney got the win by a wide 12 round unanimous decision over the former Cuban great, but he fought dully, doing what he needed to for him to get the 'W' on the night.
Haney has been talking continually about wanting to take on Ryan. It's made him sound needy and desperate, as if he doesn't have any other alternative options to further his career than to face Kingry.
Ryan dissects what's wrong with Haney
"I think the fight was what it was supposed to be, a Canelo show," said Ryan to Behind The Gloves about Canelo's massacre of the hapless Yildirim.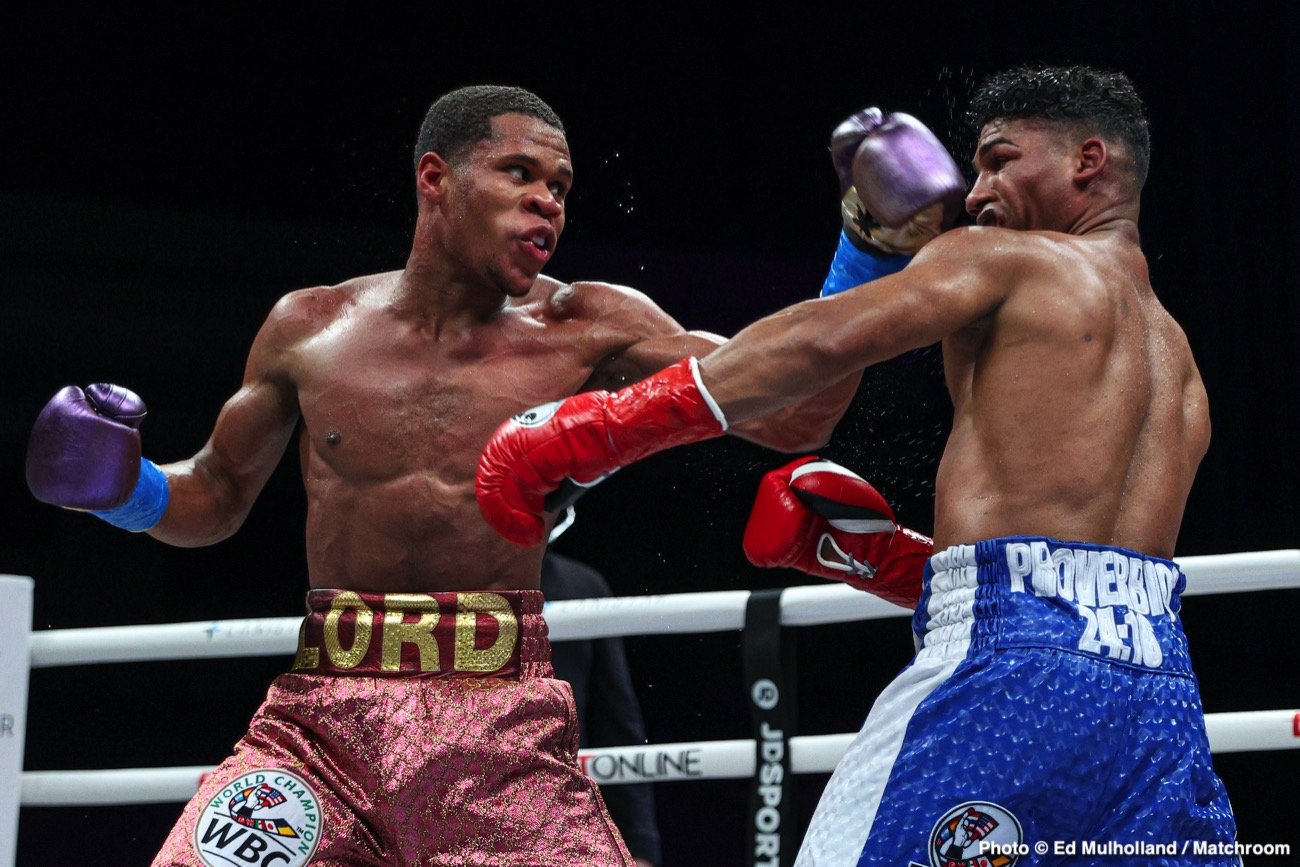 "No," said Ryan when asked if he spoke to Devin Haney last Saturday night during the Canelo vs. Yildirim fight at the Hard Rock Stadium in Miami.
"I mean, if we can chop it up, I can tell him [Haney] why, do you know what I mean? Why I only want Tank.
"Devin, don't excite me. He's had chances to go inside the ring with guys that he should have been showcased himself or like, 'That's something amazing,' and he failed to do it.
"Now he expects he's just going to move through boxing in a political way to get the big fights.
"That's not how it works. You need to get the fans excited, straight up. You gotta get the fans excited; you got to make them want to watch you fight," said Ryan.
It is troubling that Haney has shown no interest in fighting Vasily Lomachenko, even though he's his #1 contender in the World Boxing Council's rankings.
Yeah, we heard Haney mention Lomachenko's name earlier today on social media, but that may have been just a calculated political move to persuade the fans to give him more support.
In other words, an empty move that one would see from a politician promising things but then failing to live up to their campaign promises.
"To me, I asked people all around the world, 'Who do you want to see me fight?' They all say, 'Tank.' They don't even mention your name," Ryan continued about Haney.
"You're a good fighter, a great fighter. I like your skill level, but I don't think that you've found it yet. He knows what I mean," said Garcia.
Haney will have to stop his trend of fighting old-timers and look to face a quality guy like Lomachenko. Even if Haney gets beaten, at least he can learn from the loss.
Garcia: I don't work for no promoter
"Everybody wants to push their own agendas, and they don't want to listen to the fighters," said Ryan Garcia about the different messages that are coming from him and his promoter Oscar De La Hoya, on the Manny Pacquiao fight.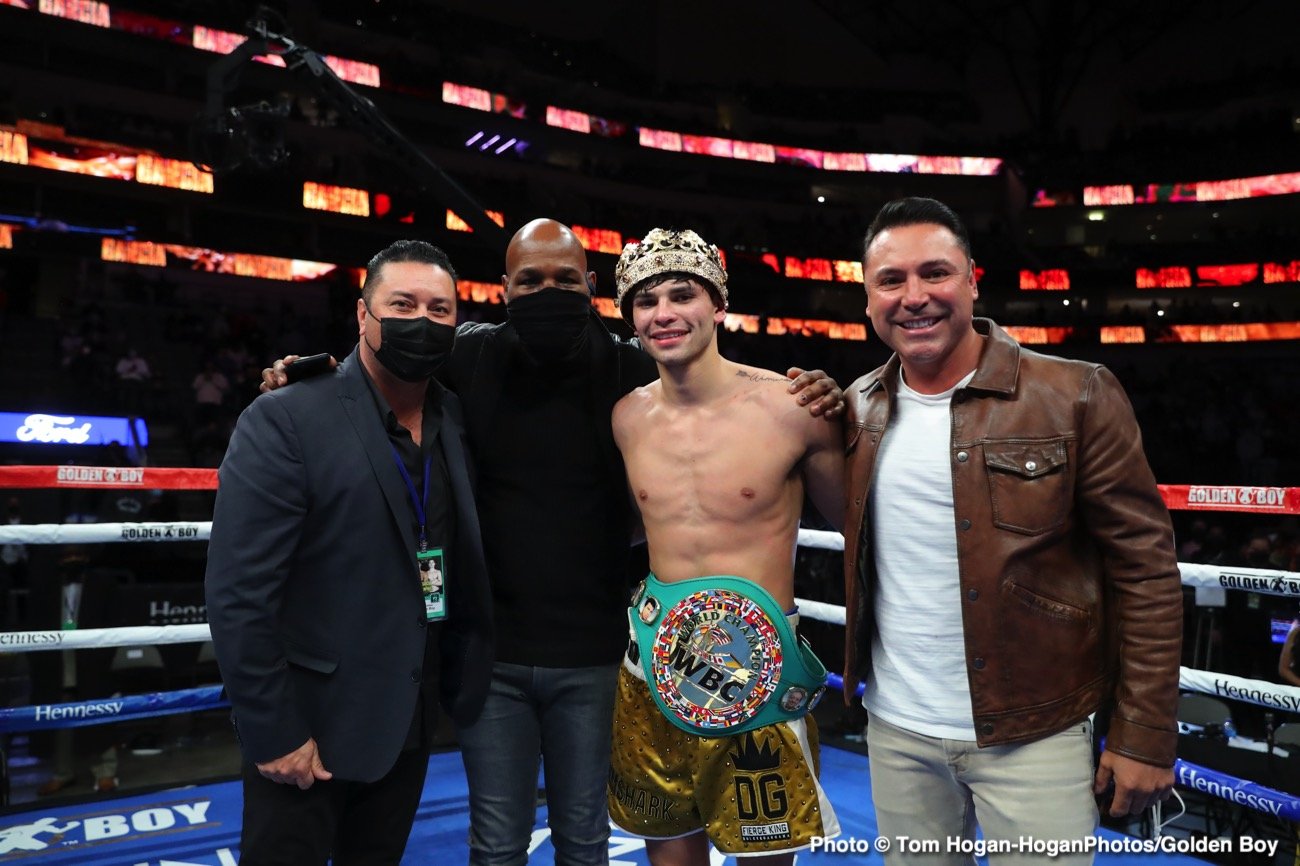 "I don't care what anybody has to say. I know and do what I want. I don't work for no promoter.
"They work for me, straight up. You guys work for me. No promoter will ever make me do what I don't want to do. I wanted to fight Gervonta Davis, and I want to fight Manny Pacquiao.
"They offered me Manny Pacquiao, and I said, 'Let's go for it.' Do you know what I mean?
"To me, it's disrespectful and not professional that my own promoter would say those comments," said Ryan Garcia in reacting to De La Hoya say that it was just Instagram talk when asked if there was any truth of Ryan facing Pacquiao next.
"That doesn't make no sense to me. Suppose I had a young fighter, even if he was saying a lot of things. I would still share love with them. 'Hey, man, you should probably move this way, but if you want to do it, do you know what I mean?'
"But you should never go to the media and make those kinds of comments [that De La Hoya did].
"To me, it's very unprofessional, and I don't like it," said Ryan Garcia.
It's not De La Hoya's fault that Manny Pacquiao isn't going to fight Ryan. If Pacquiao wanted that fight, they would be battling it out next.
Ryan can't expect De La Hoya not to guide him, though, because this is a two-way street.
It doesn't help Golden Boy if Ryan foolishly ruins his career by taking on fighters like Tank Davis and Pacquiao that he's not ready for right now.
Canelo will KO Saunders too, says Ryan
"Canelo did what he had to do; you can't knock it," said King Ryan on Canelo's win over Avni Yildirim. "He went and got the job done, a third-round TKO.
"Now Billy Joe Saunders is next. As the pound-for-pound champion, for him [Canelo] to go into his next fight right away, that's respect.
"I think he knocks out Billy Joe Saunders too, but I think that's a better fight than this, obviously. I think the ninth round is when he knocks out Billy Joe Saunders," said Ryan.
WBO super middleweight champion Saunders (30-0, 14 KOs) already showed how over-matched he'd be against Canelo with how poorly he fought against fringe contender Marcelo Esteban Coceres in 2019.
Saunders was getting beaten up and was losing against the little-known Coceres, and he was forced to come from behind to score an 11th round knockout.
Saunders' promoter Eddie Hearn will promote the fight with Canelo to the hilt, but it's still a mismatch. If Saunders weren't a British fighter, it wouldn't be as big a deal.
It would just be another mismatch for Canelo against a hapless fighter with no chance of winning. The guys that can give Canelo problems, David Benavidez, Jermall Charlo, Gennadiy Golovkin, and Demetrius Andrade, aren't on his agenda.
Canelo had better hope Dimitry Bivol or Artur Beterbiev didn't decide to move down in weight to join the 168-lb ranks, as he'll be forced to decide whether to stay at super middleweight or return to the 160lb class to avoid those guys.
"Billy Joe," said Ryan when asked who is tougher for Canelo, Saunders, or Caleb Plant. "I think Canelo tears up Caleb badly. But I respect Caleb Plant too."
IBF super middleweight champion Plant can't punch, and he marks up easily when he starts getting hit. Additionally, Plant's stamina is poor, and he's more of a six-round fighter than a true 12-rounder.
Canelo will no problems beating Plant when the time comes for them to fight in September.
"I got nothing but respect for these fighters. These are my opinions, I don't want to offend nobody, but this is just my opinion," said Ryan.
"Just like you might think Tank would knock me out, you know what I mean? It's all love.
"He told me in the back room that he's going to go right to it, he's going to go right after Billy Joe.
"I feel like Canelo will knock him out too," said Ryan Garcia to DAZN in discussing Alvarez's May 8th fight against Saunders.
Ryan discusses Pacquiao fight
"I'm one of those types of people where I shoot for the stars," Ryan Garcia said. "I don't care what people have to say, I go for my dreams, and I just adjust to whatever happens after.
"No matter what, it's going to be all good, do you know what I mean? I'll fight Tank, or I'll fight Manny; it doesn't matter to me.
"I'm just here to fight, chase my dreams, and whatever is going to happen, it's going to happen no matter what.
"No, when I said it on the DAZN broadcast before Campbell, I was saying it [that Ryan wanted to fight Manny Pacquiao], and then they came and offered me the fight.
"Then I got in this whole situation with Manny. It was things on his side, but I respect that he's a legend. He told me himself that he wanted to fight me.
"It's all love, though. I'm moving forward with my career, and I'm ready to face the best, you know?" said Garcia.
It's not a big deal that Ryan didn't get the fight with Pacquiao because it would have created too much flak from boxing fans had it taken place.
Even if Ryan had won, he wouldn't have been given any credit from the boxing world because of the 42-year-old Pacquiao's advanced age and the fact that he hasn't fought in two years.